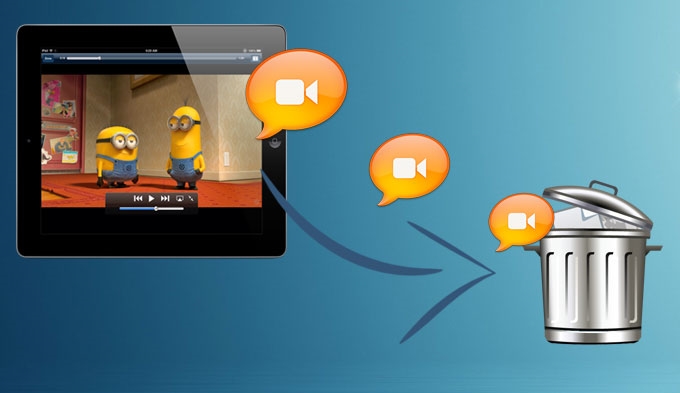 The Apple's iPad is one of the hottest devices out in the market today. With the help of this tablet device, each user can now utilize most of its benefits that include video entertainment. Moreover, iPad users prefer to use it to shoot videos like camera, since it is more portable and easier to use. However, when you have piled up many video clips in your device, it's a necessity to manage and clean them up, but it does not seem to be easy for green hand users. A part of managing issues includes how to delete videos from iPad. This process may be done with a lot of ways, but to make it simple here are the best solutions for you to try.
1. Use photo app to delete (common method)
2. Remove one by one directly (direct method)
3. Use free iPad Transfer to manage and delete (freeware method)
4. Delete video permanently to make privacy security (shareware method)
Solution1: Delete iPad camera roll video in Photo app directly
The first method on how to delete videos on iPad can be done with just few steps. If you have used an iOS running device before, this process will be easier for you to do. By utilizing this solution, you can select all of your unwanted videos then delete them at once. Here is the guide for you to follow:
Unlock your iPad and upon reaching the interface tap the "Camera" app.
Once the Camera is open, you will see a small picture thumbnail on the bottom left corner, now click it.
A new window will now appear, tap the "Camera Roll" on the upper right corner.
This will lead you with to all of the pictures and videos that you've taken. To filter the videos hit the "Videos" tab.
Next is to click the "Share" button on the lower part and choose all of the videos you want to get rid of.
When you are done selecting, simply hit the "Delete" button at the lower portion of the screen and "Delete Selected Videos" to confirm.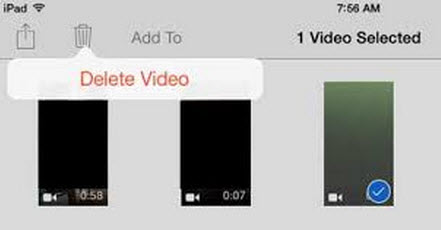 Solution 2: Delete video clips under Video app on iPad one by one
Another method to remove videos from iPad Air is by doing it under video application and deleting it one by one. This process can be done effectively if you wish to wipe of iPad videos individually. Moreover, it also comes in handy since the process itself does not require to sync them to a computer device. To begin with, here are the steps to use:
Unlock your iPad and go directly to the "Video" application.
It will lead you next to the list of videos within your iPad, manually choose for the video clip that you wish to erase.
Simply swipe each video to the left and a "Delete" button will appear on it.
Just tap this red "Delete" button to delete the video clips off your iPad.
Repeat these steps till all of the insignificant videos are gone.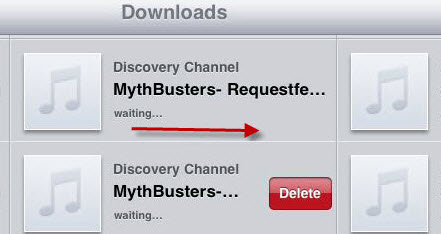 Solution 3: A free application to delete all videos from iPad
In an event that you need a better program to manage your iPad and delete videos off iPad synchronously. Then you can make use of this method via Online iPhone/iPad Transfer. By using this tool, you can also manage some of your media files such as images, music, voice memo and the likes. Now you can remove all videos that you want from your iPad easily. Here are the steps for erasing videos with this tool:
Launch the Free Online iPad Transfer.
Connect your iPad device to a computer via USB cable.
Once your iPad is recognized, you will be taken to its main interface.
Next is to hit the "Media" button then click "Videos" under "Genre".
All of your iPad's video clips will be displayed.
Choose the videos you want to delete by ticking the box along with each of them.
And the last thing to do is to hit the "Delete" button on the top part and your chosen videos will be gone in just few moments.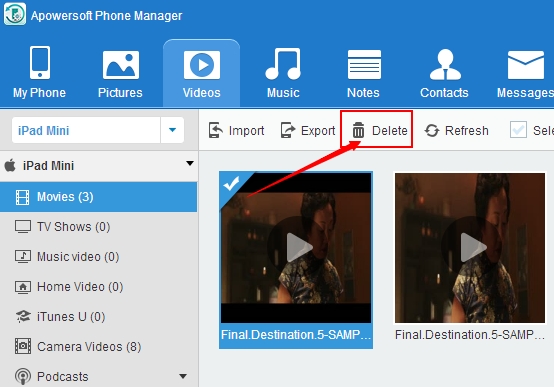 On the other hand, to utilize an even better solution to clean your videos more efficiently, it is better to use it with the iOS Data Cleaner.
Solution 4: Permanently delete videos from iPad
To permanently delete videos from iPad mini (also include other models) without leaving any trace behind, then start using the iPad/iPhone Data Cleaner. This application is the most innovative designed tool to wipe of any unwanted files from any iOS devices without leaving trace behind. Now there is no need to worry about the security of your private info on iPad due to ineffective way of deleting media files.
Install and open this tool on your PC.
Connect your iPad to the computer using a USB cable.
Upon recognizing your device, you will forward to the interface.
Next is to select "Erase deleted files".

After that you will be asked to select an appropriate data erasing level based on your preference.
Click the "Start" button to begin with the cleaning process.
When the process is complete, hit "Done". Shortly after the completion, the app will show you how much memory space you've spared.
Deleting videos from an iPad can be challenging for the first time, but after going through this article, you can easily maneuver your way and remove these clips easily. On the other hand, it would be beneficial if you will remove these files permanently to save space and protect your privacy.