I'm planning to purchase a new phone and I am wondering an automatic way to snyc the contacts to my new devices so as to save time for typing them one by one. Furthermore, I want to make sure that I keep a backup for safety in case something happens to my device.
Backing up your Android contacts is a smart thing to do as this will ensure that you'll never lose your contacts whether your phone gets corrupted, lost or stolen. You can also easily transfer your contacts in case you have a new mobile device so you don't have to add them manually especially when you have accumulated loads of contacts which may cost much time. There are different ways on how to do this and we will go through them in this article.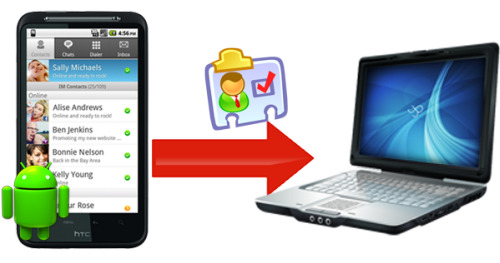 Three methods of how to backup Android contacts
Backup Android Contacts with Google Gmail
The first method that you can use to back up Android phone contacts is by syncing your Android contacts with Google Mail. You need to access the "accounts and sync" option on your device by opening the "app drawer" then "settings". Turn on "accounts and syncing services" and tap your "Gmail account". Make sure the "sync contacts" box is checked then press "sync now". When snyc is done, access your Gmail account on the computer and you should see a link under your profile that will lead you to your synced contacts. You can get your contacts on your new phone by following the same process to sync the device with Gmail.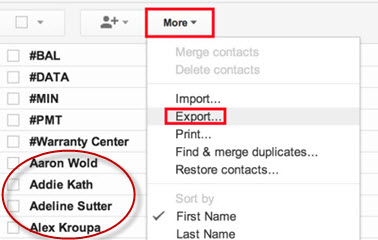 Backup Contacts with Android App on Google Play
The next option that we will talk about is backup contacts by Red Rock AS. This is a free application that you can download from the Google Play Store. You can back up your contacts to your SD card, send as an attachment to your e-mail, upload to Dropbox or save as a CSV file on your Outlook or Google account. This app does not just backup contacts saved on your phonebook but all contact information saved on your device.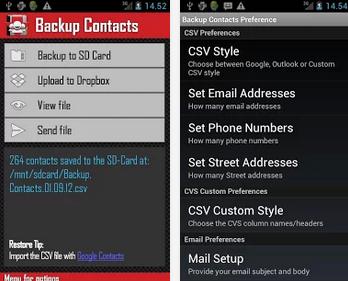 Apowersoft Android Manager
The last Android contacts backup software that we will tackle is Apowersoft Android Manager, which is also cost-free. Install this on your computer and connect your Android device to perform one-click backup for your data including your contacts, images, videos, documents and music. You can also export contacts to Outlook and Windows Live Mail then transfer them back to your phone in case you lose it on your current device.
Aside from backing up contacts, this tool has a lot more to offer. You can manage your Android files on your PC, which is better as you can navigate your items easily with mouse on computer screen. Finding duplicate contacts is also not a problem as the program comes with this feature. Applications and files can be added or removed without difficulties. Transferring of files between your Android phone and computer is fast and simple.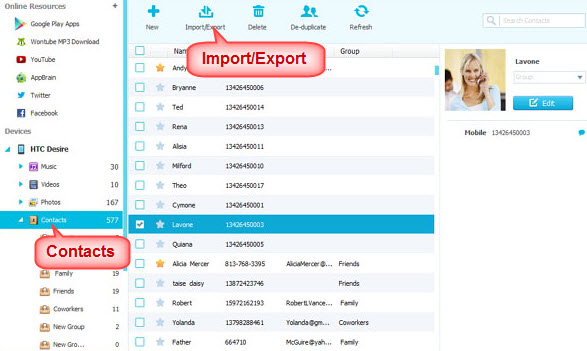 Conclusion
The three options that we discussed can all be used for backing up your Android contacts and they also come for free. If you have a Gmail account, syncing your Android contacts with it is a good choice. If you prefer to use an application on your device, you can try Backup Contacts. However, if you want to backup Android contacts to PC and you are looking for more added features including file management and app installation, Apowersoft Android Manager is the best method to use.