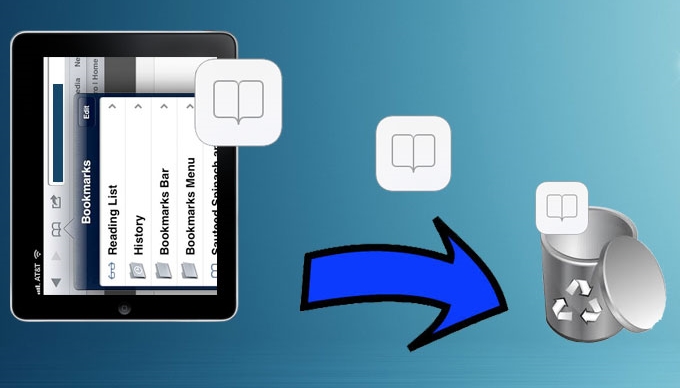 Today, surfing the internet has become more convenient as well as effortless accessible. With the birth of mobile tablets such as the iPad, one can surf the web without having to set in front of a PC. iPad is deemed to be one of the greatest tablets ever created of all the time. Equipped with Safari browser and ability to add bookmarks, the iPad nonetheless speaks utmost internet mobility.
Bookmarks are quite important in surfing Internet, letting you save favorite URLs, frequently visited websites, following blogspots and all others. By simply clicking the bookmarks toolbar on iPad, you don't need to type a site address over and over again to visit it every time. In return, this saves much of your time and effort enjoying long hours of surfing instead of remembering and typing web address. However, after you have piled up many bookmarks, the need to delete iPad Safari bookmarks will surely rise.
If you want to give your iPad to a friend or family member, you may need to clean some sensitive info for private security. This includes deleting of saved bookmarks on the gadget. Additionally, for privacy, security and low memory issues, erasing bookmarks on your iPad will certainly help most. How to delete a bookmark on iPad? Read below.
Solution 1: Delete An Individual Bookmark in Safari on iPad Directly
You are able to remove a few bookmarks on iPad manually without much of a hassle. This doesn't require additional tools or applications – all it takes is your iPad together with few scrolls and clicks. Here's how to delete bookmarks in Safari:
Open your Safari Browser.
Tap the "Bookmarks" button, this is the little book-like icon situated on top.
Hit "Edit" button located on top right corner.
Minus signs will appear next to each saved bookmark.
Tap "Minus" sign and click "Done" to delete bookmark.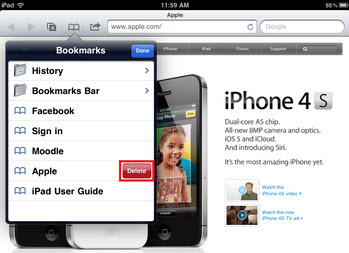 You could also swipe your finger to the left across any saved bookmark to delete it. If this method doesn't work, try clearing your browsing history and restarting Safari. Though, bear in mind that even if this method can delete bookmarks in Safari on iPad easily and effectively, your information can still be jeopardized. Remember that recovery programs can retrieve erased bookmarks on your tablet compromising both your privacy and security.
Solution 2: Permanently Delete iPad Safari Bookmarks
Using third party applications such as the iPhone Data Cleaner ensure thorough removal of personal files such as bookmarks. Aside from the ability to clean saved Safari bookmarks, this tool can also wipe off text messages, videos, contacts, saved passwords, applications, Apple IDs, account info and more. It works with carrier locked and jailbroken iPhone, iPad and iPod.
This software offers two data erasing mode with three erasing levels. Low for quick file deletion, medium to overwrite existing and deleted files, and high to remove personal info such as passwords or accounts. To permanently delete bookmarks in Safari on iPad using this tool, all you need to do is:
Launch this tool and connect your iPad to PC using USB cable.
Select the right data erasing mode.
To delete specified bookmarks, tick "Erase deleted files".
Choose from low, medium or high erasing levels.
Hit "Start" button and wait until wiping process completes.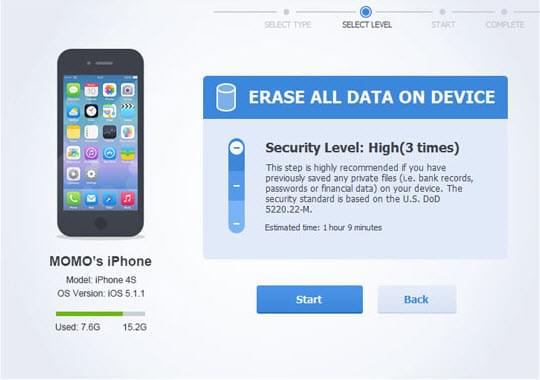 With iPhone/iPad Data Cleaner, how to delete bookmarks in Safari comes very simple that even novice users wouldn't get lost using this software. Moreover, it offers permanent deletion of files with zero possibility of recovery. This indeed safeguards your privacy and security.
You can choose to either manually delete bookmark, or delete a bookmark on iPad with the help of third party applications. Yet to keep all your private data safe, using sophisticated iOS data cleaning software is a must. The iPhone Data Cleaner can delete bookmarks and other files in bulk, meticulously clean your device, and protect your erased data from being recovered.