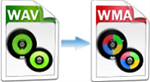 WAV and WMA are two well-known audio formats both developed by Microsoft. Generally speaking, these 2 formats are independent yet complementary with each other. WAV can digitize sound 100% faithfully to the original source because it is a lossless format. It reaches the standard of RIFF (Resource Interchange File Format) and is used to save the audio files on the Windows platform. Moreover, the format is very easy to edit and convert to other formats. Meanwhile, WMA, short for Windows Media Audio, is created to vie with MP3 and it outruns MP3 and RA (Real Audio) far ahead in both the compression ratio and sound quality. It retains the relatively high quality even if the sample frequency is low.
Why we need to convert WAV to WMA
Even though WAV has much higher sound quality than WMA, it has its shortcomings. First of all, it occupies much more storage. One four-minute song if saved as a WAV file, usually consumes over 30 megabytes (MB) of space, too large for portable players with limited flash memory. Additionally, WAV is not the most practical choice to stream or transfer online, especially over bad network connections. And because WMA files are smaller in size and retain high quality. WMA may be a great substitute of WAV, especially when your audio player is WMP (windows media player). To guide you to turn WAV files to WMA, we offer 3 different ways to you. Hope they'd be helpful.
Three Easy Ways to Convert WAV to WMA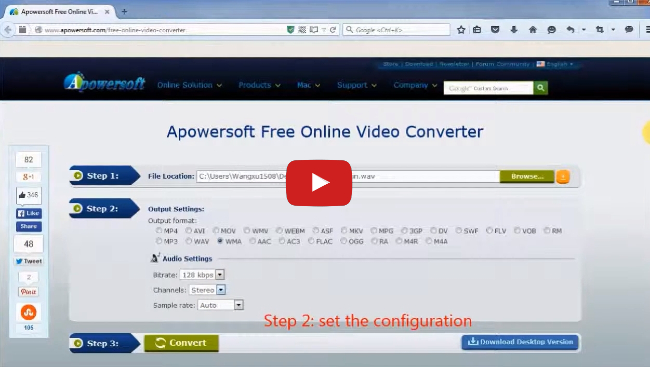 1
Use Free Online Converter
Nowadays, many websites offer online conversion service. Some charge the users according to the times they convert or the file size they convert in total; some are free to use but the ads on their user interface (UI) are just annoying as the fly in the soup. For your information, there is a great WAV to WMA converter I recommend – Apowersoft Free Online Video Converter. It doesn't charge you or put up ads on its page. And you can convert as many audios or videos as you like. Besides all these, you don't even need to register. From my perspective, this one is probably the best online converter I've ever used. Below is the guidance on the use of Apowersoft online converter.
Go to Apowersoft official website for online free conversion.
Update your Java Applet to the newest version. The dialogue box popping out will guide you to download and install. Ignore this step if you have already updated.
Import the MP3 files by clicking the "Browse" button to choose.
In the "output settings", choose "WMA", meanwhile you can set the output parameters.
Click "convert" button and wait it to compete. When it's done, the dialog box popping out will tell you where it converted file is.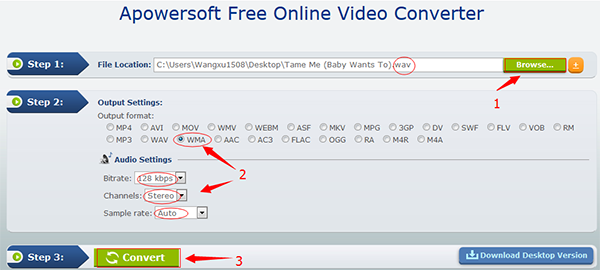 However, because online conversion requires relatively high network speed, it's very frustrating and time-consuming to convert online when your network is under bad condition. Considering that, we would like to suggest you trying the below 2 desktop programs.
2
Convert by Apowersoft Video Converter Studio
Apowersoft Video Converter Studio is a very powerful and professional video and audio converter. It can convert almost all types of video and audio formats, such as AVI, MP4, FLV, MP3, OGG, AAC and so on. You can also convert according to the device you use. The program will choose the optimum format and parameters to fit your devices best. Conversion from WAV to WMA format can be realized within several seconds. And this converter supports batch conversion as well, saving you a lot of time if you have many files to convert.
Step 1: click the "Download" button to download and install this tool on your computer.
Step 2: after installation, launch it and import your WAV file(s).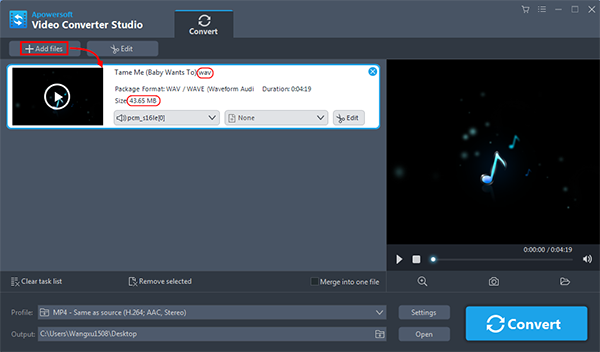 Step 3: open the "Profile" list and choose "audio" > "WMA", and you can choose where to store the WMA files in the dropdown list of "Output".
Step 4: click the "Convert" button and that's all.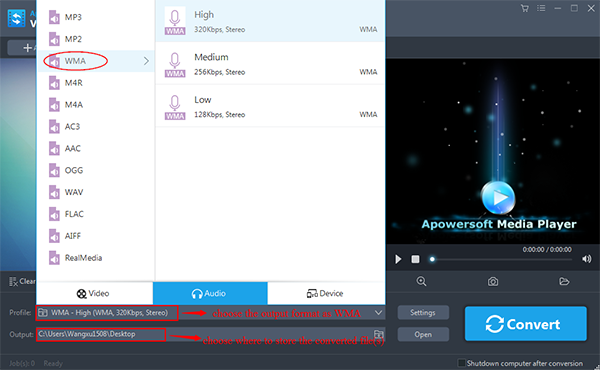 3
Convert via Freemake Video Converter
The second desktop program is Freemake Video Converter. It is a free entry-level video editing app developed by Ellora Assets Corporation, which can be used to convert between video and audio formats, rip video DVDs, and create photo slideshows and music visualizations. And you can convert WAV to WMA via this program. The process is similar to that of Apowersoft Video Converter Studio. Install this tool from its website before proceeding with the below guide.
Step 1: import your WAV file(s) by clicking the "Audio" button.
Step 2: choose the output format. On the bottom of the interface, click the "to WMV" icon and in the dialog box that appears, choose the output format as WMA.
Step 3: Convert. Click the "convert" button and that's all.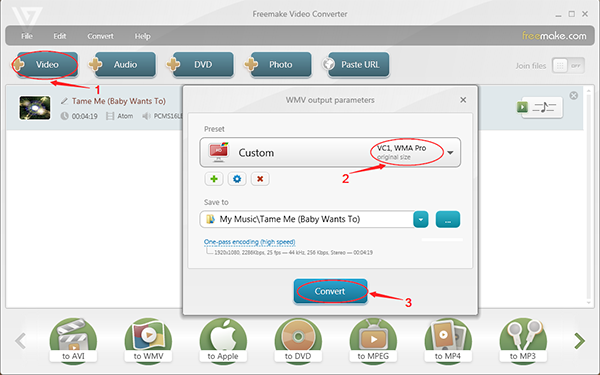 Summary
The above three methods all can help you convert WAV files to WMA. And they are very easy to conduct. For the people who don't want to install applications in their computers, Apowersoft Free Online Video Converter may be a good choice. For those who may frequently need to convert or have no Internet connection they should try these two desktop programs. And between the 2 software, Apowersoft Video Converter Studio may give you much better user experience with its concise and multifunctional interface.