Vimeo is a popular video sharing platform on which users can upload, view and share videos. It has more than 14 million members including music and film artists who use Vimeo to promote and share their work. Like YouTube, Vimeo has plenty of interesting and creative videos uploaded daily.
For various reasons, people hope to save videos or audio from Vimeo. The most common reason why users want to convert Vimeo to MP3 is to listen to the songs without the accompanying video. Or, if you find presentations, lectures or audio books, you can listen to the audio later by converting them to MP3. There are numerous audio extraction tools that help to extract audio from Vimeo, below are some of the most efficient ones.
Comprehensive Software to Convert Vimeo Videos to MP3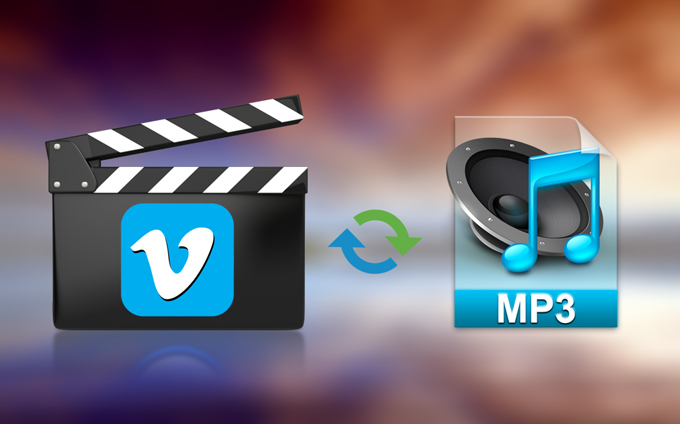 Streaming Audio Recorder is a well-rounded Vimeo to MP3 converter that offers a suite of useful features. It's a professional tool that's easy to use for novice and advanced users. The program has a clean and intuitive interface, and the menu is easy to navigate. What's great about this program is the fast and stable conversion speed.
Streaming Audio Recorder offers two ways to convert video to MP3:
Option 1: Extract MP3 from Vimeo directly
Download, install and launch the program.
Click tools menu on the top of the interface, choose "Video to MP3 converter" in the drop-down menu.
Put Vimeo URL into the URL box, choose format and quality.
Click "Add to Download" button to start downloading procedure.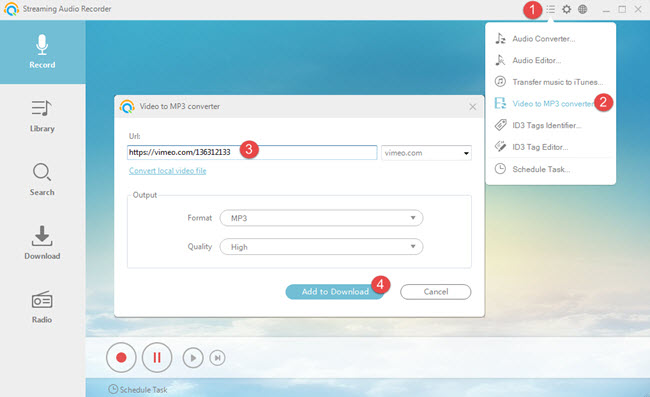 In this way, you are able to convert Vimeo to audio in batch. In the "Download" – "Downloading" interface, you could see the status of video conversions.
Option 2: Record the sound of playing Vimeo video
Click "Settings" on the recorder, set the input audio source as "System Sound".
Click the red round button on the left bottom of the main interface and play a Vimeo video instantly.
Hit the same button to finish your recording.
Enter "Library" to locate the recorded Vimeo MP3 and play it simply.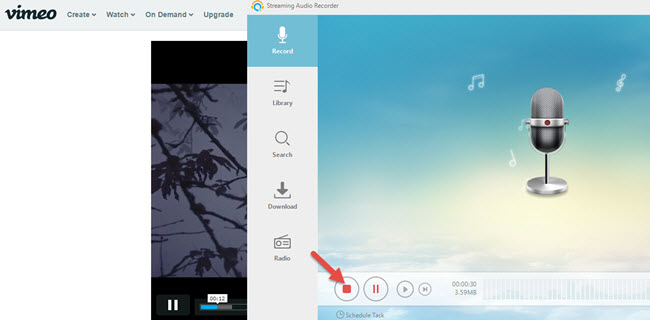 After you convert Vimeo video to MP3, you can edit audio with inlaid audio editor. It's simple to cut, trim, merge, split, add effect and edit the ID3 information for the audio file. You are also empowered to organize the playlist and burn it to CD. Besides, the audio recorder has hundreds of internet radio stations inside, just listen to your favorite show and record it with ease.
Free Vimeo to MP3 Online Converter
Apowersoft Free Video to MP3
This is a highly recommended free application that's easily accessible on your browser. It works well on all the operating systems and offers multiple choices in converting videos. Let's take a look at how to it:
Go to Apowersoft Free Video to MP3, click "Convert from Web" tab.
Copy the Vimeo video link address and input it into URL box on the online converter page.
Click "Convert" button, and permit Java to run.
When it's done analyzing the given video link which may take a few seconds, you can select the output format and quality for converting Vimeo to MP3.
Hit "Download" to save the audio to your hard drive.
When it is done, the folder which contains the downloaded file will show up on your desktop automatically. You can check or play the audio offline now.
Assuming that you still have any confusion about the procedures, please check the video tutorial below: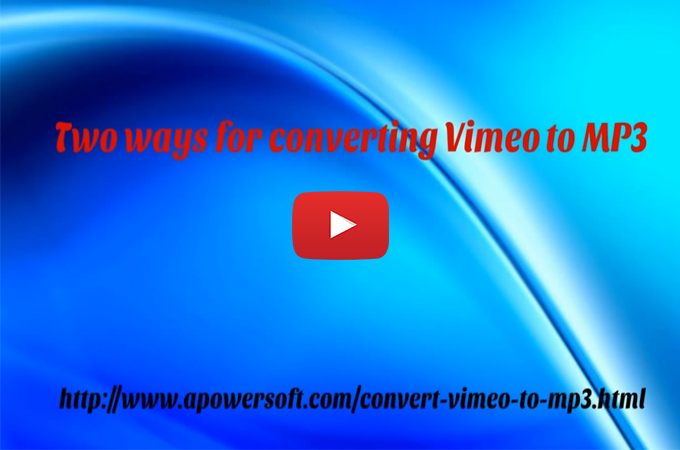 Free Video to MP3 supports lots of video sharing sites and offers a wide variety of output formats. It also features local audio conversion and MP3 searching functions. However, it also has the disadvantages, for example, it converts one video at a time only, so it will take time to convert a large number of videos. If you want a utility to perform batch conversion, you can directly find it at there.
VimeotoMP3.com
VimeotoMP3.com is another tool that can be utilized to convert Vimeo to MP3 free. Primarily, this online service allows you to convert Vimeo videos with three quality standards: high, medium and low. The website has a clean and straightforward interface with the conversion functions laid out neatly on the home page. Follow these steps to convert videos using this online tool:
Navigate to vimeotomp3.com.
Enter Vimeo URL into the blank address box.
Click the "Download MP3" button under the address box, and specify a folder for placing the MP3.
Later, you can find the Vimeo MP3 in the target folder.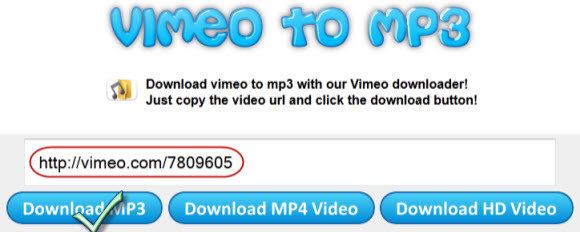 After using it, some merits and demerits also can be found on this app.
Pros:
Easy conversion process.
Works as advertised – completely free and no hidden charges.
Doesn't require download or plugin installation.
Cons:
Convert audio in one quality standard.
Sluggish conversion speed at times, especially when dealing with large videos.
When converting Vimeo to MP3, choosing a reliable tool ensures you can get exactly the song you want without knowing its name. Online conversion tools are recommended if you want to get the high quality MP3 from Vimeo free. Then, Streaming Audio Recorder will guarantee the efficiency when converting videos to audio files.