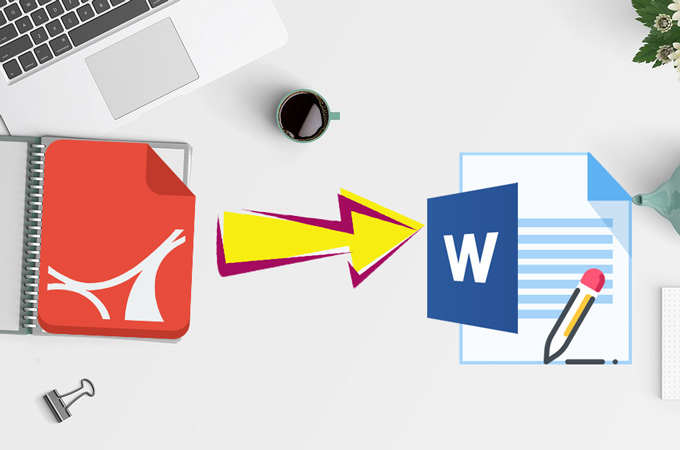 Question: I just scanned my document and it is saved as a PDF. But I can do nothing with this file. Can anyone tell me how to convert scanned PDF to Word? I need to copy all the contents of it. I don't have the time to retype it again as a Word file.
Answer: We can't deny the fact that PDF files are hard to handle, because editing a PDF document is not as easy as editing a Word document. Moreover, scanned PDFs are even harder to copy and modify. In this situation, you need to make use of special tools to get the content from noneditable or scanned files. Below are the best tools we recommend for you.
Tools to Convert Scanned PDF File to Word
LightPDF OCR
This is an online-based tool which can help you extract texts from an image. It has a very user-friendly interface that even first-time users can easily understand and make use of. Furthermore, you can choose an output format from among docx, xlsx, pptx, pdf, txt and rtf. In this case, you may need to select the docx. Below are the steps about how this web app works.
Step 1: Visit the OCR page on your computer.
Step 2: On the page, click "Choose File" to upload a file (you need to go to OCR VIP, since here is where it is available to convert scanned PDF to Word).
Step 3: Choose the language of the text that you want it to identify.
Step 4: Select "docx" as your output format.
Step 5: Lastly, click the "Convert" button and wait for a while. After some time, download the file and save it on your computer.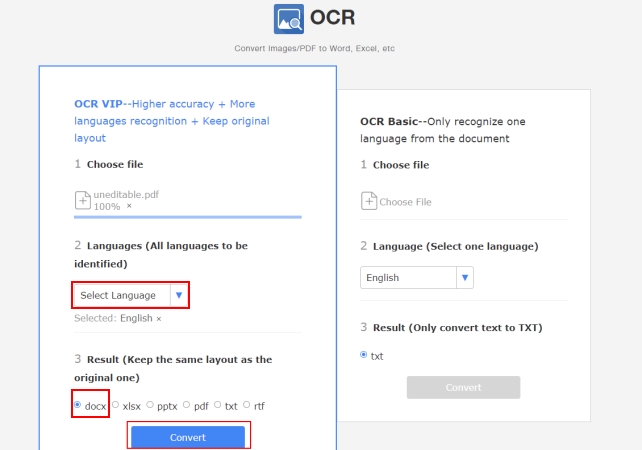 Google Docs OCR
Google also has OCR technology in its online document products. It is not visible to most people, because many users do not check it off before hand. Now, let's follow the guide below and use it.
Step 1: Log in your Google account and visit Google Drive.
Step 2: On the top right side, click on the Settings icon and check on "Convert uploaded files to Google Docs editor format". Then click the "Done" button.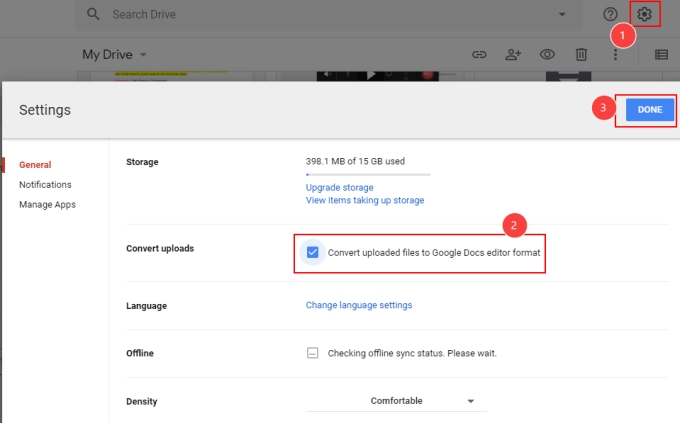 Step 3: To convert scanned PDF file to Word, click on "New" on the left part > "File Upload" > Select your File.
Step 4: Once uploaded, right click on the file and then choose "Open with" > "Google Docs". Just wait for a few seconds and you'll see the texts of the scanned PDF.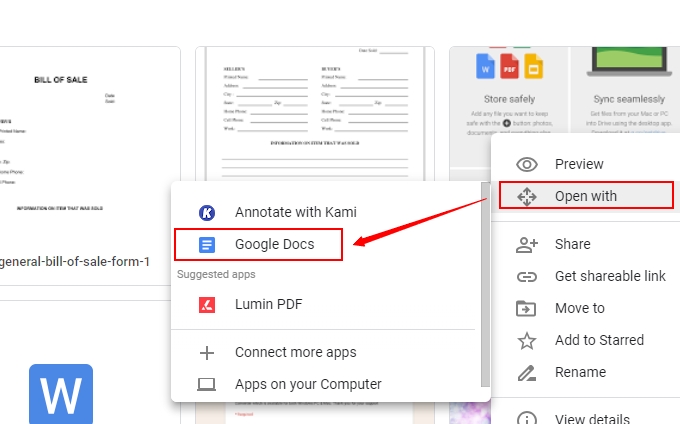 Step 5: If you want to export the file as Word, you can click "File" > "Download as" > "Microsoft Word (.docx)" to get the file.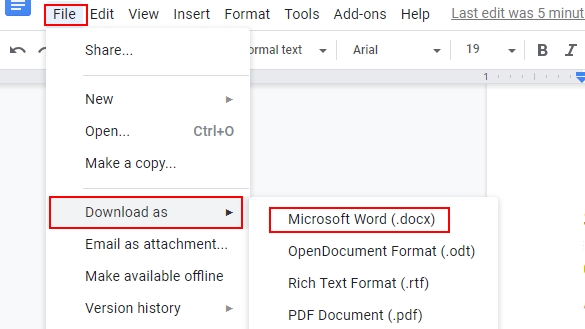 Alternative Solution – Edit Scanned PDF
Adobe Acrobat DC is a well-known PDF program created and developed by Adobe. It contains a group of features which lets users view, edit, print and manage PDF files. Furthermore, its automatic OCR function can also help you recognize the text from a PDF. Not only can you convert PDF to Word, but also can use it to edit a scanned PDF directly.
Step 1: Download and launch the program.
Step 2: Open a scanned PDF with it. Go to "Tool" and click the "Edit PDF" tab. It will automatically apply the OCR to the documents, and convert it into an editable file.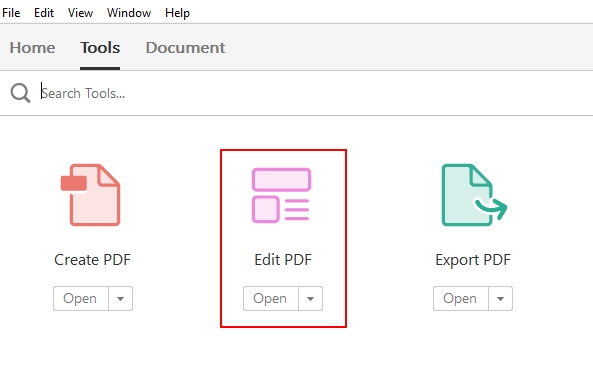 Step 3: Choose the text that you want to edit and start editing it.
Conclusion
These are some of the tools that you can use to convert scanned PDF to Word. However, if you are looking for a tool that is very convenient and easy to use, it is suggested that you just simply try the LightPDF OCR tool. As the output is of high quality and procedure runs quickly.