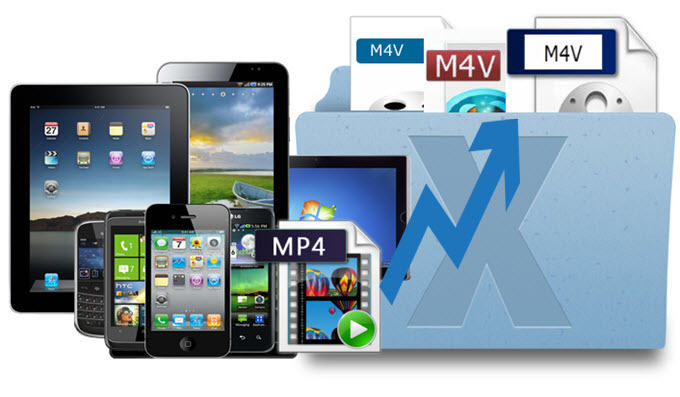 Why to convert MP4 to M4V?
Reason One:
M4V is a video file format fully developed by Apple Inc. It is very similar to the more commonly known format MP4 but greatly differs from it in terms of DRM copyright protection. Although both files can be opened and played through various multimedia programs with no problems at all, most Apple-made gadgets like the Apple TV, iPod, iPhone and iPad still have troubles in playing MP4 files. This is because the MP4 format is a container format in which the video codecs might be incompatible with Apple products.
Reason Two:
As is mentioned, M4V format is a DRM-copyright encrypted file format. Videos in this format can be protected from being used for commercial purposes. This on the one hand insures the video owners' rights and on the other hand avoids abuse of licensed videos, if you do not want your self-made videos being used by other people.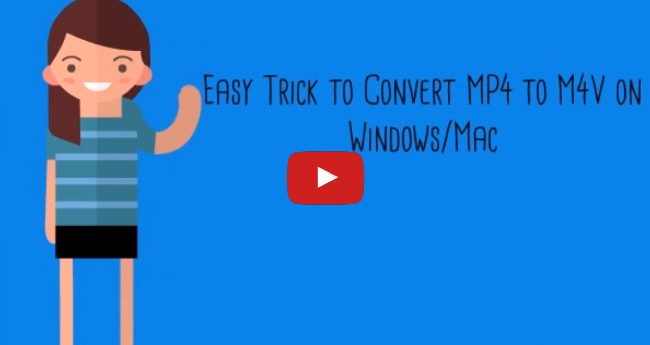 Easy Tricks to Convert MP4 to M4V on Windows/Mac
i. Change filename extension manually
ii. Online app to modify MP4 files into M4V
iii. Professional converter program for Windows platform
iv. Third-party converter tool for Mac OS
i
Manually change the extension
The easiest way to modify MP4 files into M4V is to change the file extension manually. This method needs no third party program and you can do it on both Windows and Mac computers. But before you proceed with this method, better be warned that this is only applicable to DRM-free files or those that are not protected by any copyright.
To manually change MP4 to M4V, you need to:
First, make sure that the "Hide extensions for known file types" box is unchecked.
You can change this setting by going to the "Folder and search options".
Then locate the file you wish to manually change by using the Windows/Mac file explorer.
Right click the file and select "Rename".
Change .MP4 file extension to .M4V and hit the Enter key to make the change come into effects.
Please note that manually changing the file extension of copyright protected MP4 files into M4V will only give error messages, such as unable to load the video or can't open the file when trying to access the data.
ii
With the help of online converter apps
You can try free program that can efficiently convert MP4 to M4V online rather than being entangled with the copyright protection on the file. The Apowersoft Free Online Video Converter is a 100% free file conversion tool that needs no installation on your computer. It works great on all platforms including Windows, Mac and Ubuntu. No sign-up or even membership required at all. The best part of it is it doesn't have any file size or time limitation.
To use this MP4 to M4V converter, all you need to do is:
Make sure that you are connected to the internet already and go to its official website.
Click "Select files to start" and load the MP4 file that you'd like to convert.
Choose "M4V" as the output format and edit the settings by changing the resolution, bitrate or frame rate.
Finally, click "Convert" and wait until the process completes.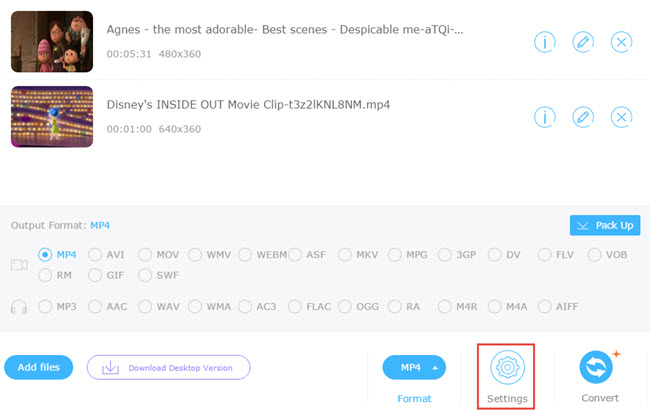 Tips: If it is the first time you use the app, you have to install Launcher to your computer. After that the tool can be correctly started.
Although this online tool is very easy to use, it depends on the network heavily. Offline-use is deniable and the conversion speed is terribly influenced by the original file size. The next program is more appropriate for you, which equips with much more comprehensive output settings and additional features.
iii
Take advantage of Video Converter for Windows (Windows 10 included)
If you want to convert MP4 to M4V effortlessly and straightforwardly, the Video Converter Studio is what you need best. As a reliable file converter, this program comes with a very user-friendly interface that users of any level of skill would find it simple to get started. The conversion speed is quite fast and is fully compatible with the latest Microsoft platform, Windows 10.
After installing the program, follow the guide below to use it:
Open the program and click "Add files" button.
Load the MP4 file you wish to convert and you could also drag & drop the file into the interface.
Click "Profile" below and choose M4V from the available options in the format menu.
Adjust the video output settings by clicking the "Settings" button if necessary.
Specify the output location and finally click the "Convert" button.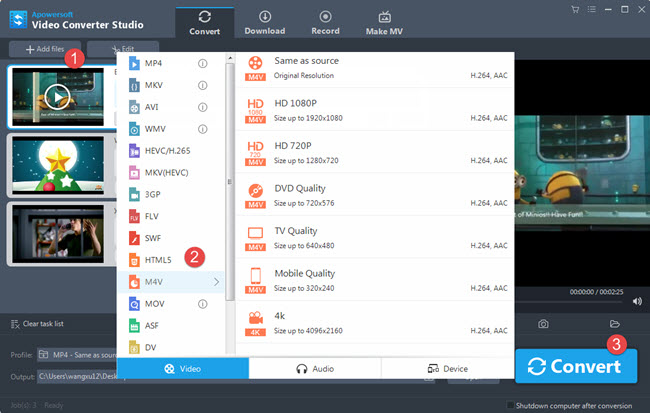 Aside from being a powerful file converter, the Video Converter Studio is similarly equipped with other features. It has a powerful video editor by which you can rotate, crop, apply effects, join and trim video files. You can use it to grab videos on the web through the built-in video downloader. There is a screen recorder and a comprehensive movie maker included as well. All functions make it one of the best video converters to use.
iv
Make use of Video Converter for Mac (OS X El Capitan included)
For Apple fanboys who wishes to modify MP4 to M4V, the Video Converter for Mac is highly advised. It runs perfectly on Mac OS including the latest version El Capitan. This program let you smoothly convert video files without losing quality. It supports both standard as well as high definition videos along with popular audio and video formats.
To use the Video Converter for Mac, just:
Install the program on your computer then on the main interface click the "converter" icon.
Click the "+ Add" button and load the MP4 file.
Choose "M4V" as the output and adjust video settings accordingly.
Once everything is set, click the "Convert" button.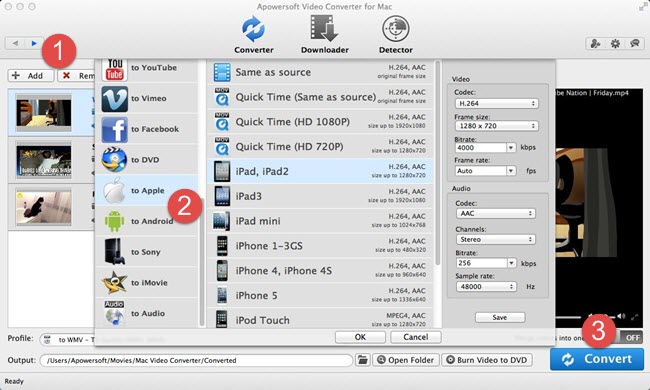 This program can also download videos on the internet. It equally comes with a built-in video downloader that can capture videos online manually and automatically. The built-in video editor can be used to change video codec, bitrate, frame rate, frame size, channel, sample rate, and many more.
Summary
Among all solutions for converting MP4 to M4V, the Video Converter Studio for Windows is the best as it is a really multi-functional program that satisfies all demands for a video: convert, download, edit, play, record and make. The others are also very good as they have respective advantages. Select the one that you prefer.