M4V – Description
M4V is a video container format that is not known to common people until Apple Inc. developed it in its iTunes Store for purchased videos including full-length movies, music videos and TV episodes. In reality, M4V format is very similar to the MP4 format in many ways except for the condition that some M4V files are protected by Apple's FairPlay DRM copy protection. Playback of a protected M4V file is limited to computers that are authorized (using iTunes) with the account used to purchase the video. With regard to unprotected M4V files, by manually renaming the filename extension from M4V to more popular MP4 can make it recognized and played by other media players.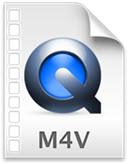 Filename extension: M4V
Media type: Video File
Extended From: iTunes video format
Developer: Apple Inc.
Specific Use of M4V format
Apple creates M4V for videos in its iTunes Store, therefore, this format is commonly used in Apple products, such as iPhone, iPad, iPod, Apple TV and others like PlayStation Portable, etc. Encrypted with DRM copy technology, it protects the video content from being used for commercial purpose and encourages users to purchase the files on its iTunes Store.
Differences between M4V and MP4
M4V and MP4 are both same H.264 MPEG-4 formats. They are identical to each other essentially and famous for the balance between high quality and reasonable file size. There are still differences that slightly differ themselves from each other.
Purposes: M4V is specifically designed for Apple devices and software. The soaring popularity of Apple products ranging from devices to software makes M4V be accepted by more and more media players. MP4 adapts all valuable properties of previous MPEG versions to make it practical for online use. Because it provides faster loading speed, high quality media broadcast for average internet users.
Features: M4V format is used to encode video files like movies, music videos and TV episodes in Apple iTunes Store. It is protected by the Apple's FairPlay DRM copyright. While the use of MP4 format is much broader, most commonly used to store video, audio, subtitles and still images. No professional copy protection makes this format popular in video streaming over the Internet. Almost all media players and devices support MP4 format.
Software to open M4V files

iTunes – Apple iTunes is the default way to play M4V video files from the iTunes Store. And it is also the tool used to authorize the computer to play M4V videos if they are under the protection of DRM copyright.

QuickTime Player – M4V files can also be opened and played with QuickTime player but the files protected with FairPlay DRM will be identified as AVC Media file.

VLC media player – VLC is an omnipotent media player that can play all variety of media files. Unprotected M4V files are supported to open with it but if you prefer to play protected M4V video files in VLC, you'll have to remove the DRM first.

Video Converter Studio – Video Converter Studio is actually a piece of converter software which has embedded a media player in the software. It can play multitudes of video and audio files including the unprotected M4V files.
Solutions for M4V file format
i
Convert MP4 to M4V – MP4 is a container file format that is universally accepted by nearly all media players and devices. Sometimes when we copy the MP4 movies to the iPad/ iPod via iTunes, error message will be given saying that the video cannot be played on this iPad/iPod. This is because the video data in MP4 format can be encoded with different codecs. If the codec is incompatible with the devices, it won't be played on them. Therefore, you need to turn to an MP4 to M4V converter for help.
ii
Convert AVI to M4V – Despite the announcement from Apple that the AVI format has been added to the support on its products, the playback still comes with troubles unless the AVI file is compatible with the Motion JPEG (M-JPEG) standard. In order to enjoy AVI files on devices, such as iPod, iPad or iPhone, we can just convert AVI to M4V format.
iii
Convert WMV to M4V – Though a lot of media players and devices are able to play files in WMV format, this file format cannot be read in iPod. If you intend to watch WMV movies in your iPod, converting them to M4V format is a nice option since it is an iPod-friendly file format.