As is known to us, MP3 is a file extension being widely used all the time. However, it cannot fulfill the increasing needs on high quality audio from people especially the iPhone users. Additionally, M4A is considered as the successor of MP3 compression format, which was generated by Apple Inc. It preserves higher quality sound but takes less storage than MP3. Based on these reasons, it is a great choice to change MP3 to M4A format if you want to store abundant MP3 songs for listening on your Apple devices with much less memory required. Hence, this article is going to show you three quick ways to enjoy music on your iPhone without difficulty.
How to convert MP3 to M4A without hassle?
In order to change MP3 into M4A, we will need to use effective converters. We have explored and selected several tools which can help you solve this problem.
1: Use a simple free online tool
2: Utilize a full-featured desktop converter
3: Default way by using iTunes
1
Use Apowersoft Free Online Video Converter (Windows & Mac)
The first tool for both Windows and Mac users is the Apowersoft Free Online Video Converter. This is a free web-based application which supports conversion for almost all kinds of audio and video file formats. Besides this, users don't need to install anything in the computer. It only requires cyber connection to conduct a quick conversion among MP3, M4A and other files. Moreover, this tool is not only simple to use but also works as converting multiple files at one time. Here is the instruction about how it works:
Step 1: Go to Apowersoft webpage and click on the "Browse" button to import MP3 file.
Step 2: Choose "M4A" as the output format. Please note that you can configure the "bitrate", "channels" and "sample rate" for specific needs.
Step 3: Click on the "Convert" button to start the conversion. Once done, the file will automatically be stored in your computer.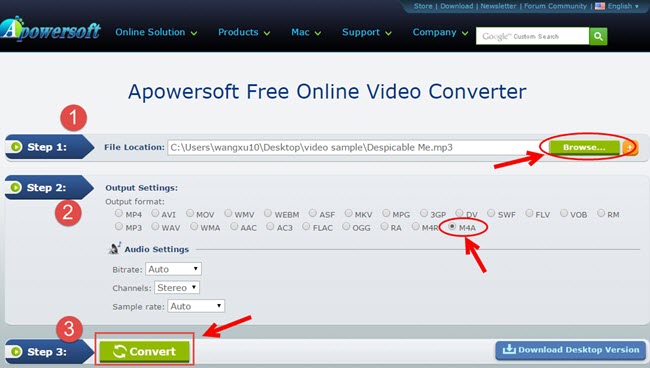 This MP3 to M4A converter is effective but dependent on network status. And time required for conversion can be influenced by file size. If you want to get rid of the troubles mentioned above, there is another professional tool for you to choose.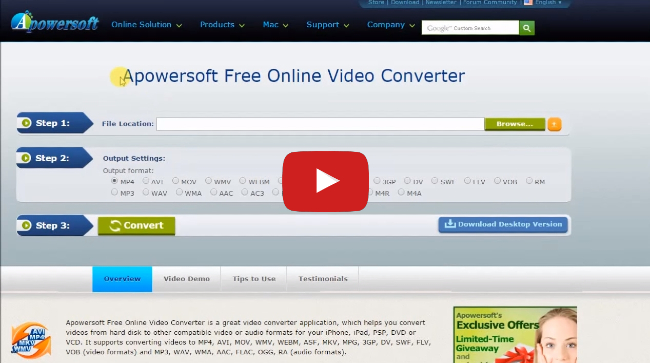 2
Take Video Converter Studio to convert (Windows)
A more professional tool that you can use is Apowersoft Video Converter Studio. This is a desktop program which works independently without internet. Furthermore, it not only provides fast conversion speed but also produces high-quality output files. By the way, it supports batch conversion. Here come instructions for going through how this application works:
Download the program in your computer, then launch it afterwards.
Have a quick glance at the interface and you will see an "Add files" button, click it to upload the MP3 file.
Drop down "Profile", choose "Audio" > "M4A" as the output format.
Press the "Convert" button to begin with the conversion.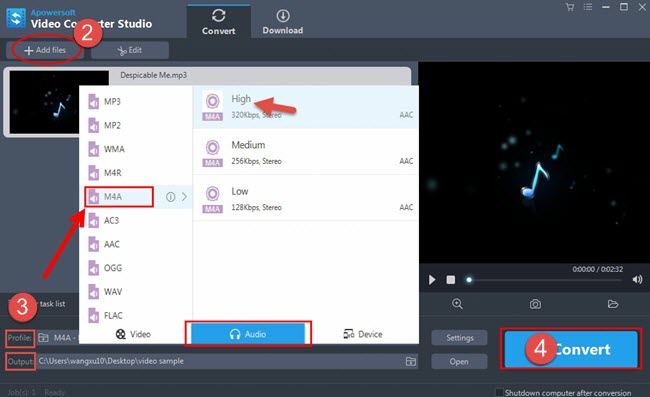 In addition to converting MP3 to M4A function, it also enables you to go further editing the audio, just move to the Editing Window. You can trim the audio by clicking "Add Trim Marker" button and remain the part you want between the two sliders.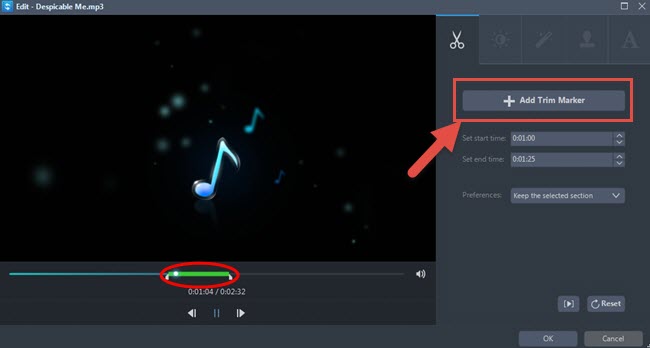 3
Make use of Apple iTunes(Windows & Mac)
iTunes is the duly default option for users to manage media files. Since M4A is the typical audio format adopted by Apple, you can make use of iTunes as a converter without question. To know how to use this tool, just follow the steps below:
Step 1: Open iTunes and then click the "File" > "Add file to library" to insert the MP3 file in iTunes.
Step 2: Select "Preferences", "General" and "Import Settings".
Step 3: Right click the MP3 file and choose "Create AAC version" so that an M4A format with the same file name will be created.
Step 4: Right click on the second file and then select "Show in Windows Explorer". A new window will pop up displaying the file with M4A format.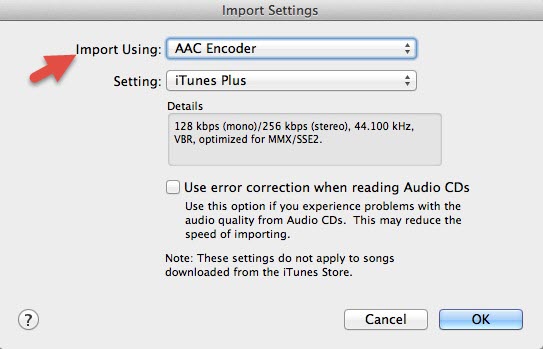 Although serving as a MP3 to M4A converter, iTunes doesn't support a batch conversion and may not complete the job nicely when it comes to the preservation of original audio quality.
Summary
These tools mentioned above are the best converters for you can convert MP3 to M4A with ease. All of them are very useful. For those who don't worry about network, free online converter is worth a try. From other aspects, Apowersoft Video Converter Studio is highly recommended. On the one hand, it does not need a network. Once you have it installed, you can use it anytime. On the other hand, this tool is much faster and easier. Even a newbie can easily learn to use it. If you do not need batch conversion, you can just utilize iTunes as a converter and a player. Anyway, just choose a tool which suits you best.