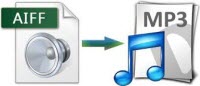 AIFF commonly used in Mac OS could be played on Windows OS as well if there installed a compatible player on the PC. The AIFF format adopts a lossless compression tech to dispose of audio files which in other words, the files are uncompressed and lossless. The biggest flaw of all lossless audio formats is that they occupy too much space. Fortunately, AIFF has its own compressed variant known as AIFC format. But most people prefer to convert AIFF to MP3 rather than play AIFC directly on the devices. For the reasons we can put it in those words, MP3 is the most popular format that nearly all devices could play it without any hesitation on one hand. And on the other hand, MP3 is superior to AIFC, judging from the compression level. Despite the fact that MP3 is a lossy audio format, it minimizes the differences of the audio quality. The person who even has a golden ear won't tell the tiny distinction.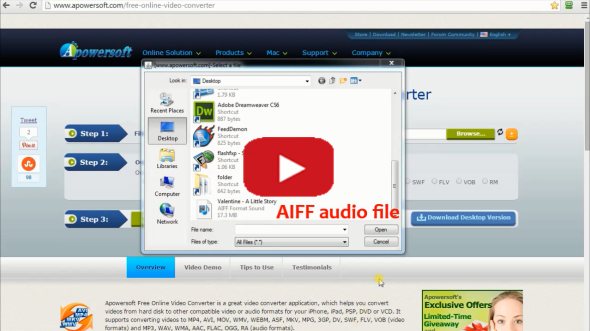 Part One: How to convert AIFF to MP3?
Method I: Adopt a free online application
When we put the keywords to a search engine to get an answer, we are bound to find a variety of tools capable of achieving the transformation. They are indeed workable on this but probably we are allowed to add the AIFF files one after another instead of adding all files to convert if we get a web-based tool assist us. Apart from MP3, assuming that we wish to change AIFF files to WAV, WMA, AAC, AC3, FLAC, OGG, RA and many other popular formats, an online converter just usable for AIFF to MP3 transformation is far from sufficient to utilize. Don't worry. I've got one of the most powerful online converters to keep you away from the aforementioned trouble. Hit here to log into the page.
Click on "Browse" to upload AIFF songs from the local folder.
Choose "MP3" as the output format for the AIFF file.

Hit "Convert" button to launch the conversion.
This converter is called Apowersoft Free Online Video Converter. As the name implies, it is an online video converter but meanwhile audio conversion is also supported so that it is not impossible here to convert AIFF to MP3. Transforming videos to MP4, AVI, MOV, WMV, WEBM, ASF, MKV, MPG, 3GP, DV, SWF, FLV, VOB and RM format is available too.
Tips: You must have noticed the plus/minus button behind "Browse" button. It allows you to upload as many songs or videos as possible to the application to transform at a time.
Method II: Adopt a third-party program
Certainly, we'll be satisfied when a web-based converter can settle what we want without a penny. Why should we pay for an extra third-party AIFF to MP3 converter to make this conversion? The common sense tells us web-based applications are easily affected by the net speed while third-party applications are not. Compared to the online tool, a third-party converter enables us to transform audio files into other formats without any interference of the internet connection speed sounds better. The recommendation is to employ Video Converter Studio.
Install and run the program first things first.
Click on "Add" to import AIFF audios.

Hit the "Profile" bar to choose "MP3" from the "Audio" option.
Click on "Convert" button to start the conversion from AIFF to MP3.
This third-part program is appropriate for transforming audio files to MP2, AC3, WMA, WAV, OGG, FLAC, AAC and other popular audio formats. For video conversion, this thing applies to convert videos to formats like AVI, AMV, MKV, MP4, WMV, 3GP, FLV, SWF, HTML5 and others such as Apple, Android, Sony, Youtube, DVD, etc.
Additionally, one reason that makes Video Converter Studio distinguished from others is its trim feature. In reality, we are not just content with change the audio format. Sometimes higher requirements for a song are required, for example, to intercept some pieces as call tones, SMS tones or ring tones.
Upload the audio you want to use.
Hit "Video Edit" to access the trim page.
Tick "Enable trim" to set start time and end time for the tone.

Click on "OK" and you'll go back to the previous interface and then hit "Convert".
Part Two: Comparison between two AIFF to MP3 converters
The merits of this web-based application are that it is completely free so that we can take advantage of all the services with no fee at all. No installation and registration are needed before we use it to transform audio and video to other formats. The demerit is that when we upload a dozen or more audio/ video files to the converter, the process will be delayed due to the situation of internet except from the length and size of the files.
While the third-party program makes up for the limitations and strengthens the functions of the online tool. More formats are available. Smart converter and editor are embedded which simplifies the conversion process and acquire nearly everything we want from the audio/video files. The disadvantage is you need to download and install it and after three-day trial, you have to register it for further use.