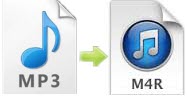 MP3 is a standard technology and digital encoding format for audio storage. Its superiority in compressing audio in a small file while preserving the level of sound quality makes it popular in the music industry. Most of music we hear are in this format. And not only that, nearly all electronic devices on the market can recognize and play audios in this format, including Apple's iPhone. Yet, the real question is not iPhone cannot play MP3 music but that it's unable to use MP3 music as ringtones because it only recognizes M4R audios as ringtone. What's worse, M4R ringtones on the Internet are far from enough to satisfy iPhone users' demand. With the purpose of assisting people in having more freedom to customize iPhone ringtones, here comes the solution to make M4R ringtones from MP3 music. That being said, we will convert MP3 to M4R format.
Easy guide to turn MP3 files to iPhone ringtones
We will firstly change MP3 music to iPhone M4R ringtones with two optimal solutions and then transfer them to iPhone devices. You can count on the complete solution below.
1
Part I: Change MP3 Music to M4R ringtone
Method one: Use Video Converter
One of the most advised converters is Video Converter Studio. It is a professional tool allowing people to convert any video and audio into the format that they want. Comparing with the parallel MP3 to M4R ringtone converter, making M4R ringtones from MP3 music with this tool is faster and much more reliable. It only takes seconds to get the ringtones you want. Download and install the tool on your PC first.
Let's get started to use this tool.
Launch it and click "Add Files" to import MP3 files.

Click the arrow to expand the format list in "Profile" field. Choose the output format as "M4R"
Hit "Convert" to start conversion. The MP3 file will then be saved in your PC as an M4R file.
Additionally, if you prefer, it also lets you convert mp3 files in batch which is definitely a more efficient approach than converting them one after another. Besides, it has a built-in video editor which is ready to use in case you want to edit the audio file on your computer. With the help of this amazing tool, there is no need for you to install another video editor.
Method two: Utilize iTunes
Apart from the third-party tool given above, iTunes can also convert MP3 to M4R format. iPhone users should already have iTunes installed on their computers. But if you don't have it, just go to download from Apple's official site. Compared with the first method, steps on doing this in iTunes are more complicated and time consuming. But it does not require you to install a third-party tool, below is the guide on how to convert MP3 to M4R through iTunes.
Open iTunes and then go to "File" > "Add file to library" to add the MP3 file to iTunes from your computer.
Click the "Music" to see the uploaded Mp3 file.

Right click on the MP3 file and then choose "Create AAC version" to allow a new file in M4A format with the same file name to be created. It will be placed below the original file.
Now right click on the new file and then hit "Show in Windows Explorer". A new window will appear showing the file with M4A format.
Once you see the file, right click it and choose to rename the file extension from M4A into M4R. You can then transfer the ringtone and use it on your iphone.
2
Part II: Transfer M4R ringtones to iPhone
Now we have done the M4R ringtones successfully, then the upcoming step is to transfer them to iPhone. The highly recommended program is Apowersoft Phone Manager, which is a specific online application to transfer files between your computer and idevices.
Download and install it on your local disk.
Launch it and connect iPhone to the PC.

Once connected, click the "Music" tab and import M4R into ringtone folder. Within seconds, they will be saved in your iPhone
Disconnect your iPhone from PC by clicking "Disconnect" button and you are able to set the transferred M4R files as your ringtone.
Conclusion
That is the integrated solution to turn MP3 music to iPhone ringtones. Both tricks on converting MP3 to M4R have their individual features. You can check the appropriate one to get your ringtones or if you have better ideas, please leave a comment to let me know.