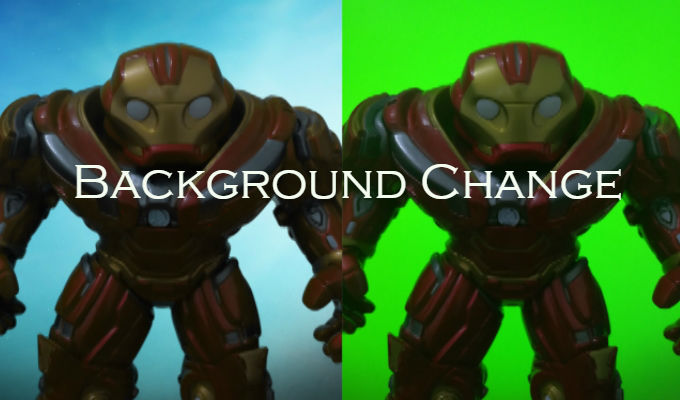 Changing video background is a great way that you can do to remove unwanted things from your video with ease. Some users intentionally want to replace their video's background to make their clip more appealing and add artistic look to their creation. However, not every video editor provides this kind of function, and most of them are paid applications that need to be purchased before having these features. Luckily, it is a good thing is that developers have come up with free video editing tools that are capable of changing your video's background as well. Know more about these programs as we go on with this article.
Use VideoStir (Windows, Mac)
To replace your video's background, one of the best program to be used is VideoStir. This is a web-based application that works on Windows as well as on Mac OS. One of the notable advantages of this tool is that it can replace your video clip's background with any cool images that you wish to have. Therefore you don't need to do any complicated procedures, simply upload your video, choose the image that you want for the background and the program will automatically do the rest of the work. Moreover, this page also sells pre-made video clip with clear background that users can place on another video or even a web-page. This tool is indeed one of the fastest one on the market that can change video background online without any layering needed.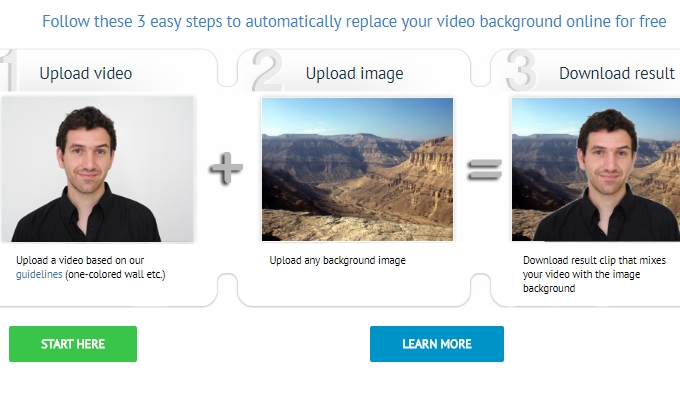 To use this program, here are the steps to follow.
Firstly you can go and visit the tool's official page.
Once on the page, simply click "Start here" and then upload the video that you want to process.
Next, is to upload the image of your choice to use as the background.
Once the video is synced, you can now download it on your local disk.
Use VSDC Video Editor (Windows)
The next program that you can use to change the background of a video is VSDC Video Editor. This is a reliable video maker and editor for Windows that provides multi-color chroma key function that allows users to remove a certain video background, and then replace it with the image or video that the user prefer to have. Furthermore, this video editor supports hardware acceleration and provides options to adjust parameters settings, and now offers enhance resolutions, which are essential in creating huge HD videos.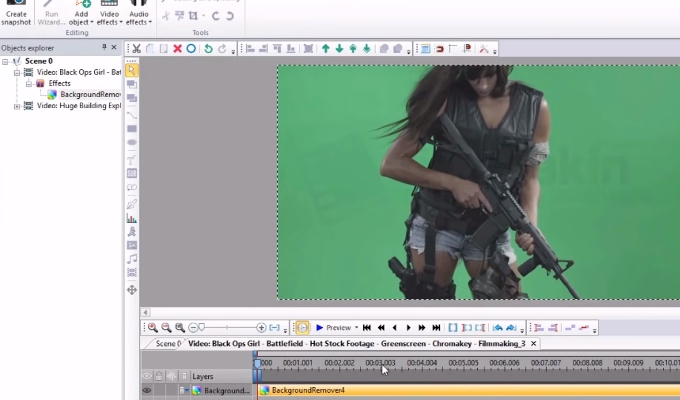 For editing the video with this tool, here are the steps to follow.
Get and install this program on your PC.
After the installation is done, open the program and then load the clip that you need to work on.
Next, is to go to "Video Effects", and then select "Transparency". At this point, a list of functions will be shown, choose "Background remover".
To continue, hit the "dropper sign" and click the background that you wish to delete.
Turn on "Adaptive Alfa" and adjust the "Blend value".
When the previous steps are done, go back to "Video effects", but now click "Adjustments" > "Red/Green/Blue". You can then alter the values till they reach the desire color balance.
Now you can modify the "Brightness/Contrast/Gamma" under "Video effects" and play along until you get your preferred combination.
Once satisfied, you can save the project, or render the video and save it on your local disk.
Background Changer (Android)
If you prefer a more convenient way to change your background, one of the most preferred option you can choose is to edit it directly on your Android device using a tool called Background Changer. This is a mobile application that is solely created to get rid of any unwanted background and replace it with a new one. The features that you can get with the utilization of this tool include: an access into your gallery's images, an adjustable brush to erase portions that you wish to delete, and a crop and rotate function for easy editing.
Moreover, there are over 100 readily available backgrounds that can be used in case you don't have the suitable image to utilize. To save the edited file, you can save it directly on your SD card, or you can share it online via the various popular social media pages.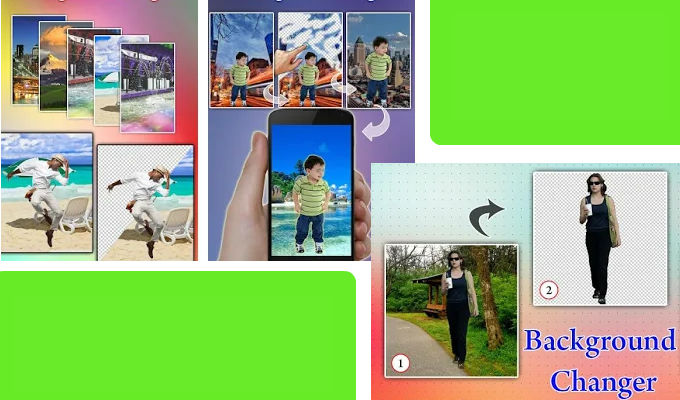 In order to replace a background with this app, kindly follow these steps.
Install this app from Google PlayStore for free.
After that the installation has been finished, launch the program and tap "Start", from here you can choose the file that you need to work on.
When the file is loaded you can start selecting the portions that you want to delete by just wiping your fingertips over the unwanted parts.
Next, is to select the background that will replace the one you just erased. Just select the one that you prefer. To save the changes, tap the "Save" icon and your file will be saved under your device's gallery.
Chromavid (Android, iOS)
Another mentionable mobile video background changer for Android and iOS devices is Chromavid. This application allows users to get rid of any background as long as it is red, green, blue, yellow, or is created with solid colors. There's no need for using an expensive alternative program just to have that chroma effect, with this tool you can do that in a snap. However, this tool does not work on saved videos and images. For it to work, you must use the app to record the video that you are going to use, and it must be captured using the supported colors that we mentioned.
It is definitely one of the fastest possible ways to achieve that chroma effect instantly on your content. The noticeable flaw on this tool is that it leaves brand on the process file, and it does not have an option to replace the background that was cut.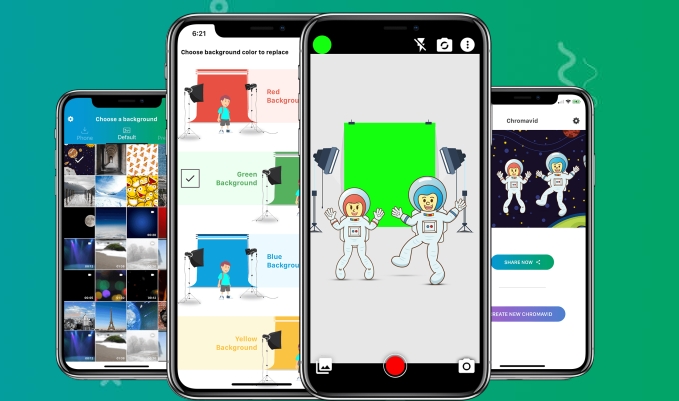 To get change the background, here's what you need to do.
Download the application from PlayStore or iTunes.
After that, open it and tap the "circle" on the left upper portion of the screen, and then choose the color that you want to have, for example green.
At this point you need to record a video or capture an image. When you're done, the file will instantly have the chroma effect that program is intended to do.
Conclusion
Those are the best mentionable ways on how to change video background. We provided different applications that run on various platforms so that you'll have the option to pick the one that suits your preferences. If you want to replace background easily, VideoStir is a good choice. While if you need to do further editing, then VSDC is the tool for you. On the other hand, if you are working on your mobile device, Chromavid can surely help you with it.