From high pixel cameras to crisp intuitive touch screen displays, we cannot deny the ever changing and really fast evolution of mobile phones. If from before you can be easily satisfied with the instant messaging feature offered by Blackberry. People these days are yearning for open applications and monstrous hardware specs such as those on Samsung smartphones. Together with user-friendly interface and tons of unique technical features, many users are ditching their Blackberry mobile in exchange with the brand new Samsung Galaxy S5.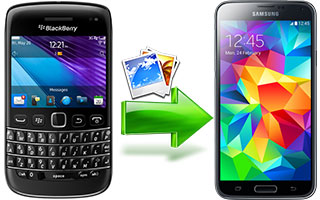 However, switching from Blackberry to Samsung is not an easy task to deal with. Aside from moving your contacts, SMS, music and videos, transferring your photos is yet another challenge you need to overcome. With two mobile operating systems running differently from one another, how to transfer photos from Blackberry to Samsung Galaxy S5 is indeed confusing. Luckily, there are easy ways to solve this task. Check out these methods after the jump.
Two Ways to Transfer Blackberry Photos to Samsung S5
Way 1: Use Phone Transfer
Phone Transfer is a desktop application specifically designed for easily transferring multiple files between different handsets. It supports the latest version of Android, Symbian, iOS and Blackberry operating systems. With Phone Transfer, you can move mobile contents such as apps, photos, music, videos, audios, contacts, SMS, bookmarks and more within a single click. Additionally, this software comes fully compatible with thousands of phone models based on major smartphone brands.
To transfer pictures from Blackberry to S5, simply follow the steps below:
Download and install Phone Transfer on your computer.
Select "Phone to Phone Transfer" mode on its main interface. Connect both your Blackberry and new S5 to PC using USB cables.

Wait until both devices are automatically recognized.
The source phone should be Blackberry with S5 being the destination.
On the middle pane tick "Photos" box and click "Start Copy".
Wait until process completes then tap "Ok" for safe removal of your devices.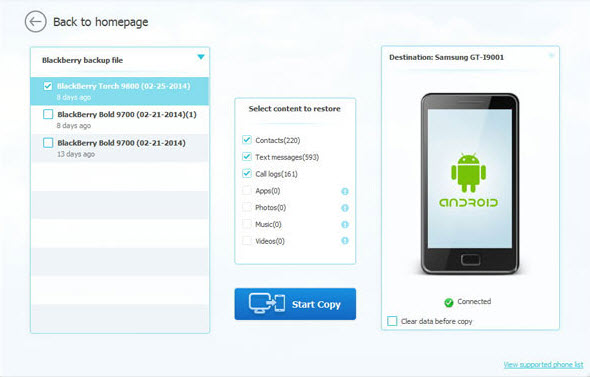 It's really that simple and you can now transfer Blackberry photos to Samsung S5 without any complication. Another great thing about Phone Transfer is that you can also use it to create backup data. Should you accidentally delete an important mobile content or erroneously format your gadget, you can effortlessly recover lost data by choosing the mode "Restore from Backups" button on Phone Transfer.
Way 2: Transfer Images from Blackberry to Galaxy S5 with your PC
You can use your laptop or desktop PC to save all photos stored on your Blackberry and then transfer it on your new S5. First, let's see how to transfer all your photos from Blackberry to PC:
Make sure that you have the recent version of Blackberry Desktop Manager installed on your computer. If not, you can download it free on Blackberry's website.

Connect your Blackberry to PC using the supplied USB cable.
Open Blackberry Desktop Manager and select "Media Manager" from the available options.
Locate the "Picture folder" under "My devices" and click to open.
Select the images you want to transfer.
Drag the selected photos to your PC.
After you have successfully saved all your photos, you can now use dedicated Blackberry to Samsung S5 photos transfer app to move media contents.
Though, if you find this process too complicated or if you don't want to use Blackberry's Desktop Manager, there's another option you can try out.
Way 3: Use Blackberry smartphone's USB drive feature
Blackberry smartphones do have a USB drive feature that allows easy transfer of files between phone and PC. It is very similar to USB memory drive but it requires you to have the latest version of Blackberry Desktop Software installed on your computer. Although it does not require you to work on Blackberry's software, but you should utilize the USB mode.
Connect your Blackberry to PC using USB cable.
On your phone select "USB drive" as the connection mode.

Open "my computer" and your Blackberry device should come up just like normal USB sticks.
Double click it and head on to Blackberry/Camera/ (folder name).
Simply drag and drop pictures from your phone to PC.
Then again, you need to transfer pictures from Blackberry to S5 using different software. You can also try to mount your new S5 into your PC and use Android's USB mode to move images.
There are different ways on how to transfer photos from Blackberry to Samsung Galaxy S5. You can choose not to use third party applications but you have to move pictures from your Blackberry to PC, then from PC to S5. Clearly, this method is so tedious and time consuming not to mention that novice users might find it too complicated or technical.
For novice, busy and non-technical users who want a stress-free method, it is advised to use a dedicated Blackberry to Samsung S5 photos transfer app. It eliminates propriety software and tiresome picture moving process by providing a direct access between your old and new phone.