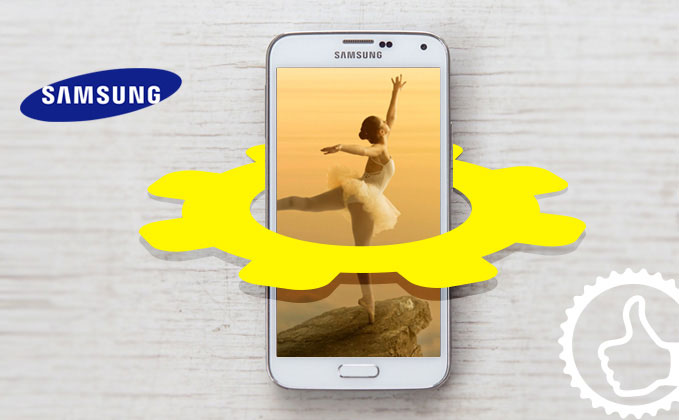 Soon after we enter into the era of smartphone, Android becomes the largest smartphone system used by people all over the world. People who use android smartphones may sometimes need to manage or backup some important things in your phone. Indeed, there are tons of Android PC suites on the Internet, and most of them could somehow help you to manage your phone. But which one is the best Android PC suite?
Android PC suite is a set of very useful tools for you to connect your Android device to your PC. It consists of Android app and PC version. Android app is an app installed on your Android to help you connect your phone to your PC. Help you boost your phone or manage the apps on your phone. A good Android app will be a plus for the best PC suite for Android. PC version is software installed in your PC which helps you obtain import and export things on your Android along with Android app. This article will analyze five Android PC suites which released in 2015 in four factors, and the apps we test here are free:
Tips: If you are the Samsung lovers who are searching for the most practical but free Samsung PC Suite, go to the link address and acquire the one you like.
Brief introduction of the five Android PC suites 2015
Apowersoft Phone Manager:
Apowersoft Phone Manager is an awesome PC suite for Android which lets users connect mobile to PC in three ways for managing things on computer. After you connect your Android to your PC through it, you can easily manage the picture, videos, music, contacts, app on your phone. And it supports iOS system too.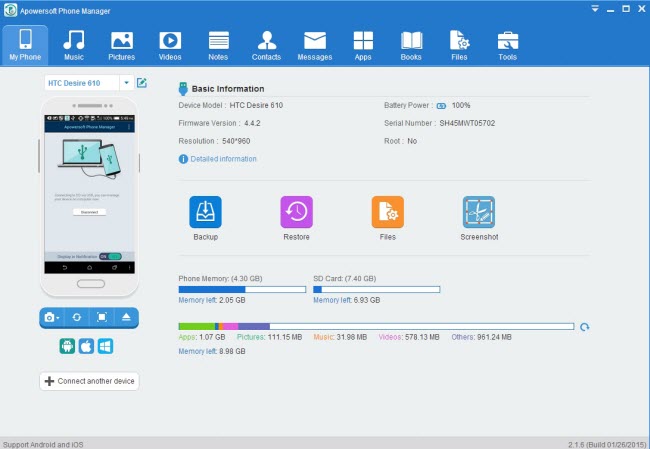 MobileGo:
MobileGo is a desktop app which can help you manage your phone through your computer. With the Privacy check-up function, it can diagnose and boost your phone with one click.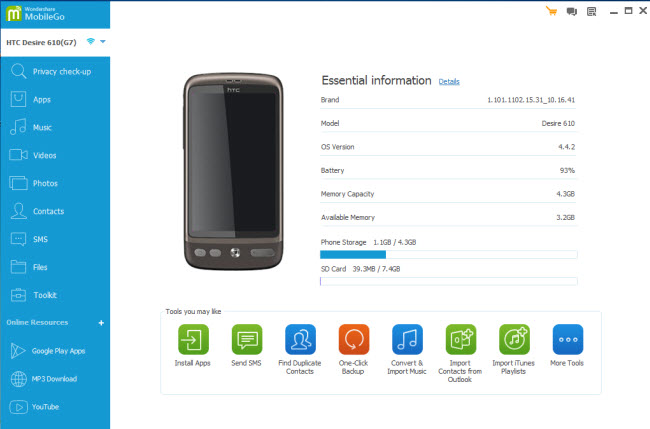 Airdroid:
Airdroid is different from other PC suites. You do not need to install a desktop version. Its main interface is on the webpage. As long as you connect your Android to the PC via Wi-Fi, you can manage your phone picture, app, contacts on web.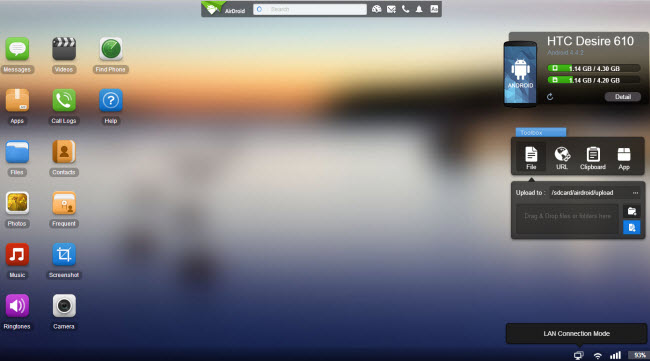 91 PC suite:
91 PC suite is the first phone manager which supports Android, iOS, Windows, Wince and Symbian system in the world. But it is a pity that this PC suite do not have English version.
MoboRobo:
MoboRobo has a collection of recommended apps in this Android suite, you can research, download and install app through it. Also it has built-in app to help you download music.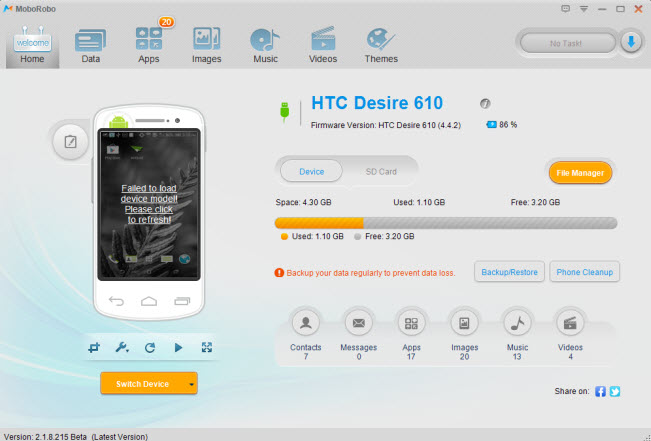 So above are the brief introductions of these five Android PC suites. Next let's move to the testing part to analyze which one is the best Android PC suite.
Comparison of the best Android PC suite
Evaluation Criteria 1 – Installation
Installation is an important thing for all apps. How to distinguish the best Android PC suite? App size, supported version of PC and Phone, and Third-party app (Ads) are the basic elements we test here.
Apowersoft Phone Manager
MobileGo
Airdroid
91 PC suite
Mobo
PC version size
30.78MB
86.71MB
On webpage
60.01MB
55.26MB
Support computer OS
Windows vista/7/8
Windows vista/7/8
Windows vista/7/8
Windows vista/7/8
Windows vista/7
Support mobile OS
Android/iOS
Android
Android
Android/iOS
Android/iOS
Android app size
2.55MB
10.74MB
19.13MB
12.36MB
MoboDaemon: 2.30MB
MoboMarket: 3.80MB
No ads
Versions
Free/Pro
Free Trail
/Full
Free
Free
Free
Scores
10
7
7
7
6
Summary: For all these software, Apowersoft Phone Manager got the highest score as it has small PC and Android app size and has no ads. Thus, I was a little bit confused about MobileGo. Although it has same functions to other Android PC suites, the PC version size is 86.71MB, almost 90MB. How could that be?
Evaluation Criteria 2 – Android app
Once you install an Android app on your phone, the first thing you should care is how much memory it occupies as it would affect the running speed of your phone. Second is the function. The scores will based on the performance of each Android app.
Apowersoft
Phone Manager
MobileGo
Airdroid
91 PC suite
Mobo
QR cord scanner
Phone cleaner
App management
Operation
Average
Good
Good
Average
Average
Memory occupied
2.3MB
3.7MB
27MB
18.2MB
3.3MB
Scores
5
10
8
7
5
Summary: MobileGo got high score in this part. Multi-functions and small occupied memory are its advantages.
Evaluation Criteria 3 – PC version
Differ from Android app. PC version has more powerful functions, so it is the most important part for us to judge the best Android PC suite for Windows. We have got the score for each app in the list here while the maximum is 20.
A. Comparison of PC version management tools
Here are some management tools that the PC version should have, like managing music, picture, videos in our phone through it. These tools reflect how these free Android PC suites deal with managing data on phone.
Apowersoft
Phone Manager
MobileGo
Airdroid
91 PC suite
Mobo
Music
Pictures
Videos
Contacts
Messages
Apps
eBooks
Files
Scores
10
9
9
9
9
Summary: The Android PC suites we test here possess most of the management tools. So this round ends in a tie.
B. Comparison of PC version Operations
In addition to the basic management tools of PC version. There are some other tools which we actually use in our daily life, like screenshot, display in full screen, backup and restore. Whether these tools are practical and easy to operate are two important standards for users to judge the best PC suite for Android. The memory occupied we mentioned below are the computer physical memory the software occupies when it works.
Apowersoft
Phone Manager
MobileGo
Airdroid
91 PC suite
Mobo
Memory occupied
61MB
52MB
100MB
66mb
Associate apk files
Screenshots
Easy
Easy
Easy
Easy
Easy
Full screen display
Phone information
15 items
5 items
4 items
15 items
7 items
Backup and restore
Scores
7
6
8
8
7
Summary: We found that the loading speed of the PC version is quite different from each other. Although the speed is determined by the computer configuration, the major problem is how much computer memory does the manager occupy? According to the data above, four of five Android PC suites perform well. As 91 PC suite occupies almost 100MB computer physical memory, it would slow down the running speed of your PC. Although it can download app easier than other Android PC suite 2015 we test here, I suggest you do not install it on your PC.
Evaluation Criteria 4 – Connection
Connection is the essential part in the test of the best Android PC suite. It is the start of your file management, but the situations of users differ, so it's better to look for a tool which supports to connect in many ways. Unable or slow connection will leave a bad impression on users.
Apowersoft
Phone Manager
MobileGo
Airdroid
91 PC suite
Mobo
Connecting time
Average
Average
Fast
Average
Average
Connect via USB
Connect via WiFi
Connection guide
Good
Bad
Good
Bad
Bad
Scores
9
6
8
7
3
Summary: For these five free Android PC suites, they can connect your Android to your PC sooner or later. But, when you are new to the app, and cannot figure out what to do, you may need a good connection guide to help you. Apowersoft has good connection guide. For instance, if you fail to connect your Android to your computer due to you do not open the USB debug mode. A connection guide will pop up and guide you to enable the connection in two ways: Automatically and Manually. Also, the interface of this software are simple. You can find the guide and tools you want easily.
Conclusion:
Here is the final score of these five Android PC suites.
Apowersoft
Phone Manager
MobileGo
Airdroid
91 PC suite
Mobo
Scores
41
38
40
38
30
According to the analysis above, each free Android PC suite has its own advantages. Apowersoft provides one-stop management for your phone. Following the connection guide, you can easily connect your Android to the PC. Although it is a new Android PC suite released in 2015, the operation interface and the functional design impress me deeply. All-in-one functionality is the advantage of Mobe, but long connecting time and high memory occupation always make me wait. Airdroid is a good app, you do not need to download desktop version, and you can launch the app and manage your files on web. Thus, it would bore you if there is bad or no network connection. MobileGo and 91 PC suite have the same scores, in my opinion, 91 PC suite is more powerful than MobileGo, as it has more functions and free access to download variety apps. But 91 PC suite has tons of Third-part apps which annoy me most. Therefore, Apowersoft Phone Manager is the best Android PC suite based on the statistics above. If you want to experience one-stop management service, just click the download button blew.