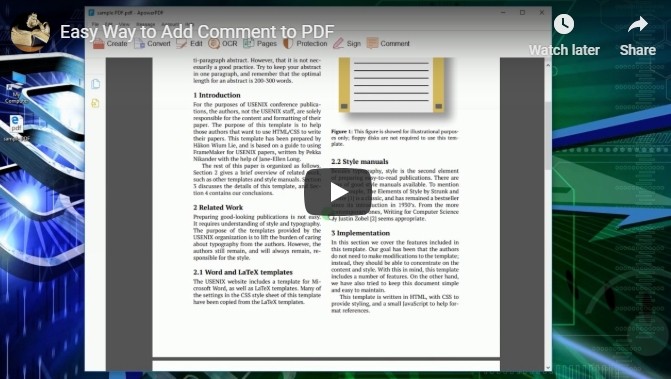 Suggested Way for Adding Comment on PC
If you need to edit a PDF and add a comment through your personal computer, then the best way for you is by using ApowerPDF. This is a well-rounded PDF editor that is capable of doing any editing needs that a user wants. It can be used in extracting, merging, cropping, splitting, and deleting PDF pages.
Moreover, this application has a built-in annotating function perfect for adding comment on PDF documents. To add a note or to comment on a PDF file, just follow these steps.
Get and install the program by hitting this download button.
Once installed, open the PDF file that you wish to add comment by dragging the file into the program.
Next, go to the portion that you need to add a comment.
Now click "Comment" from the menu located above the app and then the editing tools will appear on the right side of the app.
From here you can highlight text and add comment box by clicking "Annotations", and you can insert some lines and shapes by hitting the "Drawing Markups" button.
This is the easiest way to add a note into a PDF if you are using a PC. However if you prefer to add a comment using your mobile phone, then you will need other methods such as Foxit PDF and Adobe Reader.
Mobile Solutions to Comment on PDF
Foxit PDF

If you are going to add comment to PDF using your mobile device, then Foxit PDF is one of the apps that you can utilize. This application is available for all iOS users and is capable of renaming, moving, copying or deleting PDF files. It also has the capability to add annotations and comments. Aside from saving the edited PDF file into your mobile device, users have the option to save it on various cloud storage.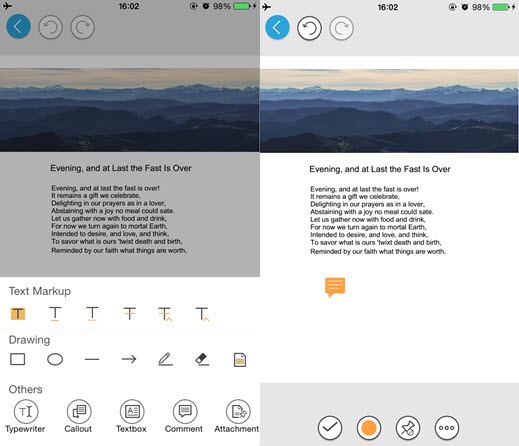 To add notes and comments with Foxit PDF, all you need to do is to download and install the program from App Store and open it. Next, open the PDF file that you need to comment. After that, tap "Comment" from the functions located at the bottom of your screen and you can start commenting by adding highlighting text, inserting notes, etc. Finally, tap save to keep the PDF file.
Adobe Reader

This is a mobile version of the well-known Adobe Acrobat Reader family. Aside from desktop applications, the developer now decides to create a mobile version for their users and this is what they came up with. Adobe Reader is available for Android users and can be downloaded from Google Play Store for free. By using this tool, users can signs PDF forms, view, annotate, and scan documents. Under the annotate function, users can comment PDF by adding text, drawings tools, and sticky notes.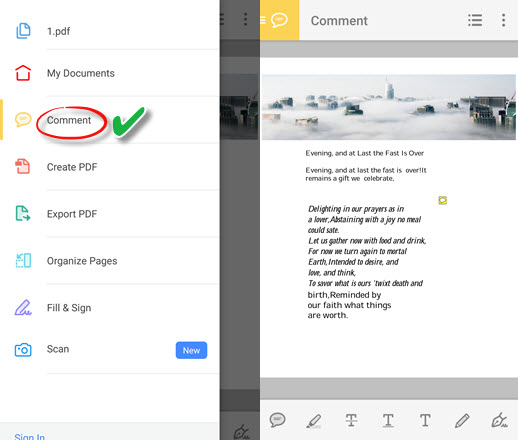 To comment on a certain PDF page with this tool, you must first get the program from Google Play Store. After that, open the application, look for the PDF file that you need to work on and load it into the app. Now to start adding comment, simply tap the "Comment" icon located at the lower portion of the tool. You can add text, draw lines and shapes, add notes, etc. To save the file, tap the menu located at the left portion of the app and choose "Export File", look for a specific location and then save.
Conclusion
Now adding a comment on a PDF document will never be a concern to everyone, since there are various ways discussed above that are very easy to do. It's better to try all of the methods shown so that you can pick the one that suits your PDF editing needs.