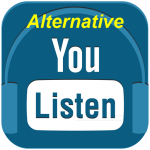 ListentoYouTube is a very popular online application that works as converting of YouTube videos into MP3 audio. It is well loved by many music enthusiasts since you don't have to install anything on your PC, but just to extract music files from YouTube videos with URL. ListentoYouTube automatically converts flash videos into MP3 file formats, making it playable on smartphones, tablets and media players. Best of all, it comes free and does not cost you even a single dime or registrations or memberships.
This online software application is very easy to use and to operate. In fact, even inexperienced users wouldn't get lost converting YouTube videos into MP3. All you need to do is to paste the URL of the YouTube video, click "Go", wait for the conversion process to finish, and download your completed audio file. It is equally compatible on any operating system may it be Windows, Mac or Linux. Although, there are different ListentoYouTube alternative websites that do the same or even better.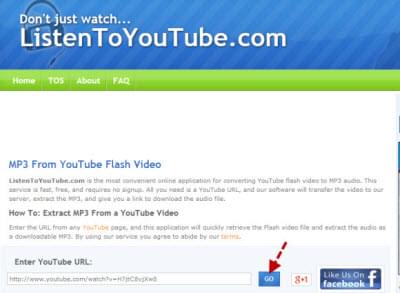 Although it is free and easy to use, ListentoYouTube do have some drawbacks. Many users are receiving times in which the server is down, grabbing failures, broken links but playable YouTube videos, server overload, invalid URL and all others. Additionally, you can only convert YouTube videos because other streaming websites such as VEVO is not supported. Advertisements are also popping out every now and then, not to mention the fact that there is no audio format setting meaning you are stuck with the given MP3 quality.
Luckily, there are different sites like ListentoYouTube available online that you can freely try out. If you want a better online video to MP3 converting app, read on to this article and discover them below.
1. Easy ListentoYouTube similar sites
2. Powerful programs like ListentoYouTube
Alternatives to ListentoYouTube (Simple Ways)
1. Apowersoft Free Audio Recorder
One great program like ListentoYouTube is Apowersoft Free Audio Recorder. Just like the aforementioned online app, you don't need to install it on your PC and it is 100% free of charge. It is compatible to both Windows and Mac while there is a desktop version available if you don't want to rely online. With Apowersoft Free Audio Recorder, you can record just about anything that is playing on your computer.
YouTube videos, Pandora, Grooveshark, Spotify, MySpace, AOL and all others are just some of the many sites supported by this tool. You can even record online radios and conversations through instant messengers. Using it is very simple, see the guided instruction below:
Click the "Start Recording" button on the webpage.
A Java applet will appear and hit "Allow" or "Permit".
Select the appropriate audio source, it should be "System sound" in this case.
Play the music from the website i.e. YouTube that you want to grab.
Click the "Start" button to start recording, hit "Stop" when it's done.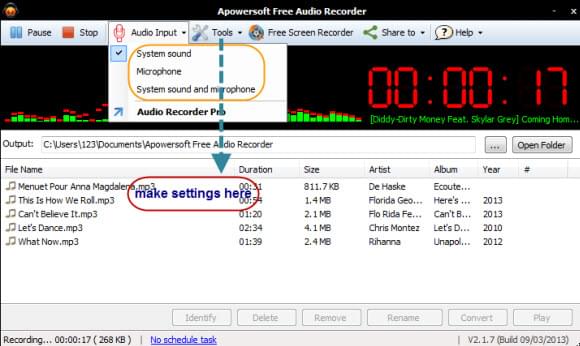 What's great about this alternative to ListentoYouTube is that it allows you to choose the exact music file you want from MP3, OGG, WMA, WAV or AAC. You could also select the bitrate quality according to your likings and you can convert downloaded files into different formats.
2. Apowersoft Free Video to MP3
Providing that you hope to find an app that works like ListentoYouTube – get MP3 from streaming videos by converting URL, then Apowersoft free video to MP3 surely will satisfied you. The usage of this tool is quite straightforward, all you need to do is enter video URL to link address field, hit "Convert" icon, select output format and target directory for placing the audio. Later, you can open the local folder to find the downloaded MP3 and open it to check the audio quality. Please rest assured that the MP3 has standard high quality.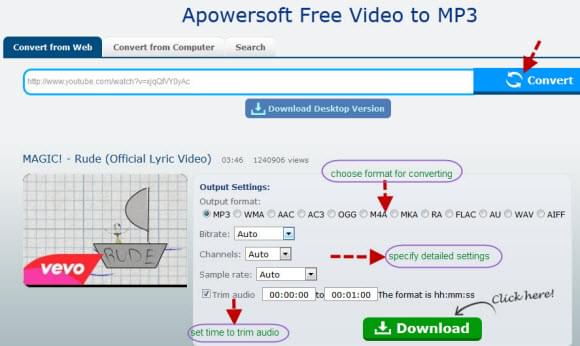 As an alternative to ListentoYouTube, it works better than the site if you compare carefully. For example, video to mp3 converter can extract MP3 from dozens of sites like YouTube, Vevo, Yahoo, Vimeo, Veoh and others. And, the app has the ability to convert a certain part of a video to MP3, if you make settings before downloading it. Last but not the least, you are enabled to search your favorite MP3 audio on the site directly.
3. Video2MP3.net
Video2MP3.net is yet another popular video to MP3 extractor. It doesn't require you to sign up, just to use the software and it comes absolutely free. This online application can similarly download MP3s from YouTube with zero loss of audio quality. Additionally, there are no limitations when it comes to file size and number of downloaded files. Using Video2MP3.net is the same as with ListentoYouTube. Paste the URL file, click "Convert", wait for the process and download your ripped MP3.

Just like the previously mentioned online application, Video2MP3.net brings some disadvantages. It runs with tons of advertisement and if you want to get rid of it, you need to go premium. Audio output setting is also missing so you cannot choose the best audio quality. Other music streaming sites are equally not supported such as VEVO, Grooveshark, Spotify and more.
ListentoYouTube Alternative (Pro Way)
Now for those who wants a very premium recording software that can do more than just grabbing MP3s, the desktop audio recording program is what you need best. Here recommends the workable Windows and Mac ListentoYouTube similar programs for you:
1. ListentoYouTube for Windows
Streaming Audio Recorder not your ordinary web grabbing tool because you can do almost anything from converting files, adjusting audio quality, to recording 1:1 audio inputs. With it, you can do batch downloading and converting letting you save tons of time as well as energy. Firstly, you are allowed to use the audio recorder to record the audio you want to keep forever. Secondly, the inlaid audio downloader helps you convert video to MP3 and other audio formats directly. Just click "Download" tab, then go to "Video to MP3", enter the video URL into the small window. Hitting "OK", the audio will be ripped out from the video.
Similarly, you can edit any music file with its built-in audio editor as well as automatically identify ID3 tags. It enables you to extract audios from just about anywhere may it be from popular music streaming sites, radio webs, video websites, online instant messaging apps, external microphone and all others. Burning audio CDs and built-in music search engine are additional features you will surely enjoy.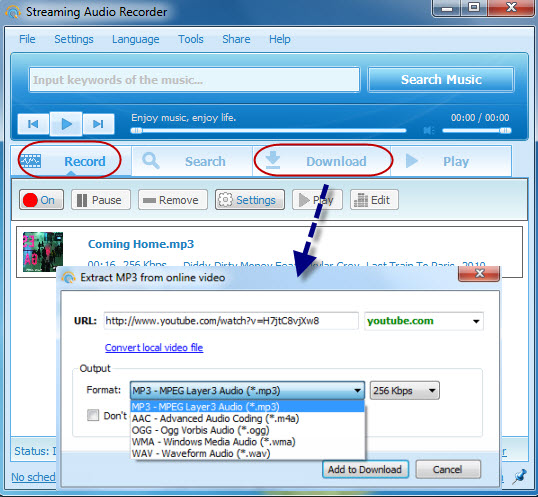 2. ListentoYouTube for Mac
Apowersoft Mac Audio Recorder is a powerful audio recorder which operates on all the Mac OS including Mountain Lion, Snow Leopard and the latest Mavericks. It is able to record any sound from Mac and voice from Microphone. And it supports you to convert videos to various kinds of formats like MP3, M4R, AAC, M4A and etc. When extracting audio from video, remember to adjust input audio source to "System Sound" under the "Setting". Then, you can click square-shaped red icon, then play the video. When the sound comes out, the Apowersoft Mac Audio Recorder will start to record. To stop recording, please hit the red icon again. After that, you are suggested to double click the recorded audio and enjoy it with the built-in player.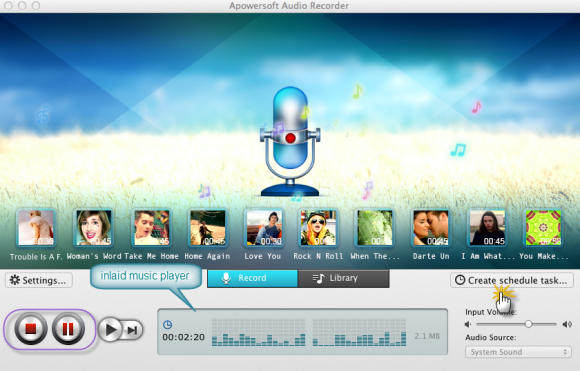 Except recording audio manually, this ListentoYouTube Mac program empowers you to schedule recording audio automatically. To utilize this function, just click "Create schedule task" icon on the interface, set start and end time and name the task according to your need. Later, you can play the video, radio or streaming music, leave the computer, and let the recorder works by itself.
From free web applications to premium tools, indeed you can now enjoy good music anytime and anywhere. ListentoYouTube and tools similar to ListentoYouTube are widely available for budget conscious music lovers, while rhythm enthusiasts do have an option to go beyond freemium with feature-filled paid applications.