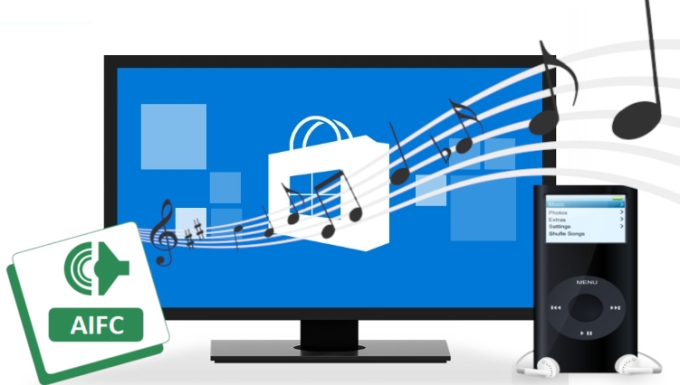 What is AIFC format?
AIFC or Audio Interchange File Format is an audio format developed by Apple Inc. which is used for storing audio data. We often find AIFF files in Mac system and AIFC is developed based on it. Standard AIFF format is very common found ended with .aiff or .aif. For its compressed variants, it has .aifc file extension. We all know that Apple's video/audio formats are not compatible enough with most devices or players. And sometimes when it comes to editing the AIFC file, it would a big problem if the editor cannot accept the file. Here I collected some methods to help you convert AIFC to MP3 format. Let's check them.
Top methods you should try to convert AIFC to MP3
Reencode AIFC with Mac OS Finder
There are various options to encode audio files in Mac including iTunes and QuickTime. Even though this method is not as popular as converting files by way of a video converter tool, you can still reencode uncommon-used file format like AIFF, AIFC and WAVE as it includes an accessible AAC encoder built in the Finder. You can do the following to reencode AIFC file.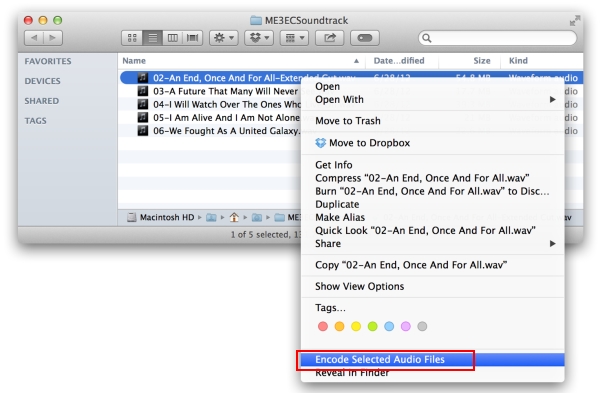 Locate the audio files that you wish to convert on your Mac. Right click the selected audio file and select "Encode Selected Audio Files". A window will appear and you can choose the quality you want to use from the provided options: High Quality with 128kbps, iTunes Plus with 256kbps, Apple Lossless and Spoken Podcast with variable bitrates. After that, choose the destination for saving the converted file. Finally, click "Continue" to start the encoding process. It will take a few seconds to complete.
Convert AIFC to MP3 with iTunes
iTunes is used to play, manage download music and videos on both Mac OS X and Windows OS. It also has the ability to convert AIFC audio files. Here are the detailed guides on how to convert AIFC to MP3 on iTunes.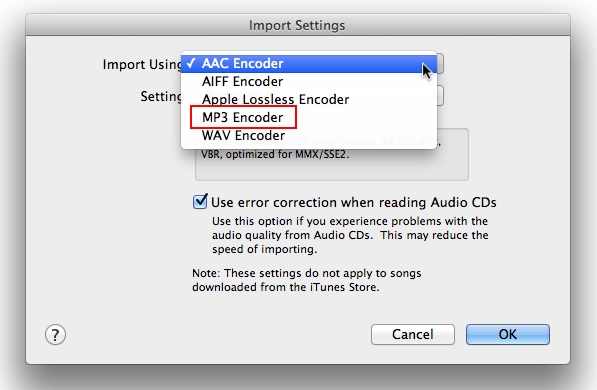 Open iTunes on your computer. If you are on a Mac, choose iTunes > Preferences from the menu bar at the top of the screen. If you are on a Windows, select Edit > Preferences from the menu bar at the top of the iTunes interface. Then, click on the General > Import Settings in the lower part of the window. After that, click the menu on the "Import Using" then select the "MP3 Encoder" and click "OK". Hold the Option key on Mac or Shift key on Windows, click "File" > "Convert" > "Convert to MP3" and select the folder that contains the songs you want to convert. Once done, the songs will be converted and appear in your library.
Free Online Video Converter
The most convenient way is to find a reliable AIFC to MP3 converter. The one I like most is Apowersoft Free Online Video Converter. As a free web service, users do not need to log in or enter email address, it allows files to be added to convert directly. One of the most feature that should be highlighted is the various formats it supports.
In addition, it also has some basic editing functions. For example, it can trim video, change video effects, add watermarks and others. For converting AIFC to MP3, check the detailed guide now.
Go to visit Apowersoft Free Online Video Converter official page.
Click on the "Select Files to Start" button and choose AIFC file from your hard drive. After that, click on the "Format" button and choose "MP3" file format from it.

Hit the "Convert" button to start converting and in a few senconds the file will be saved directly to your computer.
Check the table of each pros and cons to get an intuitive comparison.
| | Pros | Cons |
| --- | --- | --- |
| Mac OS X Finder | No need to install | It is only limited for Mac OS X; Very limited formats supported |
| iTunes | Compatible on both Windows and Mac | Supports limited audio format; Need to install the program on PC |
| Free Online Video Converter | Totally Free; No need to install; Easy to use; Compatible on both Windows and Mac; Supports various audio and video file formats | Need stable internet connection |
Programs that can open AIFC files
There are also programs which can read audio files without converting them from AIFC to MP3. We collected some of them.
1. VLC
VLC is a free cross-platform multimedia player which can read almost all audio and video file formats including the AIFC format. This tool is compatible for both Windows PC and Mac OS. If you do not need to edit AIFC file for other use, VLC is very deserved to try for playback. Moreover, it has ability to play uncomplete or damaged video files.
2. Audition
Another tool which is able to support AIFC file is Audition. It is a digital audio editing software developed by Adobe, which allows user to edit and mix audio and sound effects on Windows. It also offers playing and recording audio files. If you have AIFC files to be edited, try Audition.