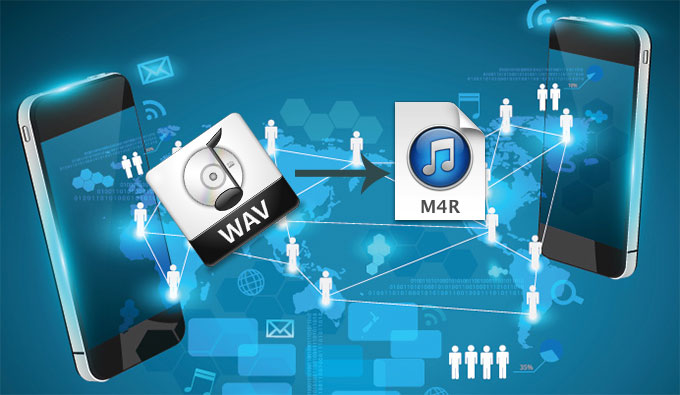 M4R is a kind of audio file developed by Apple Inc., which is applied in iOS devices as ringtones. Since this type of file use AAC or Advanced Audio Coding as its default compression scheme, it features high audio quality and relatively small file size. Presently, many people are tired of the monotonous ringtone of their iPhone and want to change the ringtone to preferred music or certain audio file. Generally, many music and audio file are saved in the format of WAV which is known as a lossless audio format. However, the ringtone for iPhone supports M4R exclusively. For this case, you need to convert WAV to M4R in advance. In the following pats, there're some efficient solutions recommended.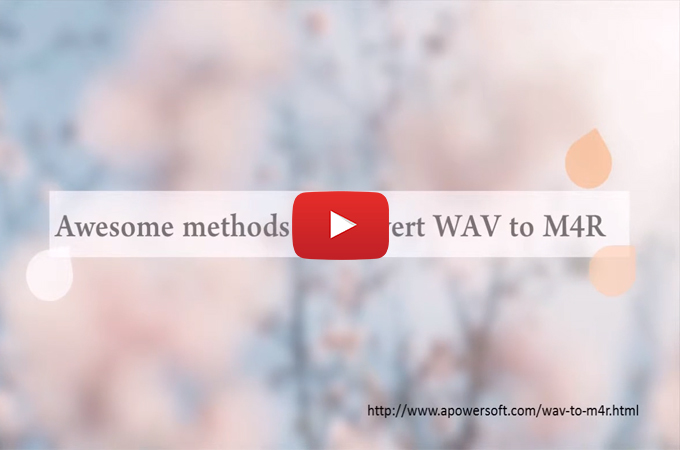 Online solutions to convert WAV file to M4R
i
1. Apowersoft Free Online Video Converter
As the name indicates, this tool is a totally free web-based program that allows users to do media file conversion on webpage directly. Meanwhile, it comes with an intuitive interface which enables users to operate the converter without any hassles. It provides multiple audio and video formats and empowers users to convert media file with no quality loss. To learn how to convert WAV to M4R file with this program, you may check the instructions below.
Go to the page of Apowersoft Free Online Video Converter.
Press the button of "Select files to start" then choose local WAV file.
Click the option of "Format" and then select "M4R" as the output format.
Click "Convert" button to get start.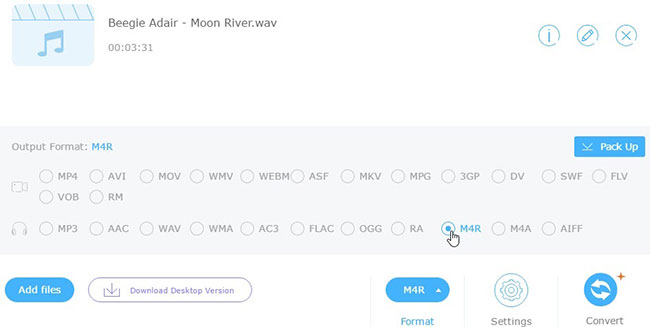 Note that, you will be guided to download and install the Launcher for the first time. The Launcher will make the converting process faster and more stable.
Tips: It's also equipped with an editor that can help you do some further editing jobs for the media files, such as trimming, cropping, adjusting playback speed and so on.
ii
Zamzar
Another online WAV to M4R converter is Zamzar which is also a popular application to do format conversion for media files. It supports multiple files like images, audio, video, etc. and offers various output formats. Also, it features the capacity of lossless conversion that won't let users down. Whereas, this free tool only allows you to convert the media file for no more than 50 MB. You can do as follow to use the program.
Locate to the site of Zamzar.
Press the button of "Choose Files" to browse local video file.
Drop down the menu in "Step 2" and then choose "M4R" as the output format.
Fill in the blank of "Step 3" with your email address that you wish to receive the converted file.
Click "Convert" button to start the task.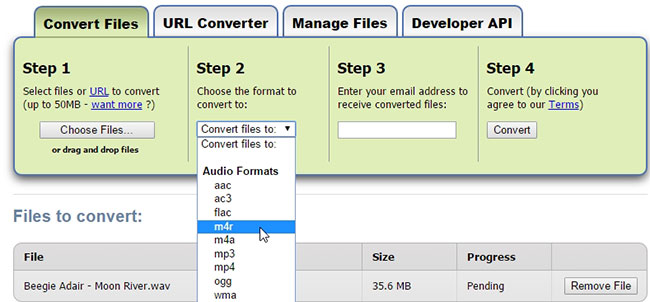 Aside from those online applications, you can also convert WAV to M4R with desktop application which enables you to do format conversion offline at any time.
Professional program for converting
Apowersoft Video Converter Studio
This program is professional converting software that features multiple functionality in media file format converting, editing and so on. It's capable of recognizing most of types of audio and video files and converting them to other formats with no quality loss. In the meanwhile, you can also customize your media file with its built-in editor that provides different editing options, such as trimming, cropping, adjusting playback speed and volume, etc. Benefiting for its intuitive interface, it's quite easy to use this tool. Before converting WAV to M4R, you can check the guidance below.
Click the button above to download and install Video Converter Studio on your PC.
Launch the program and add WAV audio file.
Click "Profile" and choose "M4R" as the output format.
Press "Convert" button to get start.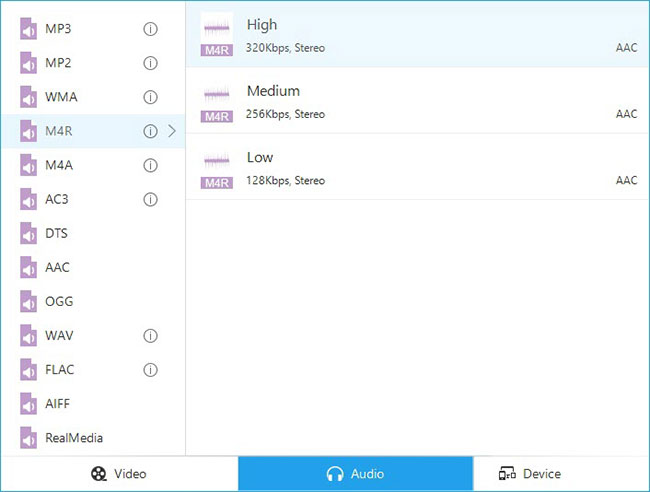 Trim the audio file based on your preferences
It's also feasible to trim the audio file for certain section. Before converting, you can press "Edit" button to activate the editor and then click "Add Trim Marker". Next, choose desired section on processing bar. Press "OK" to confirm the configuration and then click "Convert" button.
Export M4R to iPhone
When the conversion is completed, some people may want to export the converted file to your iPhone and set the music as your ringtone. For this case, there's a free online tool called AirMore that can finely help you do this job.
With the help of AirMore, you can transfer data between iPhone and PC easily without using USB cable to connect. To export the M4R file to iPhone, you can refer the instructions below.

Download and install AirMore on your device from Apple store, and then open it.
Go to the site of AirMore and then scan the QR code with your iPhone.
Confirm connection by tapping "Accept " button on your phone.
Go to the tab of "Music", and click "Upload Files" to select the target music file.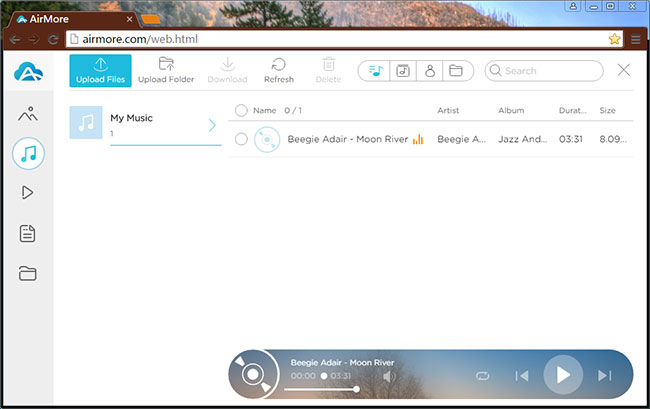 Tips: It's required to connect the same WIFI network on your PC and mobile for perfect connection.
Summary
All of those applications perform great in converting WAV to M4R. Whereas, viewing them generally, Apowersoft Free Online Video Converter is the best one for its convenience and multiple functions.