There are many reasons why one feels the need to view Android screen on computer. Scenarios such as fetching your smartphone just to view text messages is such an annoying thing to do especially if you're busy working in front of your computer. Likewise, checking phone notifications from time to time is indeed irritating. Add up to this, certain situations like damaged Android screen force you to find alternative solutions so you can temporarily use your smartphone. Other things like using your Android phone as an internet gateway and playing mobile exclusive games in front of your computer necessitates the need to project your Android screen on PC in real time.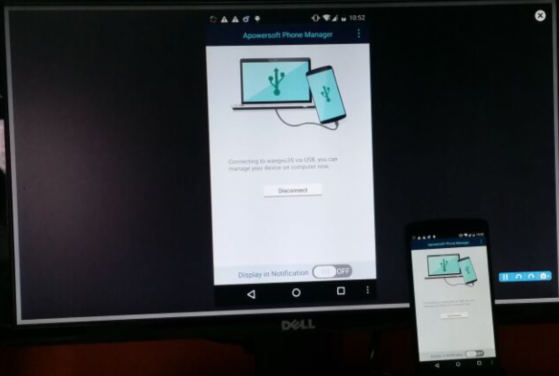 Luckily in today's emerging world of technology, it is now possible to view Android screen on PC. This setup is so easy to create and it needs no in-depth knowledge or special gadgets. All you need are reliable applications capable of projecting your mobile screen directly on PC and you're good to go. After the jump, get to know more about these programs and how to set them up.
Useful Tools to View Android Screen on PC
1. Apowersoft Phone Manager
One of the best tools you could ever use is Apowersoft Phone Manager. This program allows you to project your mobile screen on PC in real time. It offers different screen proportions from full screen and 1:1. Additionally, you could use it to transfer files from PC to phone and vice versa, manage multimedia contents, create backups, restore files from backups, and take mobile screenshots directly on your computer.
Video tutorial: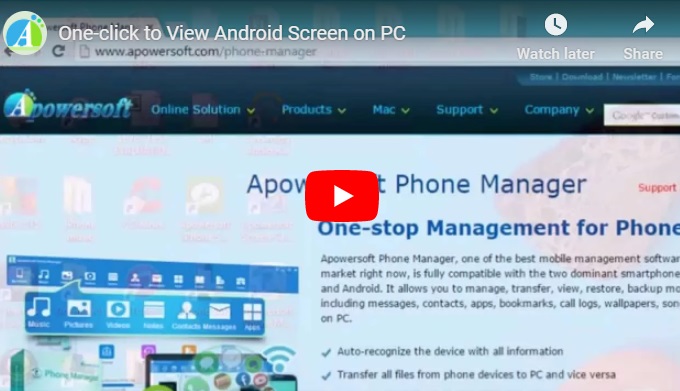 Using the Apowersoft Phone Manager to view Android on desktop is very easy. All you need to do is to download the program on your computer then:
Connect your Android phone to PC via USB. Although, the software supports Wi-Fi and USB connection, projecting your mobile screen on PC is only possible through USB connection.
Connect your phone to PC by using USB. Open the USB debug mode on your handset then click "Connect now".
But if you want to view your phone in larger screen, click "third" icon below your device which is "Display in full screen".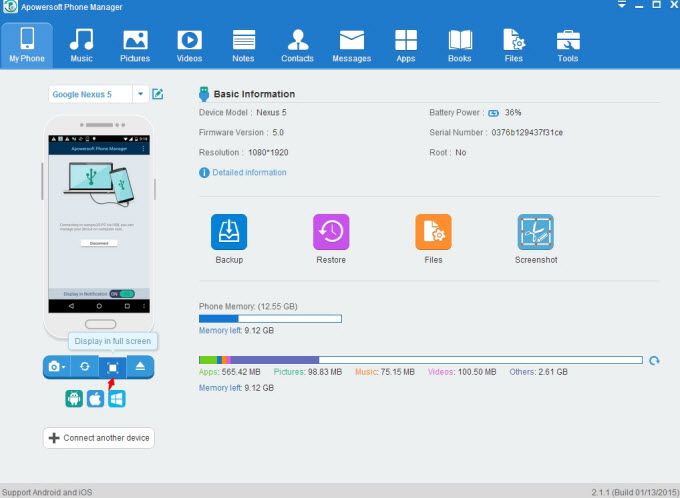 The beauty of using this tool is that it doesn't require you to root your phone to view Android screen on computer. Moreover, it works on both iOS and Android handsets with support for latest models such as Samsung Galaxy Note Edge, Samsung Note 4, iPhone 6/6 Plus.
2. Droid@screen
Another program that you can use to view Android on desktop is the Droid@screen. This program allows you to directly view your mobile screen on PC in different modes, take mobile screenshots on PC, view device properties and customize UI. However, bear in mind that Droid@screen is a standalone android emulator meaning it doesn't have the capability to transfer files or do restoration and backup. Albeit, it is compatible to most Android phones.
Using Droid@screen is simple and indeed straightforward but configuring your PC to be able to run the application is somewhat complicated. Being a java program, Droid@screen requires you to have the latest version of Java running on your computer. Also, you need to install and configure Android SDK on your system. After you have everything up and running, you can install Droid@screen by:
Download and install the latest version of Droid@screen on your computer.
Configure your handset to allow USB debugging.
Wait until all drivers are installed.
Connect your Android handset to PC using USB cable.
Launch Droid@screen and wait until it displays your mobile home screen.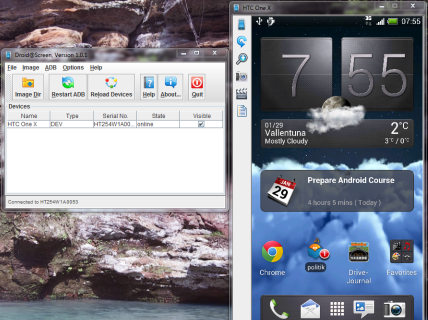 3. Android Screen Monitor
Another device emulator that allows you to view Android screen using PC is the Android Screen Monitor. It is an Android Debug Bridge based application that uses one of your computer ports to receive frame buffers continuously from the device. This two-way communication permits transferring images from your handset to the desktop window. Android Screen Monitor permits you to project your mobile screen on PC in different scaling models as well as take mobile screenshots directly on your computer.
Same as with Droid@screen, you need to have the most recent version of Java installed on your PC as well as the Android SDK correctly configured on the system to be able to run it. After which you can now download and install the application on your PC then:
Connect your device to computer using the manufacturer supplied USB cable.
Launch Android Screen Monitor and select the device that needs to be mirrored.
After successful device detection, just right click on the program to access customizations.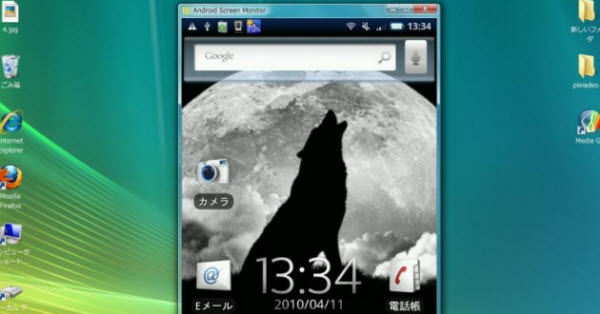 The major downside of Android Screen Monitor is that there's a very limited info about it. The developer's website is written in Japanese so reading exact instructions on how to use the program is a bit painful.
There are many ways on how to view Android Screen on PC. If you want a standalone device emulator, you can try Droid@screen as well as Android Screen Monitor. Although, better be warned that you need to install additional programs on your PC to support the applications. On the other hand, using the Apowersoft Phone Manager is much easier and yields exactly the same results made even better with its extra features such as file transferring, backup/restoration, and OS versatility.