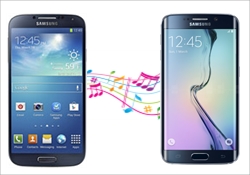 On April 10th, Samsung Galaxy S6 Edge began on sale with Galaxy S6 from twenty countries. As expected, its appealing appearance has attracted lots of people. According to the introduction by Samsung, the Galaxy S6 Edge "blurs the line between beauty and power". Many people speak highly of its design, using words like "revolutionary", "innovative", "supercool", or "elevated". Apart from that, S6 Edge also has many other extraordinary features like astounding camera function, super-high resolution, long battery life and so on.
For people who have upgraded their devices from Galaxy S4 to S6 Edge, they probably do not want to lose songs stored in the old phone. In order to transfer music from Galaxy S4 to S6 Edge in a fast way, three best apps are introduced here, basing on the thorough research on a variety of transfer apps.
Great Apps to Transfer Music from Galaxy S4 to S6 Edge
1. Apowersoft Phone Manager
2. SnapPea
3. WiFi File Transfer
1
Comprehensive and handy application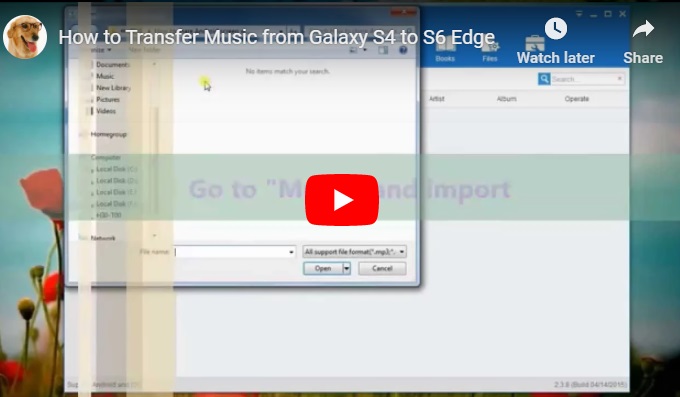 Apowersoft Phone Manager is one of the best applications to manage mobile phones on PC. It provides the essential capability of managing all mobile data on iOS and Android from your computer. You can transfer music, photos, videos, notes, contacts, SMS and apps between mobile device and PC easily. Other features include displaying phone screen on PC, backing up and restoring data with one-click, taking screenshots, and deleting unnecessary files. Above the transfer functions, it goes advance by enabling people to connect multiple phones to computer and manage them at the same time. Then how to use this powerful software to get Samsung S4 music to Galaxy S6 Edge? Just follow the steps below.
Download and install this program into your computer.
Run the application. Connect your Galaxy S4 to PC either through USB, or via WiFi.
Click "Music" icon on the top bar of the main interface, under which all the songs will be listed. Select the songs and click "Export". Choose the folder to store songs in. Wait a few minutes for the transfer completes and then you can disconnect your S4 from computer.
Connect Galaxy S6 Edge to PC. After successful connection, click "Music". Choose "Import" and find the folder you chose before. You can disconnect S6 Edge when all songs have been successfully transferred.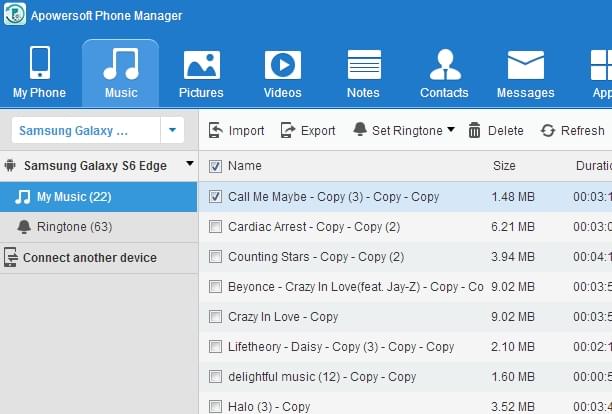 Tips: You need to turn on USB Debugging in order to connect Android phones to PC successfully. You can check the connection guide when you plug in a device.
Within minutes, all the music will be transferred into your new Galaxy S6 Edge without any loss. In this way, you can keep the information of the songs as well, like their size, duration, artists, albums and so forth.
2
Accurate but limited software
Another great app for you to copy songs from old Samsung to Galaxy S6 Edge is SnapPea. It can also manage your Android phones from PC, allowing users to import and export contacts, messages, videos, photos, music, and apps. You can also use it to download apps, import iTunes music, back up data and restore them easily. Below is the operation process.
Download this app and install it on the computer.
Connect Galaxy S4 to PC using USB cable.
Open the main interface. Click "Music". Choose the songs as you like and click "Export". You can select a folder to put your music in.
Connect your S6 Edge to computer. Go to "Music" and click "Import songs". Then find the previous folder and begin to import. After the transfer is finished, please disconnect your phone.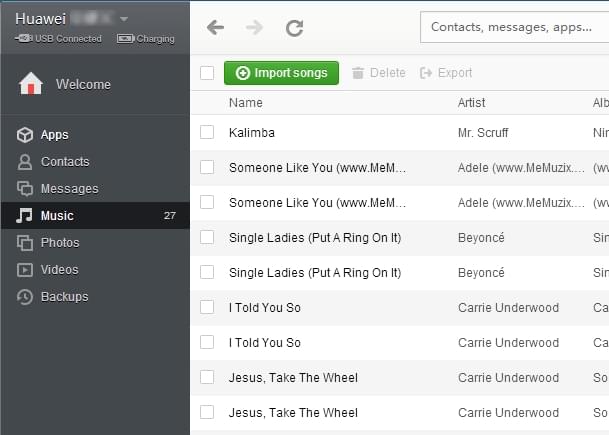 Cons:
There is limit of the functions for you cannot transfer books, notes or call logs in the same manner.
You can only connect phones through USB cable.
3
Removable but complicated app
If you want to transfer music without the help of computer, WiFi File Transfer is what you are looking for. It lets you upload and download files to/from your phone or tablet over a wireless connection, letting you transfer files between two Android phones or between phone and computer. By using this software, it is quite easy to transfer music from Galaxy S4 to S6 Edge. Now please see the following steps.
Download the app from Google Play to your Galaxy S4.
Activate the app and press "Start" in the main interface. A dialog will pop up that shows an address.
Open your Galaxy S6 Edge. Type in the address into Chrome browser and you will see a page listing all the files of S4. Click "My Music". Then a list of songs will be displayed. You can select the songs and tap "Download".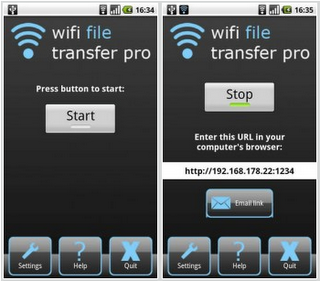 Cons:
This app can only be used on the same local area or WLAN Network.
Only by using Google Chrome can you download files.
The address is a little long. It may be annoying to type it in the browser.
All these three apps are useful for you to solve the problem of how to transfer music from Galaxy S4 to S6 Edge. You can go for either way according to your needs, though the first software is more recommended as it provides comprehensive functions without noticeable limits.