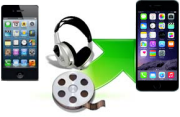 Every year or so, Apple releases a new version of their iPhone. This year, the iPhone 6 and iPhone 6 Plus is the newest flagship handsets of this American giant. If you're one of those fan boys who change handsets very often, probably the first and most important thing you would think about it how to transfer files from your old phone to the new one. It's easy to transfer photos, videos, contacts, messages, things can get a bit challenging when it comes to transferring music. Luckily, there are many ways on how to transfer iPhone 4s music to iPhone 6.
If you're looking for easy and free ways to move all your songs from your old iPhone 4s to the spanking new iPhone 6 or 6 Plus, check out these methods after the jump.
Recommended Methods to Transfer music from iPhone 4s to iPhone 6
1. Easy yet robust way – Phone Manager
2. Conventional way – iTunes
3. Bluetooth connection
The Apowersoft Phone Manager is a highly specialized phone management tool that supports both iOS and Android gadgets. It comes 100% free and clean with no spyware, malware or bundled bloatware. This program supports transferring of files from phone to PC and vice versa, you can even use it to manage, backup and restore mobile data. What makes the application different from other tools is that it comes with two other features you would truly enjoy most – the ability to project mobile screen on PC in real time and perform mobile screenshots directly on your computer.
To transfer iPhone 4s music to iPhone 6 Plus or 6 using this software, all you need to do is download and install the Apowersoft Phone Manager on your computer then:
Connect your iPhone 4s to PC, and click "Trust" on your phone to establish connection.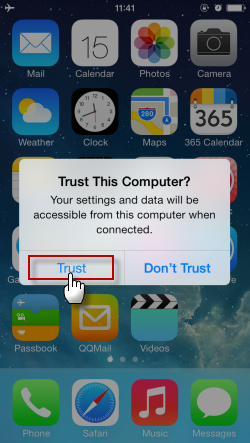 On the main interface click the "Music" tab on top. Select the mp3s you wish to move.
Click the "Export" icon above to save the file on your hard drive.
Connect your new iPhone 6 to PC. Follow the same steps but click the "Add music" icon instead.
Locate the music files on your hard drive and wait until transferring process completes.
If you don't want to install third party apps, you could still sync music from iPhone 4s to iPhone 6 by using the iTunes method. With this technique, you could manually transfer mp3s but this indeed takes too much time and setting adjustments. For this, we recommend the use of iTunes automatic music transfer method.
Before you can start though, make sure that you have the latest version of iTunes running on your computer; all necessary drivers should be installed as well. To begin, open iTunes and make sure that your old phone runs on the latest iOS version.
Open iTunes and connect your new iPhone 6 to PC using the supplied USB cable.
On the main window pane, click the "Music" tab on top.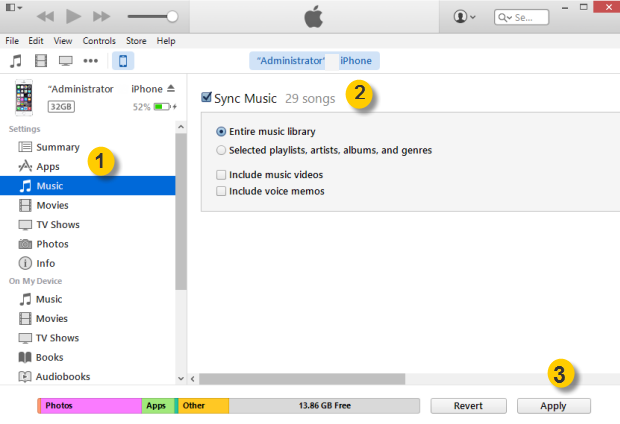 Enable the "Sync music" checkbox.
Click the "Entire music library" option. If you don't want to sync your entire music collection, click on "selected playlists, artists, albums or genres".
To sync music from iPhone 4s to iPhone 6, click the "Apply" button.
Cons: The only loophole of this method is that you need to ensure that the mp3s stored on your old iPhone should always be in-synced with iTunes. If not, the transferring process would be incomplete and you'll find missing songs or worst, there would be a partial transportation of music files. Though this way ultimately works, it comes too complicated to transfer music contents.
You could also transfer music from iPhone 4s to iPhone 6 Plus or iPhone 6 via Bluetooth connection. This methods works just like the Backup Method of iTunes but instead of connecting your device with the aid of USB cable, the transferring process would be performed via WiFi. This is indeed is simpler and stress-free compared to the above methods and it doesn't need back-ups or program installation. However, this technique is only applicable if you will be transferring few music files not more than a hundred. And you have to ensure that you are performing the transfer process under a stable network and connect your devices with the same WiFi.
To help you decide what method to choose on how to transfer iPhone 4s music to iPhone 6, check out this chart below. You will find out that Apowersoft Phone Manager will be the best choice for you.
| | Specific music file transferring | Ease of usage | Support iOS version | Ability to transfer unlimited songs |
| --- | --- | --- | --- | --- |
| Apowersoft Phone Manager | | | All | |
| iTunes | | | | |
| Bluetooth | | | | |