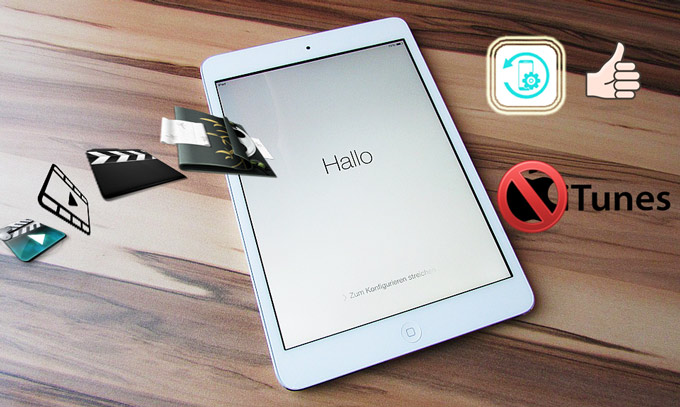 In the past, we often watch movies on TV or at the cinema. Compared to these traditional ways, iPad provides us a more flexible and convenient option to enjoy films either on a trip or at home. Though iTunes offers a vast variety of movies for iPad, it is not free and usually troublesome to purchase one from iTunes stores. Then you will ask how to put movies on iPad without iTunes. To make it clear, this post makes a recommendation of the following tools to help iPad users quickly transfer loved movies from computer to their device.
How to Transfer Movies to iPad Without iTunes
ApowerManager
The task of moving movies to our iPad would be so much easier if the movies are in a compatible format, unfortunately, this requires lots of re-encoding and other complicated processes to make it happen. Nevertheless, there are so many options for us to add movies to iPad without using iTunes or jailbreak. The special option we recommend today is ApowerManager.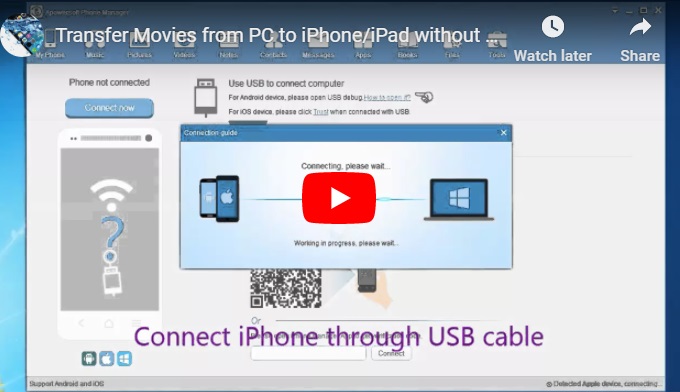 ApowerManager is comprehensive management software for tablets or mobile phones running iOS and Android systems. This phone manager is prevailing among mobile users because of its high efficiency in transferring files between PC and iPad. With this tool, you can transfer movies in any formats to your iPad without other tools effortlessly.
Download this movie transfer program and install it on the computer.
Open this program and connect your iPad to PC with USB cable. Click "Trust" when a window pops up, asking whether to trust this app or not.
Once connected, click "Manage" and the click "Videos".

Choose the ones you want to transfer and then click "Export".
In addition to transferring movies, you can also use this phone manager to transfer other videos. If you need to delete some unwanted movies to free up space or export your iPad movies to other devices for backup, this phone manager will definitely satisfy such demands. What's more, you can also use ApowerManager to manage, view, restore, backup tablet/mobile data on the computer in terms of songs, videos, photos, messages, contacts, apps, bookmarks, call logs, wallpapers and so much more.
Be Prudent in Using iTunes to Add Movies to iPad
iTunes is an alternative for iOS users to transfer different movies except for the process of moving movies onto iPad is a bit more complicated. Before using iTunes to sync the movie files, you need to convert them into the adaptable format for iTunes and then import them to the iTunes library. During this process, lots of notification boxes will pop up for confirmation as well. Be cautious with the whole process and these confirmations, otherwise, you may lose your data by clicking on the wrong selections. And this is mainly why nowadays Apple users prefer using some third-party applications like ApowerManager, iTools, iExplorer, Dropbox or other tools to transfer movies to iPad rather than using iTunes.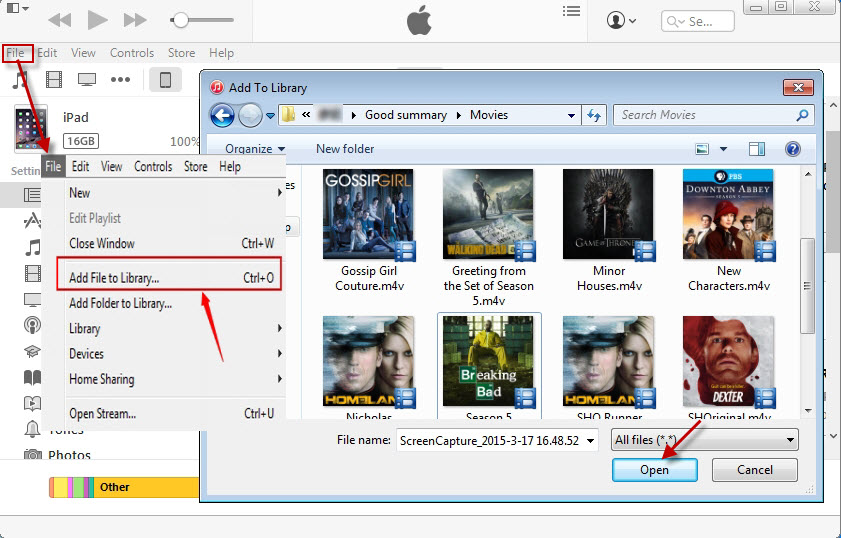 With a handy tool like ApowerManager which offers you such a quick solution on how to put movies on iPad without iTunes, you are now free to transfer any movies you like not only between iPad and PC but also on other platforms. This software has launches its versions on Windows, Mac, iOS and Android, which is why this is our top recommendations for you!