Today, the mobile industry is revoluting quickly that the well-known smartphone companies release at least one new model every year. In the newly released models, you will always see improvements on better specs, eye-catching designs, more advanced technology and improved user experience. Samsung is no different – every year there is a new galaxy device awaiting the consumers. Last year S4 was the flagship phone, but in this year, S5 is the newest talk of the town.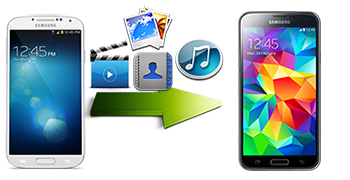 Having a crisp display, brighter viewing angles, powerful processing cores, slimmer body and monstrous camera, die-hard Samsung fanatics are now looking forward to upgrading their old devices. However, shifting from S4 to S5 isn't as easy as picking up the new phone. Even if they are from the same company, how to transfer from S4 to S5 can yield a lot of disappointments. Moving all your data such as contacts, images, videos, music, files, SMS, system settings and others are certainly tedious not to mention challenging.
If you're having a hard time moving all your stuffs from your old phone to the newer S5, read on to this article. Easy tips and tricks on how to transfer from S4 to S5 are given right after that jump.
Different Ways to Transfer Data from Galaxy S4 to Galaxy S5
Way 1: Use Phone Transfer
If you want an easy and very practical way to move all your data from S4 to S5, use Phone Transfer software. This tool is specially designed to make mobile content transfer simple, efficient, convenient and very effective. Phone Transfer supports thousands of models based on Android, Symbian, iOS and Blackberry and so on. Additionally, it doesn't matter if you have a carrier-locked device or jailbroken gadget, Phone Transfer will read its data just like others.
With this third party application, you can move photos, videos, music, SMS, call logs, full contacts, emails, apps and all others without losing quality. Furthermore, Phone Transfer is very easy to use. See below the steps on how to transfer everything from S4 to S5.
Download and install Phone Transfer on your computer.
Open the application and click "Phone to Phone Transfer" on the main interface.
Connect both your S4 and S5 to PC using USB cables.
The software will automatically recognize both devices.
Keep in mind that S4 should be the source with S5 as destination.
Simply click "Flip" if you put them in wrong places.
Select the files you want to transfer by ticking option boxes on the middle pane.
Hit "Start copy" and click "Ok" when transferring process completes.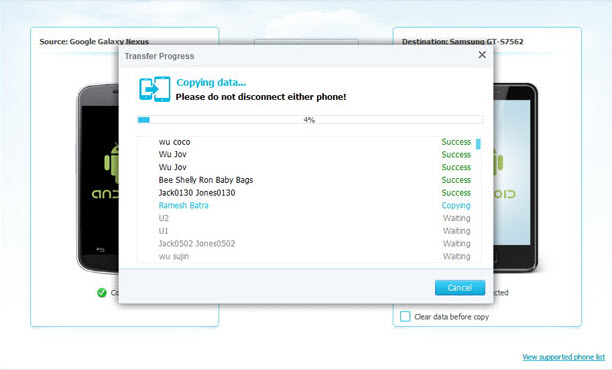 Aside from the smooth Samsung S4 to S5 data transfer, Phone Transfer is also equipped with backup and restore features. This is a big advantage to many users because it eliminates the thought of losing precious data.
Way 2: Use Samsung Smart Switch
In the effort to help consumers make an easy transition to transfer files from their old handset to the new one, the Korean smartphone giant created an application called Samsung Smart Switch. With this software you can transfer data from Galaxy S4 to Galaxy S5 without much of a hassle. Move all your contacts, pictures, videos, music, memos, documents, messages, calendars and more for free.
Since S4 and S5 both comes with NFC and Wi-Fi Direct, you can use this latest wireless technology to transfer contents. Compare to the traditional USB/PC mode, using NFC and Wi-Fi Direct is much easier. All you need to do is:
Go to Google Play Store and download Smart Switch App on both devices.
Turn on NFC on S4 and S5 by going to "Settings" then "Connections".
Open the application on both handsets.
Put your S4 and S5 back-to-back until you feel a vibration.
You will be prompted about the transfer and click "Ok" to confirm.
On your S4, choose the files you want to copy.
Tap "Import" and wait until it completes.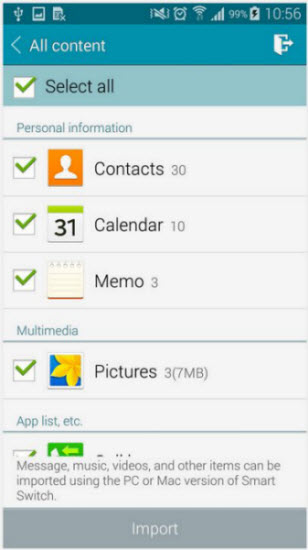 Although Smart Switch promises smooth and literally touch-less moving of data, still it has major bugs and errors. Many users are reporting Samsung Smart Switch getting stuck while transferring data. Also, this application does not support older Samsung phones and other obsolete devices. Transferring of data using NFC and Wi-Fi Direct is cool but it lacks stability and novice users would find it too technical to handle.
Mainly for the above reasons and tons of other error reports, it is better to use a third party application that is more stable and simple to use just like Phone Transfer. With this tool you don't need NFC and Wi-Fi Direct meaning all phones old or new can share mobile data. If you want to transfer Samsung S3 to Samsung S5 or iPhone to Blackberry and Nokia, Phone Transfer can handle it all. Besides, this application delivers a fast and very smooth transferring process; no more stucks, freezes and frequent hang-ups.
Remember that when it comes to moving of mobile data, it is advised to rely on tried and tested forms of technology rather than gambling on new ones that are often unstable not to mention filled with bugs.