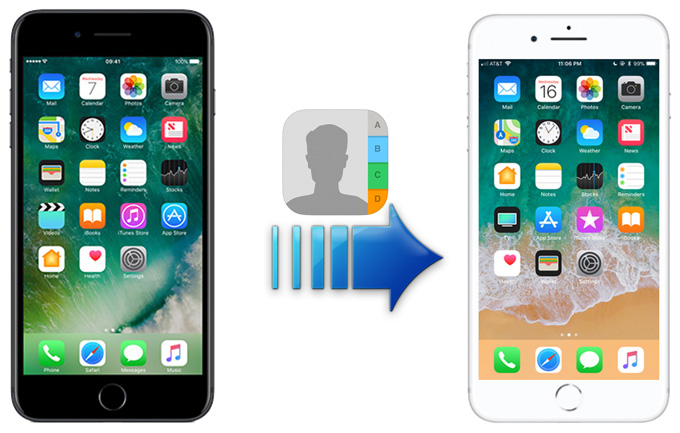 The iPhone 8 is one of the latest phones of Apple which was launched on Sept 12, 2017. It was presented together with the iPhone 8 Plus and the iPhone X. Many people are excited about these phones and want to get one of them as soon as possible. However, when you get a new phone, you may need to transfer contacts from the old iPhone to the new one because those are important data. If you have an iCloud account, you just need to sync your contacts. However, many iOS users think that it's troublesome to use iCloud and sometimes they cannot remember the password. There are still ways that you may utilize to transfer your contacts without iCloud. Below is a complete guide for you to transfer contacts from iPhone to iPhone 8.
How to Transfer Contacts from Old iPhone to iPhone 8
iTunes – A Traditional but Practical Tool
Every iOS user knows about iTunes. This can help you transfer your contacts to your new iPhone 8 if you have them backed up. To do so, connect your old iPhone to the PC and then launch iTunes. Click on "Device" > "Summary" > "Backups" > "This Computer", then simply click on "Back Up Now". After backing up, disconnect the old iPhone and then connect the new one. Click on "Device" > "Summary" > "Restore Backup", and turn off "Find My iPhone", select the backup you created, and then click on "Restore". Then you'll get all the data including contacts on your iPhone 8. If you just want to save the contacts alone, you may refer to the following tools.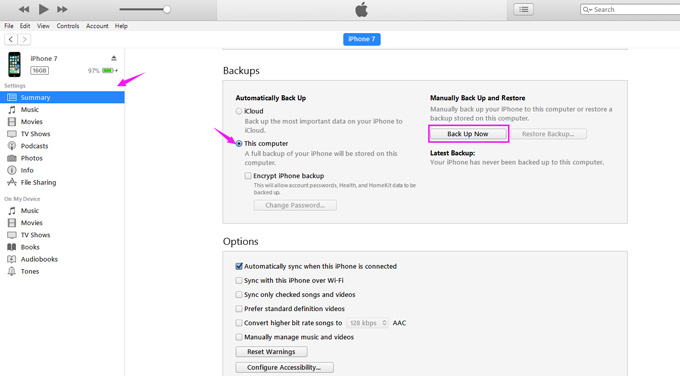 ApowerTrans – A Handy and Easy-to-use App
Here is another handy and easy to use tool – the ApowerTrans app. This tool is a transferring app that can help you transfer iPhone contacts to iPhone 8. You may transfer data between phones, including photos, videos, audios, documents and even contacts. In addition, this tool is compatible with any version of iOS devices. Compared to iTunes, this tool is much easier to use. You just need to pair the devices and choose your contacts. Before you use it, make sure that the two devices are connected to the same WiFi network. Follow the simple steps below to transfer contacts to iPhone 8.
Pair the devices with each other by clicking on the dock-like icon on the interface in the old phone. Afterwards, select the iPhone 8 once it has been detected.
On the old iPhone, go to the Contacts tab and then select all the contacts that you want to transfer.
Click on the "Send" button and you will have them all transferred to the new iPhone 8.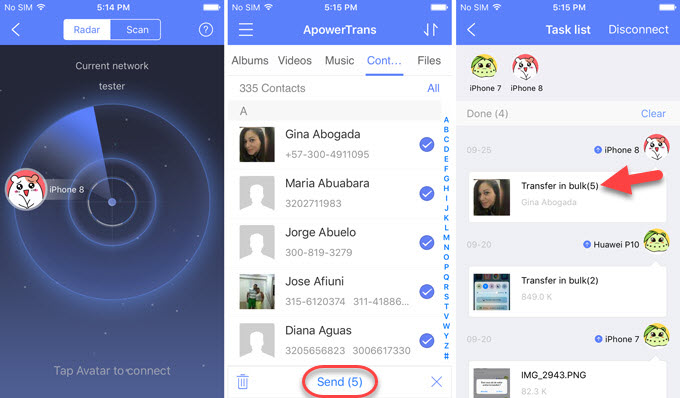 This application is very fast. You can actually send files in seconds. Additionally, it works the same way as Bluetooth but definitely faster in performance.
Apowersoft Phone Manager – Professional File Manager
If you are looking for a professional tool that can help you in managing your contacts and other files, then Apowersoft Phone Manager is perfect for you. This can help you transfer your contacts from old phone to new one. Actually, it can copy iPhone contacts to iPhone 8 and manage them as you wish. Besides, you can also access and manage other data files like videos, audio, pictures, documents and apps.
To use it, download the app on your computer and then launch it.
Connect your old iPhone and iPhone 8 to the PC, and they will then be connected to this Phone Manager. If there is a window popping up on your phone to ask for authorization, tap on "Trust".
Once connected, check the old iPhone and go to Contacts. Select contacts that you want to transfer. Click on "Export" and save them onto your computer. You may just save them as Excel file if you want to.
After that, check the iPhone 8 and go to Contacts tab. Click on "Import" and then choose the file that you have saved earlier. The contacts will then be saved on your new iPhone 8.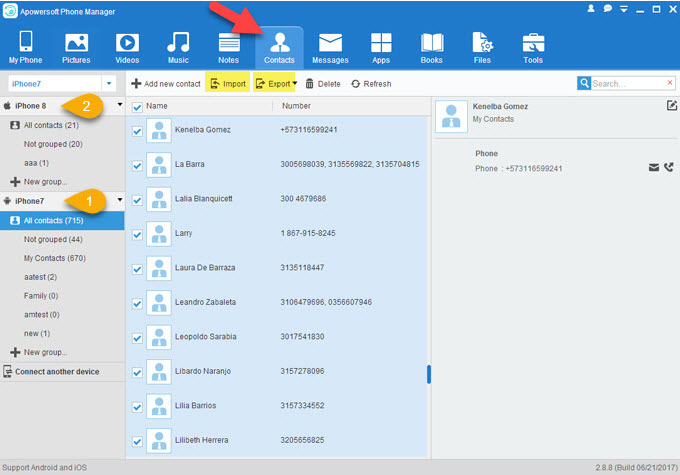 Conclusion
These are practical tools that you may utilize to move contacts from iPhone to iPhone 8. It is just up to you to choose the one that perfectly fits your needs. If you are used to using iTunes, then you may just use it. However, if you are looking for a better and easy to use one, then you may go with ApowerTrans since you don't need a computer to transfer contacts. In the event that you want to utilize a professional tool, then Apowersoft Phone Manger is there.