Every time Apple has released a new product like iPhone 5s or 5c, thousands of passionate Apple fans would queue outside the stores early in the morning for purchasing their loved ones in the first time. Usually when we have acquired a new iPhone model, the first thing to do is to sync the contacts from old one? If you are not very conversant with Apple technology, this task may be a little difficult for you. Just take it easy, as you can get useful tips on how to transfer contacts from old iPhone to new iPhone from this article.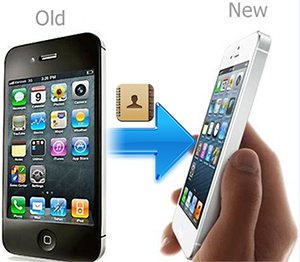 Method 1: Use Apowersoft Free Online iPhone/iPad/iPod to Transfer contacts to a new iPhone
Specially developed as a transfer tool for iPhone users, Apowersoft Free Online iPhone/iPad/iPod Transfer helps you transfer multiple files including SMS, apps, bookmarks, music, videos, photos, and many more between Apple devices and your computer. Based on its intuitive interface and advanced technology, it won't spare you any effort in using it. Follow the guidance in the below passages and you will be able to transfer contacts from old to new iPhone with zero loss of data.
Part 1: Transfer contacts from old iPhone to PC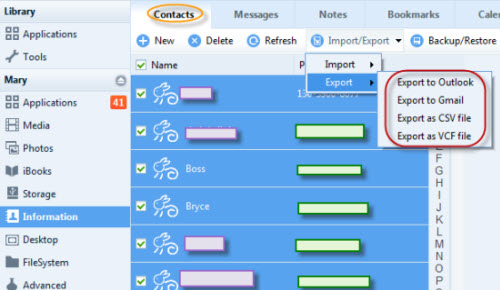 Hit "Launch Application" button on the application's page.
Connect your iPhone to computer and soon the transfer tool will detect it.
Click "Information" on the left column and hit "Contacts" tab on the top.
In the contact list, select the contacts you want to transfer and then hit "Export" button to move contacts from iPhone to PC.
Part 2: Transfer contacts from computer to new iPhone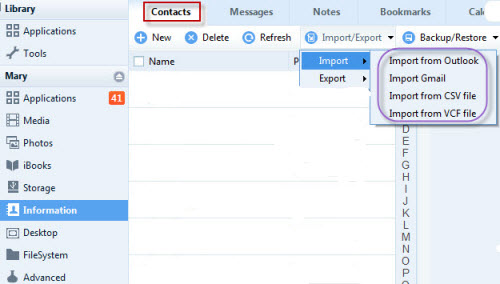 Now make your new iPhone connected to computer via the USB cable.
Locate to the folder where you saved exported contacts, and then you can import them to your new model by tapping "Import" button.
The advantage of using the free online service is that it doesn't require you to download the app. However, you have to let your computer connected to internet all the time while transferring. If sometimes you don't have the internet connection, you can also choose to download its desktop version to finish the task of how to transfer contacts from iPhone to iPhone 5, 5s, 4s.
Method 2: Transfer contacts from old iPhone to iPhone 5s, 5c, 5 with iTunes
iTunes can not only organize digital media data on computer, but also backup your iPhone. Thus you can also use it to transfer iPhone contacts to iPhone 5s.
Here are the steps you can refer to:

First, please install the latest version of iTunes on your computer.
Connect your iPhone to PC using a USB cable. Open iTunes and select "File menu" > "Devices" > "Back Up", then hit "Back Up Now".
To check if you have got all contacts in the iTunes backup, go to open iTunes "Preferences" menu and hit "Devices" tab. The process of backup would appear there. Disconnect your iPhone from computer once it finished backup.
Connect your new iPhone to computer and choose "Restore Backup". Once finished, your new iPhone will restart.
Note: When use iTunes to backup iPhone, you can only restore purchased SMS, MMS, bookmarks, apps, device settings, home screen, video or photos stored in camera roll, ringtones and more.
Method 3: Transfer contacts between two iPhones with iCloud
iCloud, a cloud service provided by Apple, allows you to sync all contacts, installed apps, or other media data among multiple devices that share the same iCloud account. If you haven't got an iCloud account, we would highly recommend you to create one, as it comes along with other great functions like Photo Stream, automatic wireless backups.
How to transfer contacts between two iPhones with iCloud: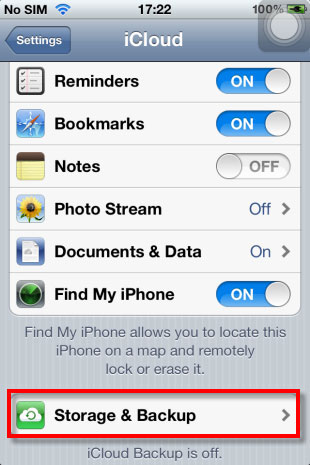 Connect your iPhones to the same WiFi network.
Set up your old iPhone by tapping "Settings", "iCloud", then "Storage and Backup". Turn on "iCloud Backup" and click "Back Up Now".
Enter your Apple ID account and click "Back Up Now".
Wait for the backup process until it is successful. You may also check how much time it requires to finish.
Power up your new iPhone and complete the iPhone Setup assistant. Select "Restore from iCloud Backup" and then select the old iPhone. Of course, you need to remember the Apple ID and password for backing up your old iPhone.
Your new iPhone will restart when the process finishes.
Note: Before you set up your new iPhone 5s, 5(or above versions), make sure that you have inserted a SIM card in the iPhone to activate it.
If you have set up the new iPhone before backup this time, click "Settings" > "General" > "Reset" > "Erase All Content and Settings", then start to recover.
Above are the 3 ways to transfer all contacts from iPhone to a new iPhone. Using the first approach, you can transfer many kinds of selected files between iPhone and computer safely and easily. The second and third ways are also simple, but they take you more time. You can choose one that's most convenient for you to transfer files between your iPhone gadgets.