AVI, which also called Audio Video Interleaved, is a very popular file format developed by Microsoft for their Windows OS devices. It contains both audio and video stream which even allows simultaneous HD playback in high resolution videos. Although, bear in mind that not all digital devices support AVI playback. Some of them are the devices of iOS and Mac OS. Since Apple-based operating systems use QuickTime media player, AVI files would simply not play. This is the main reason why many iPhone, iPad and all other users find it necessary to look for the best free AVI to MP4 converter.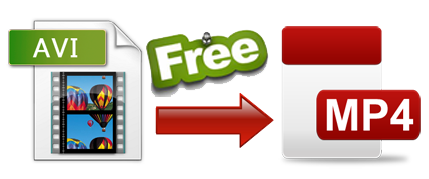 If you want to play your favorite movies, clips and interesting videos on your Mac computer or iOS device, you need to convert them first to MPEG-4 or more commonly known as MP4. Additionally, there're many portable players and mobile devices which require videos in MP4 format rather than AVI. Ready for the best, efficient, and practical MP4 converters? See them after the jump.
Top 5 Free Online AVI to MP4 Converter
If you don't want desktop installation nor memberships or sign-ups just use cloud based services, what you need best is the Apowersoft Free Online Video Converter. With this free tool, you not only convert media files between AVI and MP4, but among many other formats as well. It supports MOV, ASF, MPG, WMV, 3GP, WEBM, MKV, FLV, SWF and VOB together with audio formats such as MP3, FLAC, WMA, AAC, WAV, OGG and RA file types. It converts files in blazing speed and it doesn't have any limitations. Best of all, you can configure settings from video resolution to audio bitrate and more.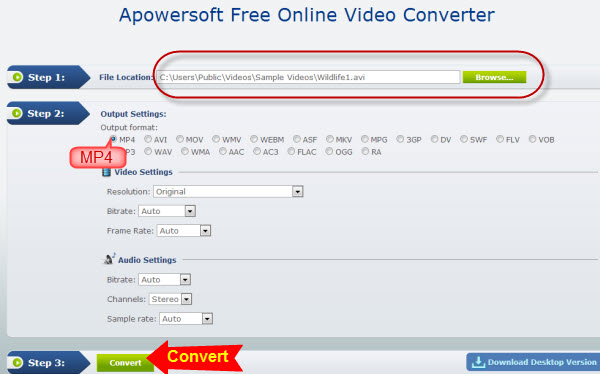 Top 2: Cloudconvert
Cloudconvert is an online based converter in beta stage that supports up to 159 file formats. Using it is simple, all you need to do is to drag & drop your file on the page, click "Start Conversion" and choose the appropriate download method. Just like the former, it proceeds files in the cloud so you don't need to install anything on your desktop.

This online software is yet another tool that can convert files totally free of charge. However, there is a maximum file size limit of no mre than 250MB. Also, files converted this way are hosted on their servers for only 24 hours so you should download the file right after conversion to avoid losing it.

Top 4: FileWiggler
Visiting FileWiggler website would great you with its nice interface that is simple and very clean looking. No different from the others, FileWiggler is a free AVI to MP4 converter for Mac and Windows. It supports popular formats such as 3GP, Zune, android, iOS, PSP, WMV, ASF, MPEG-4 and more.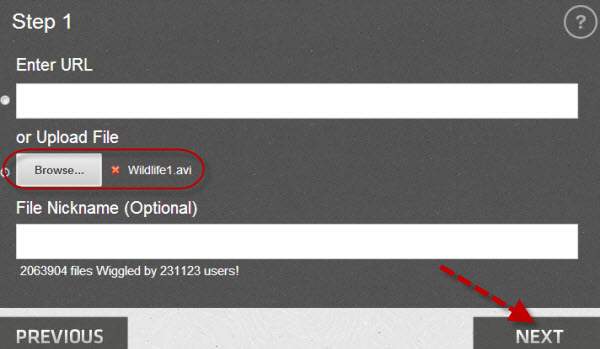 Top 5: BenderConverter
This online conversion tool is easy to use and capable of changing file formats from popular videos to well-compatible audios. Similarly, it doesn't require registrations or fees but there's a limit with daily downloads. If you want to convert files without any restrictions, an option to go premium is required.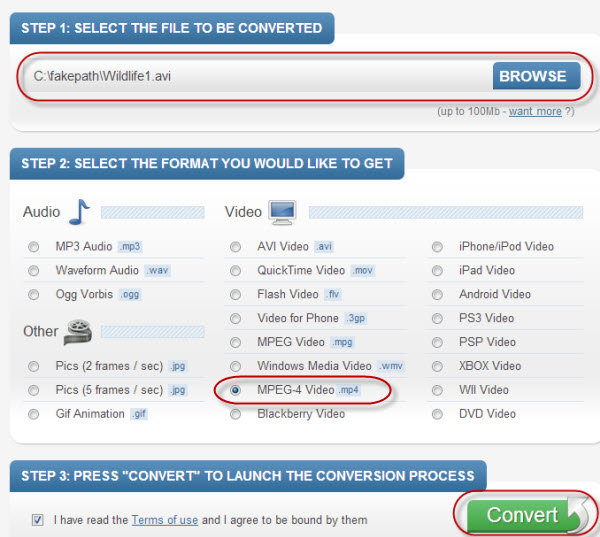 Desktop Video Converter – Apowersoft Video Converter Studio
For those who need a premium media conversion tool that is way beyond the top free web-based AVI to MP4 converter tools listed above, check out Apowersoft Video Converter Studio. You can not only convert AVI files to MP4 but also edit your videos in this one-stop application. With this tool, you can convert videos to different file formats without losing quality, 720p and 1080p resolutions are supported. Moreover, this software allows you to add subtitles, crop unwanted parts, merge videos into one, trim clips, adjust video contrast, select color saturation and add fantastic effects into your videos. Likewise, this premium desktop converter supports wide variety of video formats, audio formats, it also provides optimized output presets for directly exporting audio/video files to iPad, iPhone, Android tablets, smartphones, PSP, DVD, Smart TV, HTML 5 and all others. Using it to convert AVI files is very easy:
Download and install the program on your desktop PC.

Click "Preferences" and make necessary adjustments or change settings before using it.
Hit the "Add" button to import the AVI video file you want to convert.
On the next window you can preview, take snapshot, edit, adjust or add effects on your video before converting it.
Head on to "Profile" – "Settings" and choose the format of your choice. You can select HQ MP4 if you want.
Start the conversion process by clicking "Convert".

The converted file would be automatically saved in the output directory as you indicate before conversion.
Even though modern gadgets and gizmos do have restrictions on playing video files in some formats, the above tools and applications would help you cross these boundaries so you could better enjoy the freedom of your device. Go premium or go free, it is all up on your personal needs as well as requirements.