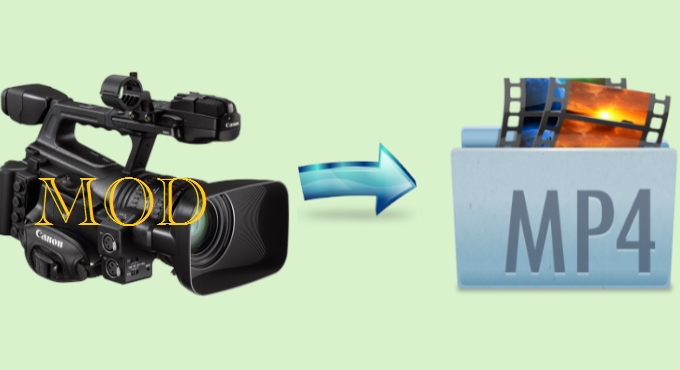 MOD is a format that is mainly used as file format for videos taken on camcorders like Canon, JVC and Panasonic. This format has been around for a long time but it is still not widely supported by various media players and devices. MP4 on the other hand is a more popular video file format.
Because of these reasons, some people would like to convert MOD file to MP4. If your media player or device does not support MOD, you may also want to do the same. Another reason is that MP4 can be modified by many media editing programs while MOD is not supported by them. In case you wish to edit your videos taken on camera or DV, this may not be possible until you convert them to a supported format. Several DVD burning programs also do not support MOD, so again, file conversion is needed. And I will teach you how to do this.
If you experience any of these situations and you need to convert your MOD file into another format like MP4, there are various converters that you can use to make this happen. There are free tools and paid ones, which we will go through in this article so read on.
How to Convert MOD File to MP4
First, let us talk about how you can free convert MOD to MP4 with these two solutions that I will provide. If you are just converting one file or two, then these methods would do.
This is an online tool that would let you convert videos like MOD files to other formats including MP4, MOV, AVI, 3GP and more. To start converting your video, visit this page and then click "Select files to start", go to the location where the video is saved, select it and choose "Open". Click "Format" and select the output format as MP4. Choose your preferences under "Settings" including video settings (resolution, bitrate, frame rate) and audio settings (bitrate, channels, sample rate).
If you are not sure how to configure the audio/video settings, you can leave them unchanged. Lastly, click "Convert" and wait for the process to finish. It allows you to convert as many videos as you want as it does not come with a limit.

Zamzar MOD to MP4
Our second free option to convert MOD to MP4 online is Zamzar, which you can access in this link. It works as converting both web videos and streaming videos to desired formats. However, you can only convert up to 1000MB of videos in this site and you need to supply a working e-mail address as this is where converted files will be sent.

This is inconvenient especially if you do not have an e-mail account. Plus, even if you have one, you need to make the extra effort of accessing your e-mail just to download the files.
Recommended Shareware – Video Converter Studio
Aside from the two free options provided, you also have the choice to use Apowersoft Video Converter Studio. You may download the free trial to check its features and see how it works.
This MOD to MP4 converter has the most basic user interface and straightforward conversion process. Once done installing the program, you can start converting MOD videos and you can do this simultaneously on multiple files. Click the "Add files" button on top of the screen, Choose "MP4" as output format under Profile option, choose the location where you wish to save the converted file under "Output" then click the "Convert" button to begin conversion. It supports wide selection of audio and video formats. Aside from converting videos, it also comes with features for editing and adding subtitles.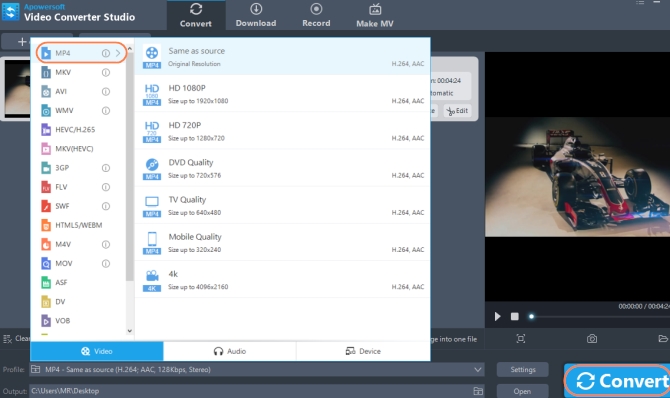 How to Play MOD Files on Computer without Conversion
If you only want to enjoy your videos on computer solely and do not worry about taking too much space of your hard drive, installing a proper media player will do the trick. I still have more tips that you may find it helpful, which would let you play MOD files on your computer without having to convert MOD to MP4.
1. Play MOD file with Windows Media Player in Windows
If you are using Windows Media Player on your Windows PC, you can rename the MOD file by right clicking on it and selecting "Rename". Change its file extension from ".MOD" to ".MPG". For example, you may rename MYVIDEO.MOD to MYVIDEO.MPG. Right click on the new .MPG file, click "Open" and choose "Windows Media Player". This should do the trick.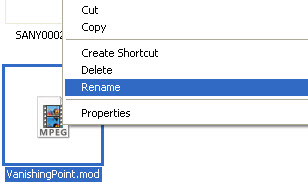 2. Play MOD files with VLC on Mac
If you are a Mac user, try using VLC to play your MOD files. This is a free and portable media player that you can download on your Mac PC and use to play various media formats like MOD without the need for conversion.