With the sudden popularity of video streaming websites such as YouTube, Veoh, Vimeo, VK and more, the fame of self-edited and homemade clips are definitely on the rise. People tend to touch up their videos with the assistance of handy tools before sharing via these sites. Adding effects, increasing color hues, inserting animations and overlaying texts are just some of the most basic editing options. But beyond these all, adding audio or sounds to video clips seems to be a common phenomenon.
Although, how to add audio to video is not an easy task to deal with especially if you are a newbie in the world of video editing. Complexities and technical details will surely hinder you on making fantastic clips. Gladly, there are video editing tools that can help you add any sound or audio file you want on top of your clip. If you want to insert your own voice to popular hits of today, see these efficient and very easy-to-use applications after the jump.
Method 1: Apowersoft Video Converter Studio
For those who don't want all the technical complications on how to add audio to a video, using Apowersoft Video Converter Studio is the best way to go. This desktop software is more than just an app that will allow you to easily add any audio or sound file into your videos. It can equally convert files to different formats such as MP4, SWF, 3GP, AVI, MKV, WMV, FLV, HTML5, MOV, DVD and all others within few clicks. Additionally, you can preserve video quality and can go as high as 1080p resolution for real HD playback.
With this tool, you can insert any audio file you want into your video clip. It supports inserting various audio formats like MP3, WMA, OGG, AAC, AC3, FLAC and RM sound files. Using Apowersoft Video Converter Studio is very easy, see below the guided instruction on how to add audio file to your vids:
Launch the program on your PC after downloading and installing it.
Click "Add" to import the video you want to insert audio file.
After the video has been loaded, right click on the file and hit "Add audio" to add audio track to video.
Select the music file you want to insert and adjust settings according to your preferences.
Preview the video and hit the "Convert" button.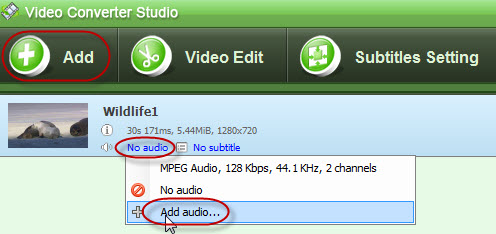 You can also use Apowersoft Video Converter Studio to modify videos using its smart built-in editing tools. You can merge, clip, trim, crop, set color, adjust brightness, add effects, and insert subtitles, performing all of them in this single application. There's a free trial (check the above buttons) available if you want to check out its powerful video editing features.
Method 2: Windows Live Movie Maker
Another way to add audio to video file is through Windows Live Movie Maker. This pre-installed Windows app has the capability of inserting any audio clips on your videos. You can add in audio files from your own voice, recorded sounds and local audio files. If you wish to add music contents to your clips, all you need to do is:
Run the program and load the video you want to edit.
Click the "Add music" icon and select from "Add music" or "Add music at the current point…"

For easy editing you may switch to "Timeline" view.
Adjust settings, cut or clip the audio if necessary.
Save the project and choose your desired format.
Bear in mind that unlike Apowersoft Video Converter Studio, Windows Live Movie Maker doesn't have conversion features and powerful editing options. It's only recommended for users who want to add audio to MP4 video, just the basics of it. But if you need a more comprehensive and flexible software that can do more just adding music contents into your video files, choosing a premium application will definitely do wonders.