Ask
I bought a new iPhone 6, but after connecting the device to Apowersoft Phone Manager, I am just finding that this mobile phone management tool really helps me a lot. But one problem is that my videos and music cannot be found on the program, which really confuses me. Actually I am not a tech-savvy, can anyone tell me what the problem is?
Answer
Hello, thanks for your support, we really appreciate your feedback. After connecting your new iOS device to Apowersoft Phone Manager, if the phone has not ever been connected to iTunes, you will see a pop-up tip reminding you to sync iPhone with iTunes for only once. If you close the prompt and continue to make connections without synchronizing the new phone with iTunes, you will find that part of media files cannot be imported such as music, video and ebooks. Despite it, you can still manage your pictures, contacts, SMS, notes, apps and many others on the program.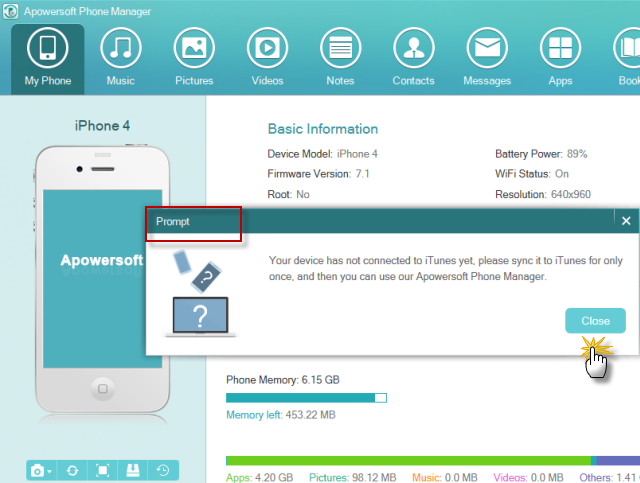 However, once synchronized, you may have comprehensive use of Apowersoft Phone Manager such as managing videos, music and many more. All the media files can be imported without any hassle, including music, video and ebooks. Then, the next thing concerned by you is how to sync iTunes to iPhone especially for the new iOS device. This concern can be brought by:
How to sync iPhone 6 with iTunes
As it is known to all, iTunes is Apple's only officially launched iOS device management tool. For the new iPhone or the phone that has been restored to the factory settings, you need to activate it with iTunes before using.
1
Open iTunes and activate iOS device
Simply run iTunes and make sure that you have updated to the latest version iTunes. Here take iPhone 6 for example to connect to PC via USB cable, and then enter the Apple ID to activate the device. Now you can move to the next step. Here we mainly talk about how to sync your new iPhone.
2
Navigate to iTunes's guide page
Once your device goes live, you need to click on "Done" button on the upper-right corner and go back to the library. After clicking "Continue", iTunes will guide you to the novice guide page.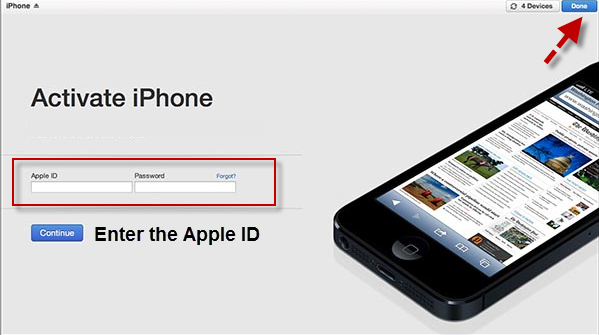 3
Sync with iTunes
If you are the first time to connect iOS device to iTunes, you can get a page that says "Welcome to your new iPhone", click "Continue" for the next step.

After clicking "Continue", iTunes will display the how-to tips, you just tap "Get started" to jump to the iTunes Summary page.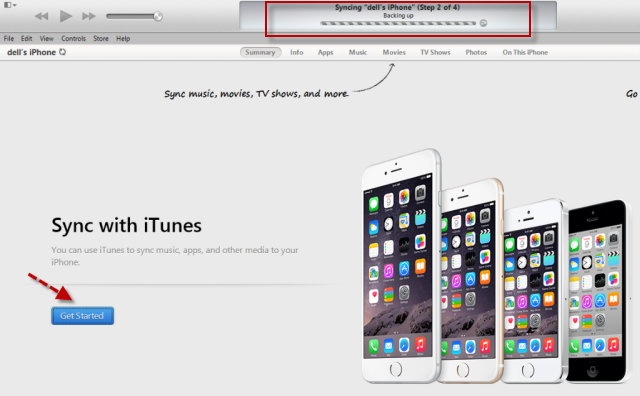 Congratulations, you just make your iPhone synced with iTunes. Now you can fully use Apowersoft Phone Manager to manage your music and video. Experience the program right from here:
Extra tips to synchronize data with iTunes
iTunes is a smart way to organize media files you already have. If you are new to iOS device, you will find iTunes come in handy when you need to synchronize other media information with iTunes. Simply use iTunes to manage and sync your apps, music, movies, TV shows, books, photos, tones and podcasts. Now follow steps below to set up synchronization.
Find your connected mobile phone on the left side of the iTunes.

Click on your iOS device. You will see the tabs manifest in terms of Summary, Apps, Music, Movies, TV shows, Books, Tones, etc.
Turn on syncing for Movies, Music or other info. For example, if you want to sync music, all you need to do is to click on "Music" from the list and enable the box "Sync Music". Upon the confirmation of items to be synced, and then you click the "Apply" button in the lower-right corner to sync your music. Steps are exactly the same for other information synchronization.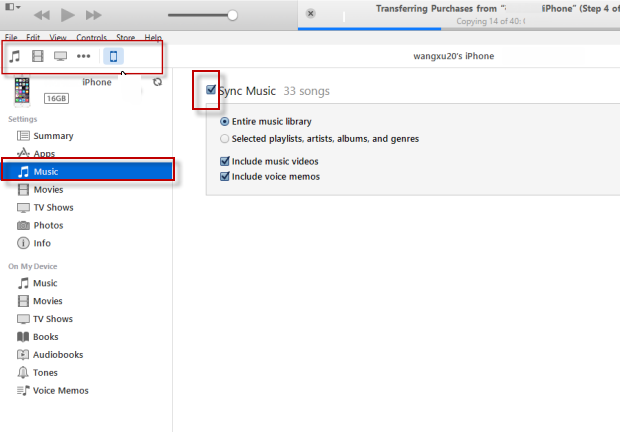 That's all, hopefully these tips will help you succeed in syncing iPhone with iTunes so that you can use Apowersoft Phone Manager without hitch.