Ask
Hello, I had a large number of .SWF animation movies I made several years ago that I want to convert it to MOV, M4V or MP4. I open them in QuickTime Player 10 with perian but when I go to resave them, an error popped up, saying the document "XXX.swf" could not be saved as "XXX.mov". The movie contains an incorrect time value. Has anyone got the same experience? How can I fix this? I've tried a range of tools at this including Flash, so far unsuccessfully. I'm sorry if this post is inappropriate here. PS iMac, Mac OS X (10.6.8). Here is looking at you.
Answer
Hi there. Thank you very much for your post. Sorry it took so long to get back to you. As someone who has ever dabbled in Flash animation, I'm familiar with this problem though, unfortunately I have not found a definitive answer. I think it is mainly to deal with its not being a real video file, which means you can't actually convert them to film in this instance. But I've had a few cracks of getting your SWF to MOV video, which might be a little bit convoluted.
Need to convert SWF to MOV/M4V/MP4
1
Using a Video Converter
SWF files could be only viewed on Adobe Flash Player. Most of the widely used multimedia players like QuickTime or portable devices like iPhone, iPad, and iPod cannot recognize SWF files. The way I do it is by utilizing a video converter which is probably the simplest and most common way of doing it. However, in my experience, many of video converters actually produce low quality video. I think it is the missing frames that are responsible for the low quality. Another downside is they are quite expensive. I once paid nearly $100 for purchasing a video converter that could do this for me. Fortunately, I've found out a free web-based SWF to MOV converter that seems to be the best one. You can choose the frame rate and resolution. I've tried it so I recommend this to you. Hit here to visit the page. Follow the below details to know how to use it.
Click "Browse" to upload the SWFs.
Choose "MOV" as the output type.

Hit "Convert" to start conversion.
Warning & Tips: In case of getting low quality output file, you can select resolution and change the frame in Video Settings field.
2
Through Media Player
That QuickTime supports MOV is a universally acknowledged fact but it's also in favor of video codecs like H.264 and MPEG-4. VLC is probably another way out and if you have VLC installed, you can convert MOV movie clips to H.264 or MPEG-4 video which will then work fine in QT. The way I do it is not by converting SWF to MOV but by converting it to MP4 files since MOV is not in the list of the output profile. The guide is included in the following screenshot.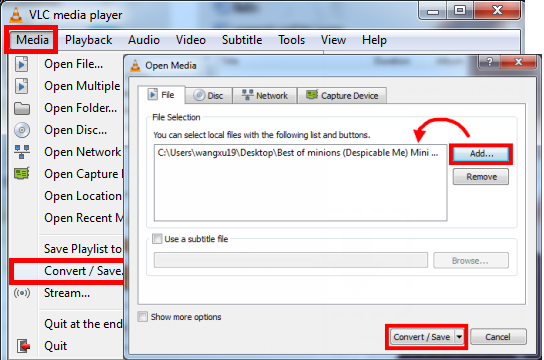 3
Via Screen recorder
Another way would be to record screen. The obvious problem with this is possible the frame loss, the poor resolution and the lack of sound. But if you have a good screen recorder program, it is possible to overcome these problems. Make sure your recorder program is set well before recording, ensure nothing pops up on your screen and every single frame is captured when you are capturing the movie, then import the video into a video converter program and thus convert SWF to MOV/MP4/M4V via this roundabout approach. However, the main problem is that you could not get high resolution video if you had a small screen.
Warning & Tips: Considering you are running iMac, I'd like to advise an external post that might be helpful for you. How to record screen on iMac?