Remove Watermark from Video With Apowersoft Watermark Remover
What is Apowersoft Watermark Remover?
Apowersoft Watermark Remover is a simple yet professional tool for removing watermarks from video and image. Actually, apart from watermarks, it is able to remove logos, texts, time stamp, and any undesired objects from your file. The whole process of watermark removal is very easy and quick. People without any computer skills are also able to get hold of it very soon.
How to Remove Watermark from Video with Apowersoft Watermark Remover
Download and install the software by following the instruction.
Open the software, choose the "Remove watermark from video" for your method.

Click the plus sign icon to import the video you need to edit.

Once imported, click the "Selection Tool" button and place the red box from the watermark areas you need to remove.

After that, click the "Convert" button to process the videos. Soon the files will be saved to your local disk after conversion.
Tips:
If the watermark doesn't appear from the beginning to the end of the video, you can trim the video part that has the watermark by clicking the "Add parts" > "Trim Tool" button. Then you can set the start and end time for the trimmed part, and select the watermark with your mouse in the video. In this way, you can remove the watermark from certain parts of the whole video.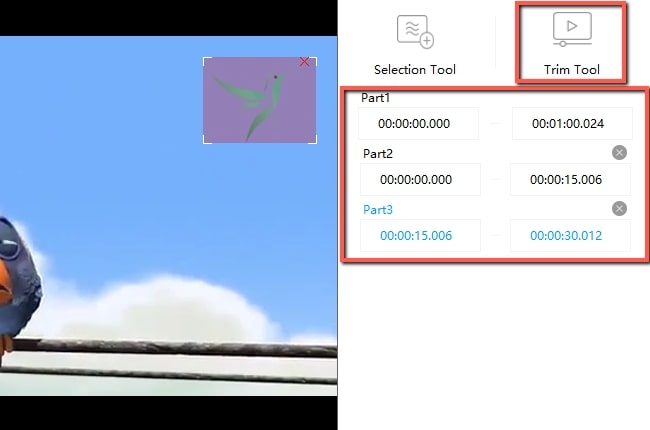 Pros:
Available for multiple video file formats, such as mp4, flv, mov, wmc, and more.
It has a simple working interface.
It lets you process videos in a batch simultaneously.
Cons:
It has limited editing features.
Only offering 3-free trials on Windows
Why do I recommend this Tool to Remove Watermark from Video?
Apowersoft Watermark Remover is highly recommended for its intuitive functional interface and always getting high-quality results. Just in a few clicks, you can remove watermarks fast and easily. If the watermark is complicated, you are able to use its smear tools to remove watermarks accurately, which is really efficient.
Hacks to Remove Watermark from Video
ApowerEdit
An efficient program to remove video watermark is ApowerEdit. This program is designed with a simple interface that enables users to grasp basic operations within several glances. Upon the panel of this video editor, there're multiple editing options available, such as trimming, cropping, filter, text, transition and so on. Therefore, you may consider crop video or add a mosaic on the watermark. Follow the steps below to do this job.
Click the button below to download ApowerEdit and then install it.
Launch the program and add the target video file.
Right-click the media file and then choose "Add to Project".
Click the "Crop" option and then adjust the frame on pop-up dialogue. (It's recommended to click "Keep aspect ratio" option).
(Alternative) Click Mosaic option to choose a preferred mosaic to cover the original watermark.
Click "Export" > "Export video" to generate the video.
Apowersoft Free Online Screen Recorder
It is always advisable to use a reliable recorder such as Apowersoft Free Online Screen Recorder to get rid of and remove video watermark permanently. By using this program you can record anything that you want without watermarks. Plus it has an unlimited recording time as well as built-in editing tools. More than that, it has the ability to record both the screen and webcam as well. You can preset the output format and video codec. When you finish recording, video will be saved in high quality. With a couple of steps, you will create your fancy video without watermarks easily.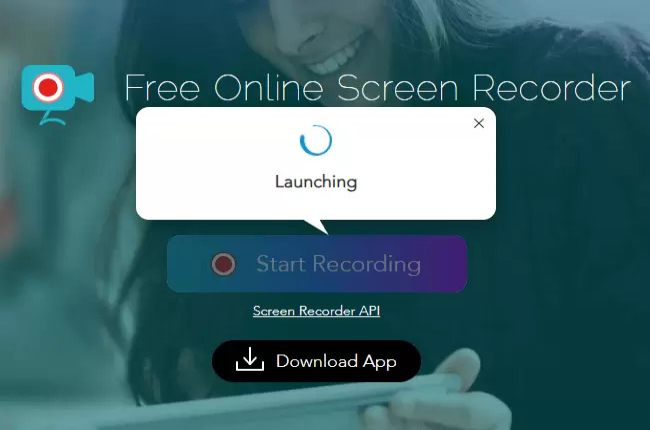 The very first step is going to its website and press the "Start Recording". If this is your first-time visit, you will need to download and install a simple launcher instead of a Java applet. After installation, go back to the webpage and then hit the "Start Recording" button again.
Then you will see the user interface popping out. Open the options list and configure the settings like output formats, mouse animations. Check "Audio Input" options and select one such as system sound.
Next, choose to record a special area or full screen and you can also add a web camera into the screen during the recording process. Once done, click "REC" to start.
During recording, you are able to beautify your videos by making real-time editing. And when you want to end recording, click the pause button to continue or start over.
When a video is created, you can thus play it to check the effect. After that, you can choose to save it as the video file or upload it directly to YouTube, ShowMore, and other websites.
For users who want to use it for offline use, you can also download a desktop program of this free online screen recorder, that is Apowersoft Screen Recorder Pro. With this tool, you can make your own video at any time you like. Besides all the functions of the free version, users are allowed to take a screenshot as well as create a recording task. With this tool, you can not only capture your fancy picture but also you can record a video even during your absence.
Delogo filter for Virtualdub
If you are in deep need of removing a watermark, logos, and the like, you can make use of a professional watermark remover which is called the Delogo filter for Virtualdub. This is a powerful filter that functions well together with Virtualdub. Using this method you can simply remove watermark from video with few steps.
First of all, you must have a Virtualdub running on your system.
Once they are ready, you can now open the video with a watermark that you want to erase.
Now open the Delogo filter, you can do this by hitting the "Video" – "Filter" > "Add" and look for Delogo filter and show preview.
Using the preview scrub locate the portion where you want to remove watermark on video and click "Save Frame" under "Analyse" and save it as a bitmap file.
After that, open the saved image with a photo editor that you have and use the red paint to cover the logo that you want to vanish and save it using the same file name.
Then go back to Delogo tool, under "Repair", click "Load" button and locate an image that you created and hit the save button and the unwanted watermark is absolutely gone.
Video Eraser – Remove Logo (iOS)
If you are using your phone to delete a watermark from video, it is advisable to use Video Eraser – Remove Logo. This app is designed for iOS users to erase watermark from video. Aside from removing the logo, you can also use it to add or edit watermarks. Indeed, it is perfect for the beginner or not-so-techie users because it offers a friendly user interface which is simpler to use. Follow the steps below to know how to remove the watermark from the video using this app.
Visit the App Store to download and install it on your IOS device.
Once done, tap "+" to add a video from your photo library.
Then tap the video icon on its interface and select "Remove Watermark". Drag the rectangle from the watermark area.

On the right corner, tap "Start" and wait for it to be processed. Tap the "Processed" tab to find your video at the bottom of the screen.
Remove & Add Watermark (Android)
It is also important to have an app for Android users to remove watermark from video. Remove & Add Watermark is a good example that can be used to remove or add watermark to videos and images. You can easily remove watermark your file using its simple tools named as lasso and rectangle tools. Refer to the simple steps below to learn how to use this app:
Go to Google Play Store to download and install the app on your device.
Open the app and tap "SELECT VIDEO" and "REMOVE LOGO" and then select a video from your library. Using your fingertips, specify the area of the logo.

Tap the "Save" button and wait for the process and then share or keep the file.
Conclusion
| Features | Apowersoft Watermark Remover | ApowerEdit | Screen Recorder | Delogo filter for Virtualdub | Video Eraser – Remove Logo | Remove & Add Watermark |
| --- | --- | --- | --- | --- | --- | --- |
| Provides a friendly-interface with simple use direction | | | | | | |
| Batch processes watermarks in videos/images | | | | | | |
| Outputs videos/images without quality loss | | | | | | |
| Allows to remove watermark in a certain part of the video | | | | | | |
Watermarks are often utilized by companies as their trademark to protect the product that they sell. Most of the time, it is also a marketing strategy for them to get more customers to buy their product or program. Buying an expensive PRO tool is not always what it takes to get rid of any logos and watermarks in any video. As discussed above, there are now proven ways to remove watermark from video without spending a single buck. From what mentioned above, Apowersoft Watermark Remover is the best one because it works for both videos and photos, and it also allows to add watermarks. Just take a try and you will know!