SnapPea is a tool which allows you to manage your phone in the computer. It lets you manage apps, photos, music, contacts and even SMS. You can use this utility to transfer or download pictures, apps, videos and music as you can access the Google Play Store, 1Mobile Apps, TED Talks and iTunes Movie. Additionally, you can also send, delete, and receive text messages in using the tool. Adding and removing contacts can be done as well. Furthermore, this application is easy to use. You only need to download it in your PC and then simply connect using USB cable or WiFi.
Despite of having all its helpful features, you can still see flaws for this application. SnapPea phone manager does not display images which are saved from emails. On top of that, most of users complain that when installed on the phone, the application will consume a lot of battery and which affects phone's performance. The connection speed is slow and you might come across message saying: "connection failed". These are the reasons why most users are still looking for SnapPea alternative apps which they can use. Below are good alternatives recommended for you to use in case you are not satisfied with SnapPea's performance.
Three best SnapPea alternative apps
1. Apowersoft Phone Manager
Just like SnapPea, Apowersoft Phone Manager is also a tool which helps you in managing their entire phone's data on computer. It can be used as a backup tool to store all the phone's files. And you can restore the backed up files to your phone. This utility is actually compatible for both Android and iOS users. It enables you to connect unlimited phones at a time so that you can manage them conveniently.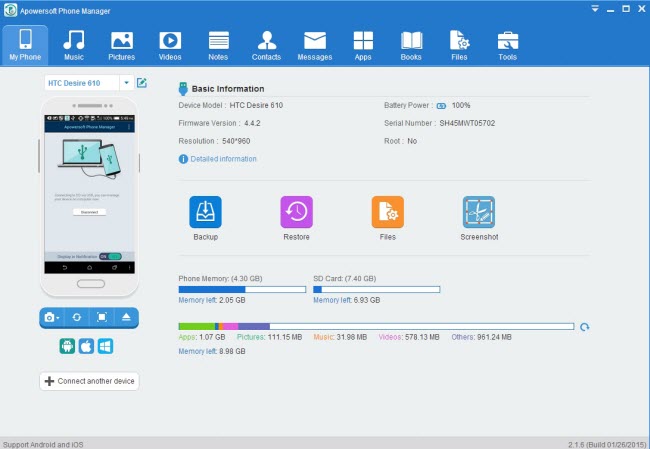 For further instructions on how to use this tool, read the steps that follow.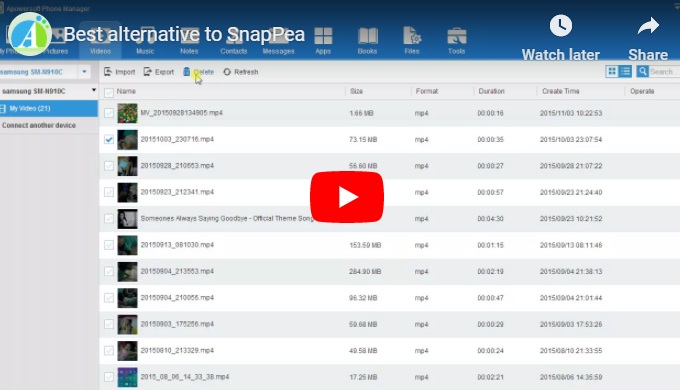 Download and install Apowersoft Phone Manager on PC and mobile.
Next, launch PC and mobile application and connect your phone to the computer. You can make use of USB cable or WiFi connection to connect (with WiFi connection, you can simply input the verification code seen on the phone or just scan the QR code found on the interface of the tool. Just simply tap "Start Scanning").
Once connected, you'll see tabs on the upper part of the interface. Here is where all the files like Photos, Music, Videos, Messages, Notes, Contacts, Apps, etc are organized. Click the tab you want to manage.
In addition to this, you can also use this SnapPea alternative to import and export apps, music, videos from phone to PC and vice versa. Easy sending, receiving, and forwarding messages and managing contacts can be done too. You can also change the wallpaper, ringtone, alarm tone and notification tone of your phones instantly using this tool.
2. SyncDroid
SyncDroid is also an application which can be used as substitute for SnapPea. This tool is basically made for people to back up their Android files. In case the phone is lost, all files will then be easily retrieved. Furthermore, videos, photos, songs, messages and contacts can also be transferred from one phone to another easily in using this tool. However, this tool does not allow you to send and receive text messages. It cannot edit contacts and change ringtone and wallpaper of the device using it.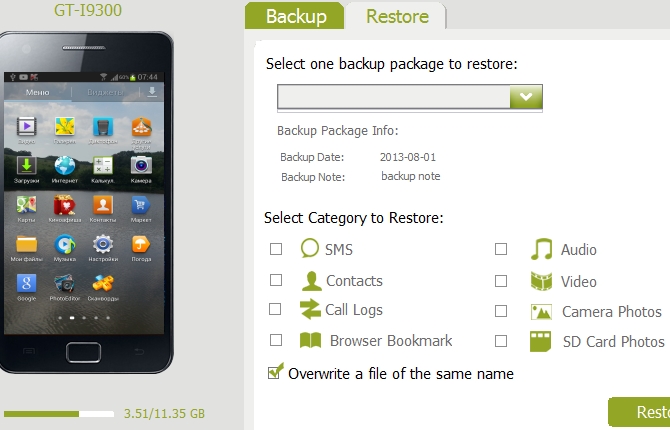 3. MoboRobo
Another SnapPea alternative app is MoboRobo. This one can be used in phone backing up and managing Android files. Just like the first 2 options, this application can transfer contacts from phone to PC or to other phone. Furthermore, you can also download apps and games for free without using data traffic. This means that mobile data can be used in some more purposes. On top of all, this tool also lets you organize their files into folders like music, videos, messages, contacts, etc because the application has its own file manager function.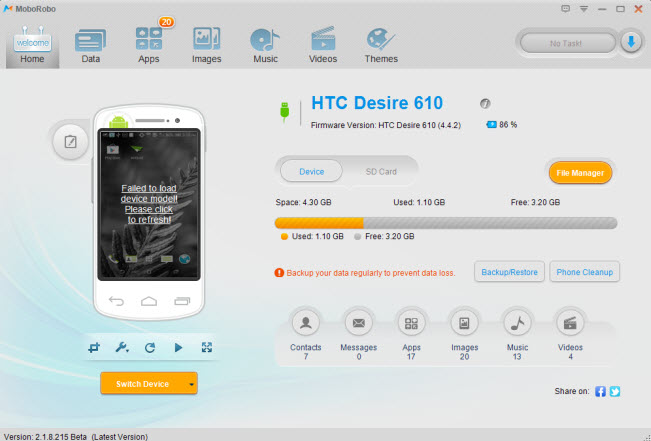 These are the three alternative apps for SnapPea which you can rely on in case you hate using SnapPea. You don't actually need to pay bucks in order to get a great application for you to meet your needs. A deep research on the internet will do. However, among the three suggested apps, it is recommended to make use of Apowersoft Phone Manager as it is jump-packed with many more amazing features than others.