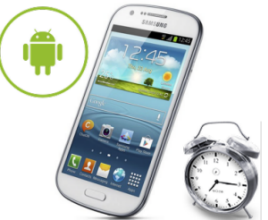 Many working people or school students need to set alarm from Monday to Friday due to different reasons. Usually, alarms are set for people to wake up, make up, prepare for work or go to school on time. Additionally, people also set alarms to remind themselves about the important things to do.
Nowadays, people tend to use mobile to remind themselves other than buying an alarm clock. Setting alarm in Android can easily be done by using Alarm app on device. However, they want to wake up with their favorite tunes other than the annoying alarm sounds. With that, users are trying to find ways on how to change the default ringtone into other ringtone. Below are the two ways on how to set Android alarm.
Way 1: Configure the Android Phone Setting (Default Way)
You can set an alarm on all Android devices by using default way.
Step 1: Open your phone, go to "Menu" and choose on "Clock" or "Alarm/Clock".
Step 2: Add the alarm time and after that, set the ringtone by clicking on "Ringtone".
Step 3: Choose the alarm tone you prefer and click "OK" or "Save" (depending on what is seen in the screen of your device.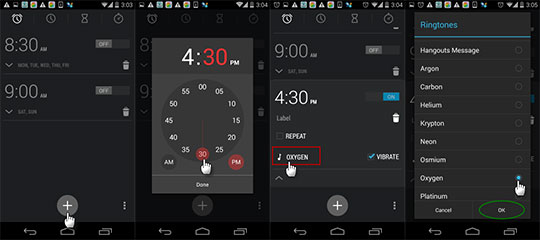 Although this way is simple and helpful, there are still some issues which users experience. On some Android phones, an alarm tone changes into a message or other notification tone. With that, users get confused on what is happening on their device once it rings. Apart from that, by choosing from the default ringtones available on your Android mobile, you may not find the one that suits your mood. Moreover, some built-in ringtones sound is too low. With that, users will not be able to recognize if the phone is already alarming or not.
Way 2: Using Apowersoft Phone Manager (Best Way)
Apowersoft Phone Manager is a desktop tool which allows users to manage their Android device in the computer. This tool can easily help users set customized alarm ringtone on Android.
Furthermore, users will be able to use their downloaded ringtone as an alarm tone. To know how to do it, follow the steps below.
Step 1: Download and install Apowersoft Phone Manager. Click the button to get your own tool.
Step 2: Connect the Android device to the computer in three ways available to choose from: using the USB cable, using a WiFi connection, or scanning the code found on the app's interface with your mobile camera.
Step 3: Launch the software and then go to "Music" tab. All the music stored in your Android phone will then appear.
Step 4: Or you can transfer music from local files on computer to phone by tapping "Add music" button, and then select the music you want to use.
Step 5: Click "Set Ringtones" and choose "Alarms". Your phone's alarm tone will successfully be changed then.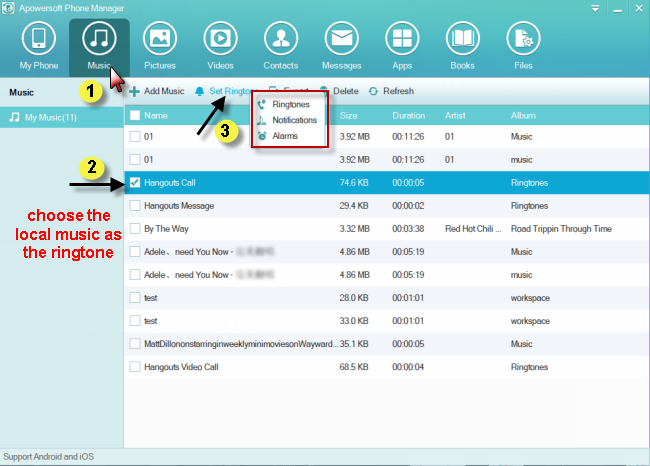 Other helpful features of Apowersoft Phone Manager
Apart from allowing users to personalize the default alarm tone of the Android device, this tool can also let users change the notification tones and other ringtone of the device. Aside from Android devices, this tool is also compatible with iOS devices. Additionally, it can also help users in managing their photos, videos, and any other files such as contacts, applications, and so on. Users will be able to import and export files from computer to phone or vice versa. Additionally, people can also change their wallpapers using the images found on their devices or on the computer. Sending, editing, replying and forwarding messages can also be done as long as the user has a SIM card inserted in his/her phone.
To conclude, those are the two helpful ways on how to set an alarm tone on Android phone or device. Users can now easily change their alarm tones in any music or tone they want to use. Both of the given ways are helpful, however, it is recommended to make use of the second one. This is because Apowersoft Phone Manager is a very efficient tool to not only set alarm sound, but also manage files on mobile devices.