The long wait is over and after much speculation as well as leaked news, the newest addition to the Galaxy S smartphone series has arrived, the Samsung Galaxy S6 is finally here. Officially released in March 1, 2015 at the Mobile World Congress in Barcelona Spain, the Galaxy S5's successor has been unveiled to the public. Touted as Samsung Galaxy S6 and Samsung S6 Edge, these new smartphones from Samsung aims to put a great fight between its top rival, the Apple's iPhone 6 and 6 Plus.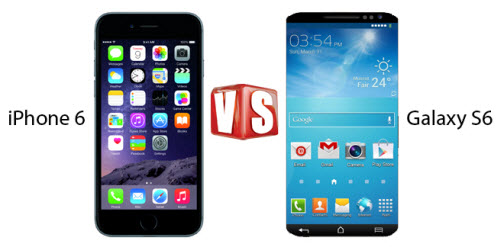 Clearly, the Samsung Galaxy S5 is not a big success when compared to the soaring high sales of iPhone 6 and 6 Plus. To this end, Samsung gave its newest flagship phone a big facelift. The use of premium materials, totally revamped design, powerful processor, huge ram, and two new variants are just some of the latest offerings of the Galaxy S6. Let's dig deeper between these phones, check out this Samsung S6 vs iPhone 6 comparison write-up after the jump.
Let's stream the video demo to head over the newly-released Samsung Galaxy S6: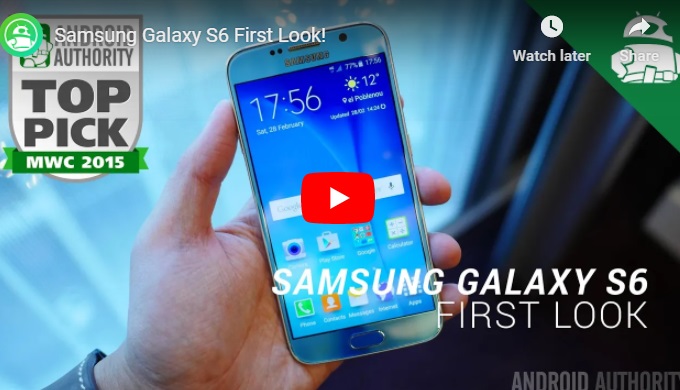 Samsung Galaxy S6 vs iPhone 6
Camera
Although many enthusiasts expected that Samsung will ramp up the camera of Galaxy S6, the Korean giant seems to halt its figure at 16 megapixels. Instead of boosting up the megapixel, it added superior optical image stabilization and improved low lighting shooting condition. Both S6 and S6 Edge feature a 5MP front camera as well as a 16MP shooter at the back. It can equally record videos at 2160p with 30 frames per second. Auto HDR, tracking autofocus and LED flash features are likewise available.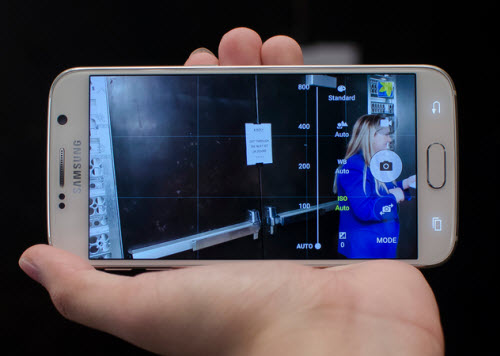 iPhone 6 on the other hand features a decent 8.0 megapixel rear shooter and 1.2 MP front cam. Video recording is similarly clad at 1080p with 30 to 60 frames per second. Comparing to the monstrous 16MP camera of Samsung Galaxy S6, iPhone 6 is way behind this figure but it has been praised for high quality images even on low-light situations.
Battery
Samsung is known for producing removable batteries but with the Galaxy S6 series, this has been altered even with the premium Samsung S6 Edge. The S6 is equipped with 2,550 mAh non removable battery while the S6 Edge is armed with a bit higher rating of 2,600 mAh. Comparing this to iPhone 6, the standard iPhone 6 features a 1,810 mAh non removable battery while the phablet version which is the iPhone 6 Plus is equipped with 2,915 mAh battery.
Display and Screen
Continuing with our mini Samsung Galaxy S6 review, both variants of the Galaxy S6 comes with a 5.1" super AMOLED display with 2,560 x 1,440 pixels accounting to a pixel density of 577 ppi. This indeed is high enough to view even the smallest detail possible. Viewing angles are equally amazing and screen brightness is at par.
Compare to the 4.7" Retina HD display of iPhone 6 with 1,334 x 750 pixels or 326 ppi, and 5.5" 1,920 x 1080 pixels or 401 ppi of the iPhone 6 Plus, it is no doubt that the latest smartphone from Samsung boast a more super pixel density as well as display quality.
Design
On this department, it's a head to head battle between Samsung S6 vs iPhone 6. Sammy's new phone ditched the old plastic back cover and chrome plated sidings. Instead, a new premium material of metal and glass is offered giving the Galaxy S6 a sexier more edgy appeal. If you think that the S6 still doesn't have that techy appeal, lo and behold because the Samsung Galaxy S6 Edge features a curving screen on its side. Although it doesn't curve that much when compared to the Samsung Note Edge, this variant of S6 gives it a virtually zero-bezel design.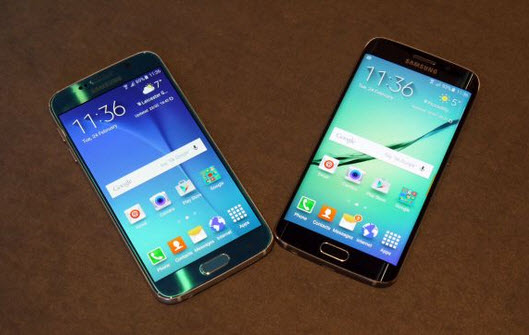 The design of iPhone 6 and iPhone 6 Plus is nonetheless award winning, which it has always been. Use of premium materials, minimalist façade, stunning colors and exceptional feel made its way to the hearts of many. Design wise, it's purely user dependent if you want a circular home button or a rectangular-ish one.
Processor and other features
Both the Galaxy S6 and Samsung S6 Edge feature an Exynos 7 octa-core processor with four cores running at 1.5GHz/2.1GHz. Accompanied with 3GB of RAM, Sammy's new smartphone is monstrous in terms of processing power. It can even run the most demanding applications with no problems at all. Compare this with iPhone 6's dual-core 1.4GHz second generation Cyclone A8 chip processor coupled with 1GB of RAM, it is very evident that one can do more with Samsung's new smartphone.
Both variants of Samsung Galaxy S6 is offered with 32, 64 and 128 GB capacity while Apple's iPhone 6 as well as iPhone 6 Plus can be obtained with either 16, 64 or 128 GB storage options. Additionally, the Galaxy S6 runs on Android 5.0 Lollipop whereas Apple's iPhone 6 runs on iOS 8.
However, beyond its sleek appeal and gigantic processing power, the newest Galaxy smartphone seems to have some of its most outstanding features absent on the device. We are talking about the lack of waterproofing and Micro SD slot which are both present on the older S5. This indeed is a trade-off giving more priority to the design rather than functional features.
Conclusion
Reading the above Samsung Galaxy S6 review and comparing it with Apple's last year flagship smartphone which is the iPhone 6/6 Plus, it is very obvious that the upcoming iPhone 7 has a lot of catching up to do. Bestowing premium materials to S6, giving it a newer appeal and presenting two design options to consumers, Samsung is clearly playing the smartphone battlefield wise. Here are some tips for you, in order to manage all the data on your Galaxy S6, you may use phone manager to realize the data transfer, backup, management between your phone and computer. Download and experience it right now.