Top 10 Product Photo Editor
The tools listed below are full-featured product photo editors that can be used to create good quality product photographs. Check them out to learn more about them.
| Features | Apowersoft Online Background Eraser | Canva | Fotor | BeFunky | Apowersoft Background Eraser | GIMP | Fotor | Snapseed | PicsArt | Apowersoft BG Remover |
| --- | --- | --- | --- | --- | --- | --- | --- | --- | --- | --- |
| Cutout background accurately | | | | | | | | | | |
| Change photo background | | | | | | | | | | |
| Offers plain colors and backdrop templates | | | | | | | | | | |
| Provides different photo aspect ratios | | | | | | | | | | |
| Customize photo size | | | | | | | | | | |
| Offers basic photo editing | | | | | | | | | | |
Top 4 Online Solutions
Online Background Eraser
Online Background Eraser is one of the powerful and professional product photo editors that you can use for free. It ensures that a unique and awesome look will be achieved in your product photo after processing. Also, it comes with basic editing tools like crop, zoom, flips, rotate, and more. Not only this online product editor can remove the background from a photo, but also it lets you change with a plain color and backdrop template. What's more, it offers an intuitive and user-friendly interface that is suitable for beginners.
To learn how to use this online product photo editor, follow the steps below.
Canva
Canva is another exemplary product photo editor online. It provides powerful editing features that include a drag-and-drop design tool and hundreds of useful yet awesome templates. Another thing, Canva offers preset filters and editing tools, including brightness adjusting, saturation, sharpening, tints, vignette effects, and many more. With Canva, you can easily edit your product photographs and transform them into a more beautiful one.
Fotor
With a lot of online product photo editors, Fotor is one of the best. It is easy to edit product photos with Fotor's editing functions. You can adjust brightness, apply filters, add effect, crop, rotates, add text, and other useful editing functions. Though not all features are free, this online tool is ideal for any type of user who just wants to edit product photos and see the magic result.
BeFunky
BeFunky will complete our list for online product photo editor. It has easy handling features as well as basic photo enhancements and color correction. Another worth mentioning, its amazing features include crop photo, resize the image, touch up tools, photo effects, photo enhancer, lens flare, and more which does not require any photo editing skills. In just a few clicks, you can create high-quality and creative product photographs.
Best 3 Windows Tools
Apowersoft Background Eraser
Apowersoft Background Eraser is a powerful product photo editor for Windows. Not only it separates the foreground from the background, but it also allows you to apply a template or a solid color. You can also crop, resize, and flip. Besides, you can use its manual removal tools such as "Remove" and "Keep". With its user-friendly interface and simple features, you can easily edit your product image.
GIMP
GIMP is another best product photo editor that you can use easily and quickly. This software offers editing features that allow users to easily use noise reduction, crop, enhancement tools, color adjustment tools, customizable brushes, filters, layers, and more. Using those features, you can have the best out of your product photography.
Fotor
Fotor is also compatible with Windows and the perfect option with a product photo editor. It comes with intuitive and simple photo editing features for those who are not into photo editing but needs to edit their product photography. Like the online version, this desktop version consists of editing tools like cropping, add a vignette, blur, sharpen, rotates, add text, and more.
3 Must-Have Apps
Snapseed
If you are looking for a simple yet effective product photo editor available for Android and iOS devices, then Snapseed is the best option for you. It is completely free that enables users to use editing tools and apply filters. Besides, this app offers a user-friendly and simple interface that is suitable for beginners.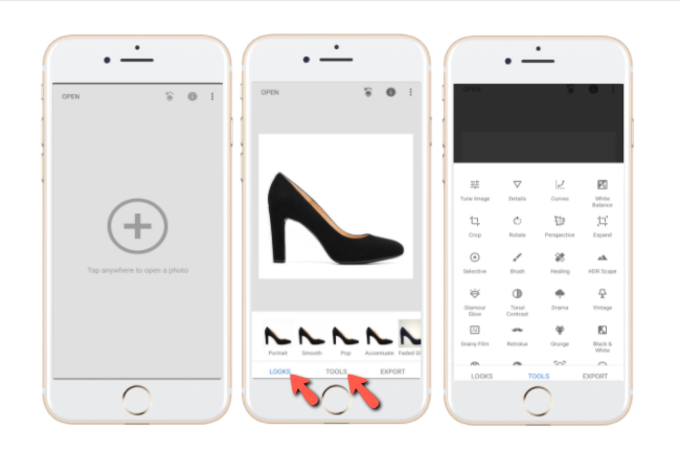 PicsArt
PicsArt is another useful editing app for product photo editor. It comes with tons of awesome editing tools that let you add effect, filters, draw lines, change background with cutout, add photos to create overlays, create masks, and add color. With PicsArt, you can edit transform your product photo into a more beautiful one. See the steps below to learn how to use this simple app.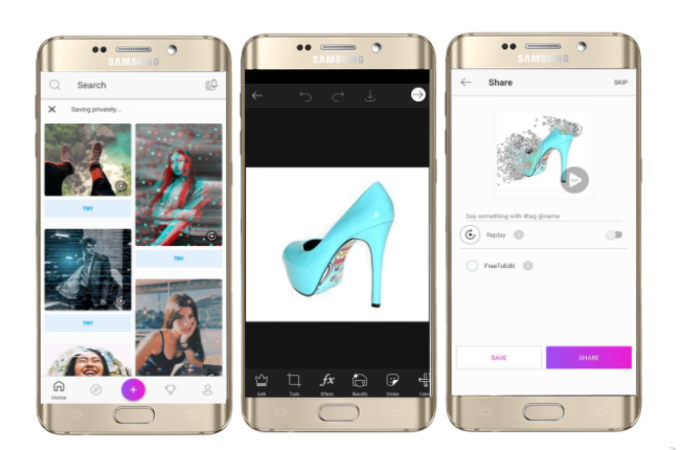 Apowersoft Background Eraser
Think you have it all? Apowersoft BG Remover is not on your list yet for free product photo editor. It works on both devices such as Android and iOS. You can use it when you want to remove the background of your image and replace it with a plain color or templates that are available within the app. Also, it has a straightforward and user-friendly interface perfect for beginners. Moreso, it allows you to crop, duplicate, resize, and flip your product photo. Here are the steps below.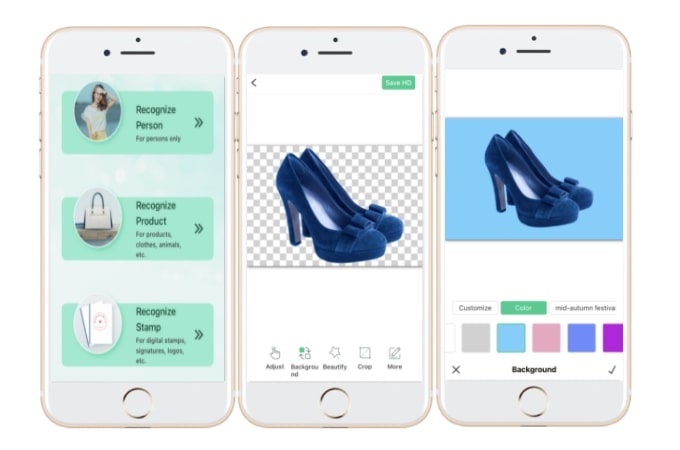 Conclusion
The tools mentioned in this article are the best product photo editors with great ease. Needless to say, Online Background Eraser is extremely the leading tool among them. But all of the tools are useful and perfect for photo editing, especially when enhancing product photographs. Let us know if we miss your favorite solution.