Make Logo Transparent with this Efficient Solutions
Easy-to-use Mobile Apps for both Android & iOS
Apowersoft Background Eraser (iOS & Android)
Apowersoft Background Eraser is a professional yet straightforward app that can create a transparent logo. This app can precisely cut the background of your photo and save the subject automatically with the help of its clever AI technology. You don't need to have any professional skills because this app has a simple interface and easy-to-understand features. Besides, Apowersoft Background Eraser will keep the original quality of your photo without affecting the main object.
How to make a logo transparent with these 3 simple steps
Select the "One-Click Cut Out" to upload your logo photo.

Then, the app will present the processed result giving you the transparent one.

From there, just hit the "Save" button to download your work.
Background Eraser
Another app that you can depend on your Android phone is Background Eraser. This app can turn your logo into a transparent format. It's Auto and Manual mode will allow you to remove the background of your logo easily. With Auto mode, you can remove the similar pixels automatically, while Extract mode will let you select and erase the background which you want to remove.
How to make a logo background transparent with Background Eraser
Get this app from Google Play Store.
Tap "Load a photo" or "Photo" to import the photo that you need.
After that, you can choose the removal tool that you will use to remove the background.
Tap the check mark icon, then the diskette like icon to save your transparent logo.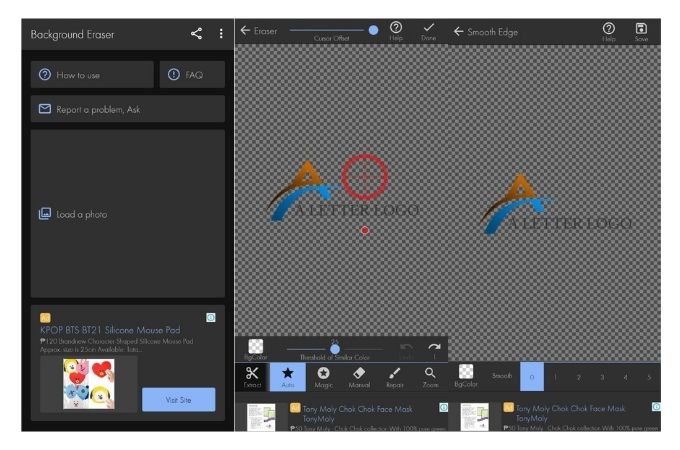 PhotoRoom
Another app that can use to make logo transparent in an instant is PhotoRoom, this versatile photo editing app can get rid of the background and compose an image that will showcase your logo. With its artificial intelligence, you can automatically have a clear cut out of your logo.
Below is a guide on how to make a logo transparent
Go to App Store to download and install the app.
Tap the "Start from Photo" to add project.
The app will scan the photo to automatically remove the background.
Choose the logo with PNG background and hit the download button.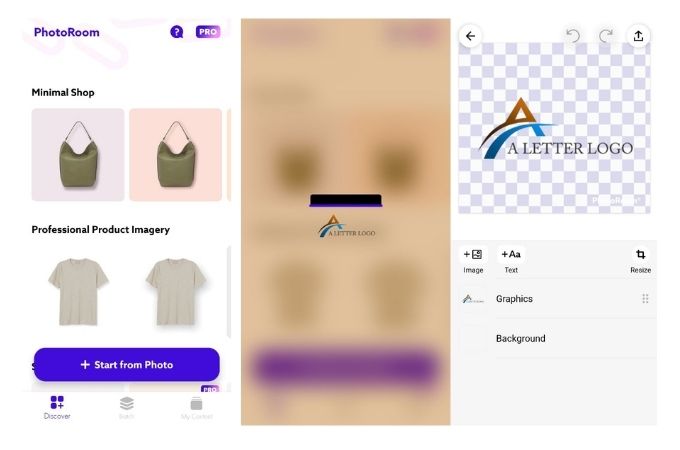 Online Solution
PicWish – 100% FREE
If you want to experience a free web-service tool that can produce transparent logo, PicWish is the best for you. This tool is one of the easiest photo editors that you may experience online without exerting so much time and effort. This seamless photo editor uses advanced AI technology to automatically process your file and give you satisfying results.
See the simple guide below to make logo transparent
Visit the official page of the background remover tool.
To start, click the "Upload Image" button to get the logo photo that you have.

Then, wait for the processed result and hit "Download" to save your transparent logo.
Remove.bg
The next online tool that will surely make your task easier is Remove.bg. As its name implies this online app can get rid of the background online with just a simple click. The process is automated, just like any other tools that we mentioned, it also uses an AI technology wherein it can automatically detect the background from your photo giving you a transparent result.
How to make a logo background transparent with the help od Remove.bg
Search the official website of the tool.
Then, click the "Upload Image" button to import the photo from your computer library.

Once uploaded, wait for the automatic result.
Next, you can download the edited logo by clicking "Download".
Depositphotos
Depositphotos is an impressive online tool that can make your photo transparent in just a few clicks. This tool will automatically give you the transparent result for your logo in an instant. With this, no photo editing skills are needed because of its smart artificial technology, it will definitely process your photo quickly and have the PNG format with a transparent background.
Learn how to make a logo transparent
Open its official website and sign up for an account.
Upload the logo by clicking "Upload Image".

Depositphotos will give you the transparent result automatically.
Just click the "Download" button to save your work.
Conclusion
To sum it up, all the aforementioned tools can help you on how to make a logo transparent. However, these tools vary in their own way, if you are a beginner Apowersoft Background Eraser and PicWish are highly recommended for you, also they have good results in making the logo transparent. Just choose the one that you need.