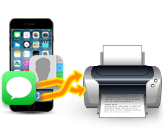 In this day and age, everything seems to be highly technological. From buying clothes online to watching films, everything can be done with the help of our gadgets such as tablets and smartphones. Most especially with iPhone, you can do tons of things aside from communicating with your friends and saving their numbers. Equally, the iPhone serves as a personal storage bank where you can save thousands of names, numbers, addresses, work title, emails, company info and all others.
But what if you need to print contacts from iPhone? What if you need a paperback reserve of all your contact files? It is possible to print all those numbers saved on your smartphone? Luckily, the answer is yes. Doing it is actually simple and you have several options readily available at hand, discover more about them below to make your own contact book.
Three ways to Print iPhone Contacts
1. Simple Yet Fully-Featured Tool
2. Apple's official management tool
3. Another workable tool
It is a one-stop phone management tool that works both with iOS and Android gadgets. Using the Phone Manager to print all contacts saved on your iPhone is easy, all you need to do is:
Download the software on your computer.
Open the program and connect your iPhone to PC via USB, and then click "Trust" to make connection.

Upon automatic device recognition, click the "Contacts" icon located on top. From here you will see all the contacts saved on your smartphone. Select all or part of them to print, then click the "Export" icon above. When prompted, choose "Excel File".

Save the file on your computer and use Microsoft Word or Excel to open it. click "File", and then tap on "Print".
Aside from the ability to easily print contacts from iPhone, this tool has tons of other things to offer. It has the ability to transfer files between phone and PC, manage all forms of multimedia contents, backup iPhone contacts, music and other multimedia data, restore files from previous backups, take phone screenshots, it can project mobile screen to PC in real time, and many more. What's great about the program is that you don't have to shell out even a single cent to start using its services. It comes absolutely free with no limitations or restrictions.
You may also refer to the live demo to work it through: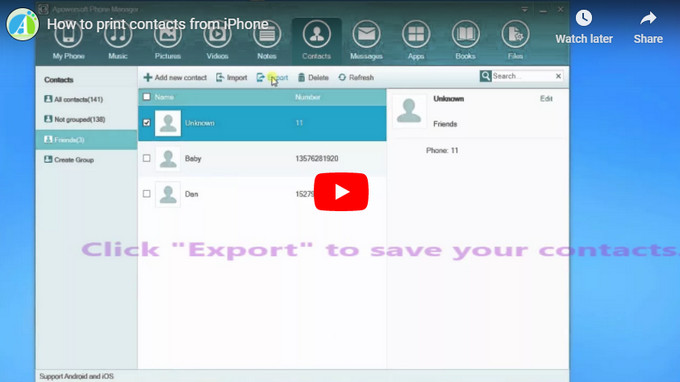 Another way to copy contacts from iPhone for later printing is through the use of iTunes. Although this method doesn't need third party programs, it is a must to have the latest version of iTunes installed on your computer. Also, you will need the propriety USB cable and of course your iPhone. To begin the printing process, simply read the steps below:
Open iTunes and connect your iPhone. On the left pane under "Devices", click your iPhone. Click the "Info" tab and click "Sync contacts with" icon. Select "Windows contacts" under the drop down menu and hit "Apply".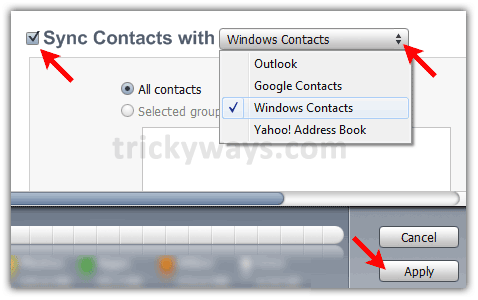 On your computer press the "Windows logo + R" to open Run Command. Type in "wab" and hit OK. A new window will pop up and on the buttons available above, click the tiny forward like arrow.
Select "Export" and choose "CSV", click the "Export" button below. Choose where to save the file on your hard drive.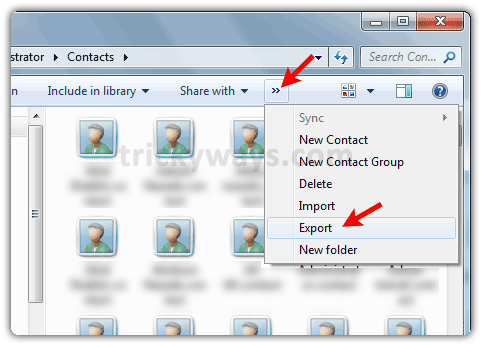 Click "Next" and select the iPhone Contacts Field you want to export. Hit "Finish" and a dialog box will appear saying you have successfully copy contacts from iPhone.
Cons: Now that you have your CSV file, open it to Excel and print your contacts. The major downside of using iTunes is that the method is too complicated and lengthy to carry out. This technique is not advisable for beginners as well as busy individuals who are always on the go.
Another software that can help you print iPhone contacts is TunesGo. Just like the first mentioned software, TunesGo can similarly manage all your files such as photos, messages, contacts and more. It can equally rebuild your iTunes library and share music from the cloud.
How to print contacts from iPhone using Tunes Go is easy. After installing the program on your computer. You just need to follow the steps as below:
Connect your iPhone to PC using Apple's USB cable.
Launch TunesGo and after automatic device recognition, click "Contacts" on the left pane.
Select the contacts you want to print, then hit the "Import/export" icon on top.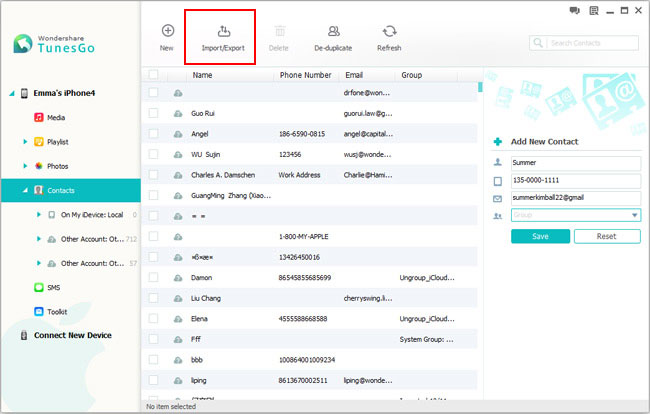 When asked, choose "CSV" and save the file on your computer.
Open the CSV file with Excel and print your iPhone contacts as usual.
Cons: Although using TunesGo is easy, bear in mind that this program only allows printing of contacts on iPhones running iOS 5 and 6. Besides, TunesGo doesn't come free – you need to shell out $39.95 before you can start using its services. There is a free trial available but has restrictions on functions.
There are many ways on how to print contacts from iPhone. If you have the patience and time, you can go ahead and try the iTunes method. But for beginners and busy individuals, using third party applications will certainly help most. While some programs are paid, there are others like the Apowersoft Phone Manager that does the job not just free but moreover effectively.