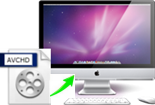 If you are a frequent camcorder user, probably you're familiar with the file type AVCHD. It stands for Advanced Video Coding High Definition developed by Sony and Panasonic in 2006. AVCHD is frequently used on digital video recordings as well as playback of high quality videos. However beyond its popularity, AVCHD is not recognized by Apple computers not to say the latest Mac OS X El Capitan if you have updated the system. Hence, you'll have to change the file extension from AVCHD to Mac's compatible formats like MOV, M4V, MP4, etc. We've picked MOV as the instance to detail the method and process to convert AVCHD to MOV on Mac OS X El Capitan. Note that the tools we'll discuss in the following content are backward compatible, which means they apply to version 10.11 and below.
Compared to AVCHD, MOV is Apple's propriety file format that was developed in 1998. MOV is an MPEG-4 video container file format and the name MOV is abbreviated from the word MOVIE. As the most recognized video format of Apple, it can be opened as well as played on QuickTime without limitation. On all versions of Mac OS X, MOV is highly accepted thus modifying AVCHD to MOV is the only way to go if you want to view or edit all your recorded videos.
How to View AVCHD Files on Mac OS X El Capitan Directly
1. Convert AVCHD videos with a Web-based Application
2. Convert AVCHD videos with a Standalone Utility
3. Play AVCHD Files on Mac with VLC Player
1
Convert AVCHD on OS X El Capitan with an online Application
If you don't want to install additional software on your Mac, you can use web-based applications such as Apowersoft Free Online Video Converter. This online app is totally free to use with no registrations or even memberships but requires an internet connection to work.
Upload the AVCHD file you want to convert by clicking the "Browse" button.
A java notification will pop and make sure to click "Allow".
Choose "MOV" as the output format and adjust settings accordingly.
Click the "Convert" button and wait until process completes.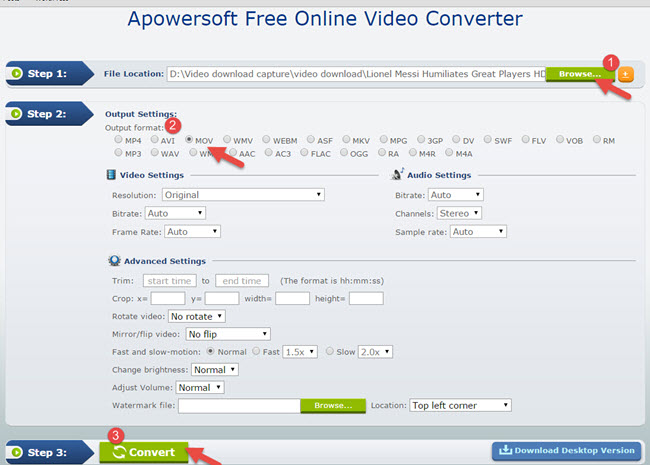 This online AVCHD to MOV Converter supports many file formats, including MP4, AVI, WMV, MKV, ASF, 3GP, SWF, etc. Furthermore, even if this program comes 100% free, it doesn't have any limitation of use. Wide range of resolutions are likewise offered from mobile friendly 144p to HDTV resolutions as high as 1080p.
2
Convert AVCHD on OS X El Capitan with a Standalone Utility
On the other hand if you don't want to use an online application and prefer standalone programs, you could try the Apowersoft Video Converter for Mac. This is specially designed to work with all Mac OS X including the latest version 10.11 El Capitan. What's great about this program is that it can convert popular video formats into any file type without losing its quality as well as download videos from popular video hosting sites. Refer to the below guide to know how to convert AVCHD to MOV.
Click "Download" to install the application on your Mac.
On the main interface, click the "Converter" icon located on top.
Click the "+Add" button or directly drag the AVCHD files to the converter.
Just below profile, on the "Output" entry, choose MOV on the drop down menu.
Press "Start" and wait until converting process completes.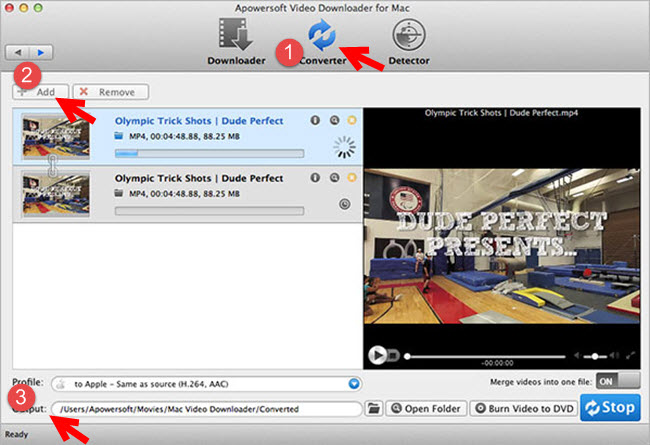 This program is very easy and straightforward to use, and it can modify file formats in blazing fast speed. Additionally, it is packed with many other features. For example, it provides an auto video-detector that can capture broadcasting videos and add it to download automatically. Its embedded preset editor is helpful to adjust parameters for output video.
Yet if you don't want to utilize video converter to convert AVCHD to MOV, there's another feasible option available. That is to install third party media players that support playback of AVCHD files. The trick here is to find a program compatible with Mac PCs.
3
Play AVCHD on Mac OS X El Capitan with VLC Player
VLC is an open-source, meaning free, portable media player. This VideoLan software was first introduced in 1996 not as a public software but as part of an academic project. Later on February 2001, VLC was released to the world under GNU General Public License and since then it became a household favorite both for Mac and Windows PC users.
Among all other third party media players, VLC is very Mac-friendly. It even has a version for iPad, iPhone and iPod Touch. Even more, it can play AVCHD file formats directly on your Mac without the need to do the AVCHD to MOV conversion any longer.
Go to VideoLan website and hover over "VLC" then click "downloads".
Scroll below and click "get VLC for Mac OS X".
Install the right version depending on your OS X version.
VLC and go to "file" then click "open".
Load the AVCHD file you want to play and click "ok".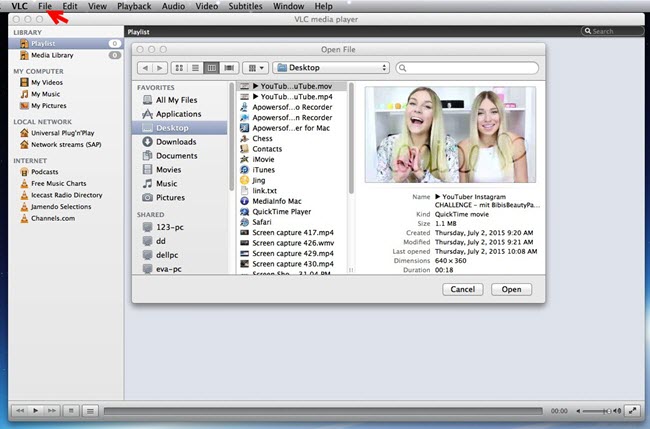 The video should start to play immediately. Using VLC to play AVCHD file on Mac provides an easy and stress-free way to view this kind of format. Something should be remind of is that many VLC users report there are frequent hangs and stutters when using VLC to play AVCHD files.
Conclusion
In reality, how to convert AVCHD to MOV on Mac OS X El Capitan is very easy, that is if you have the right tools readily available at hand. If you want to play a short AVCHD file or those videos a little over 3-5 minutes, using VLC is alright. But if you want to edit out a recorded video, play HD movies that are longer than one-hour, or combine various AVCHD clips into one, it is advised to convert the file first into MOV format. In this way, you can correspondingly use all the wonderful video editing applications available on your Mac computer.