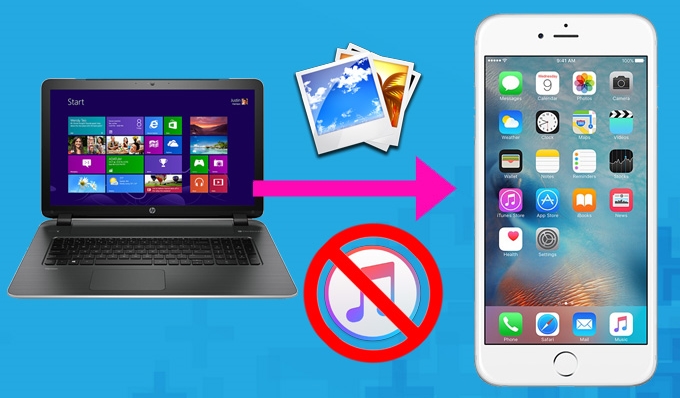 For iPhone users, iTunes is the most frequently-used tool when they transfer photos to their phone devices. Nevertheless, it is not always applicable. In the situations where one is using a computer that does not have iTunes installed or one forgets the Apple ID or password, which, in another word, means iTunes is not available, he or she needs to find another way out. From another aspect, iTunes is not very easily-operated, and it has a big deficiency that it will automatically remove previous pictures stored in the Photo Library when you sync your iPhone even if you do not want to. In consideration of above circumstances, here I would like to share with you three kinds of free and fast ways to solve the problem.
Easy Solutions to Transfer Photos to iPhone without iTunes
1. Conventional but risky way
2. Powerful and handy application
3. Useful yet limited tool
Way 1: Jailbreaking
As we all know, Apple and Apple Store set extremely strict or even arbitrary limitations on the files that are to be downloaded in iPhone. iTunes is the only default program that allows data transferring to iPhone from computer. However, jailbreaking can allow users to remove restrictions on Apple's iOS system and get root access to iPhone. In this way, people can manage and transfer files without the help of iTunes. After your iPhone is jailbroken, you can still use iTunes, App Store and other normal functions, such as sending messages and making phone calls. Given this, jailbreaking is an alternative that you can choose to import photos from PC to iPhone.
Cons: Jailbreaking may bring security, privacy and stability problems to iPhone. Some jailbreaking software may leak users' private information, like device ID or location. Besides, it may result in instability of the phone system, and it has a possibility of turning iPhone into a totally useless "brick" if not handled well. Thus, to transfer photos to iPhone without iTunes, you need to take a little risk.
Way 2: Powerful Mobile Management Software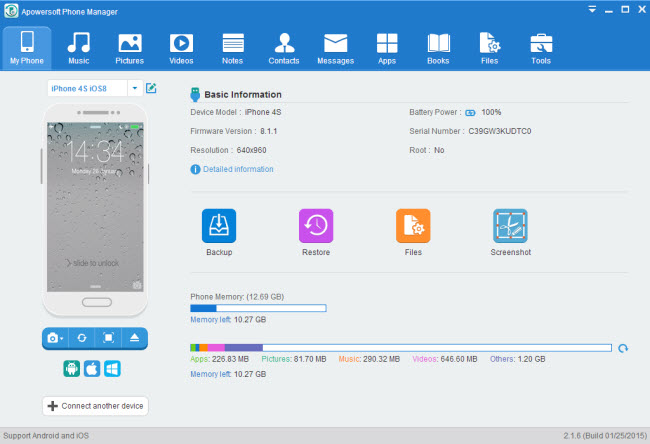 ApowerManager is a handy and comprehensive application in managing phone device by means of computer. Via this tool, you can easily manage or edit all the data in your phone containing music, pictures, videos, notes, contacts, messages, apps, books and files. And you can export data in your phone to computer or import music, videos or pictures into your phone conveniently. Here, if you want to add photos to iPhone without iTunes, it is undoubtedly a best way to achieve it. All you need to do is to follow the next simple steps:
Download and install ApowerManager. Run the program and connect your iPhone via USB cable. Tap "Trust" button when a dialog pops up in iPhone.
Choose the "Pictures" column on the top of the interface and click "Import" button.

Select the photos you would like to transfer and press "Open".
Within seconds, all the photos will be imported into your iPhone. As you can see, without jailbreaking and doing any harm to your phone device, you can copy pictures to iPhone without iTunes.
You may have seen some other third-party applications on the internet that say they can also realize it. However, this phone manager software has many advantages that others do not have:
It is very easily-operated even for new users.
When you import photos in your iPhone by using this program, your previous pictures will not be lost.
After you transfer photos to iPhone, you can preview them on PC with versatile operation options such as zoom in/out, display in full screen, rotate left/right, set as desktop background, delete and multiple choose.

You can either launch application online or download it on PC as you like.
It can support many kinds of file formats like *.jpg, *.jpeg, *.png, *.bmp, and *gif.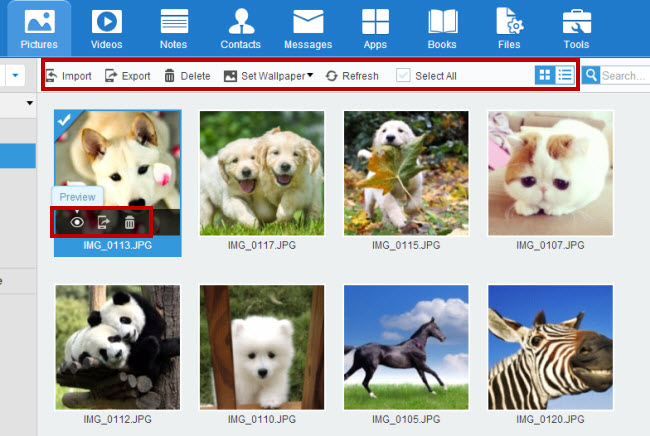 Welcome to see the detailed operation of it in the following video.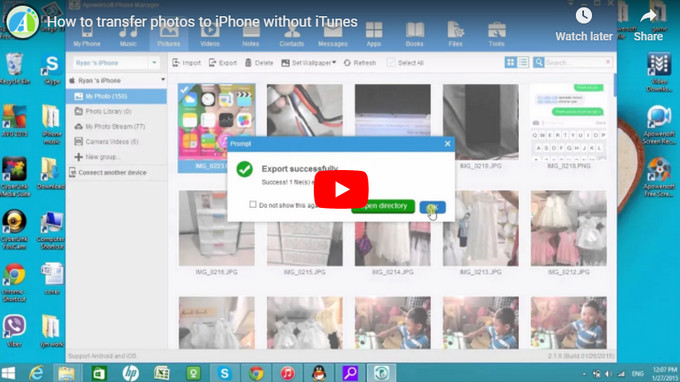 In view of these, this application is acknowledged as one of the best solutions on how to transfer photos from computer to iPhone without iTunes.
Way 3: iTools
iTools is also a very practical application for iPhone. With it, you can manage applications, media, iBookds of your phone device. Below are the steps to put photos on iPhone with iTools:
Download iTools on PC. Launch the application. Connect your iPhone to the computer using the data cable.
Click "Import" button under "Photos" column.
Choose the folder where your photos are stored in and begin to transfer.
Cons: The data this tool can access to manage is somehow limited. When you transfer photos, you can only select the fold instead of the specific pictures, which is not that convenient.
Above all, these ways are really suitable for iPhone users who want to transfer photos to iPhone without iTunes. They are quite impressive for those who have used them because of their easiness and fastness. What's more, they require no installation in your iPhone, which will save a lot of storage space. You can have a try by yourself!