Nokia used to be one of the leading brands of phones, especially back in the days when there were only feature phones that performed basic functions such as call and text. With the advancement of technology, smartphones become popular. One of the game players in this trend is Samsung. Though Nokia is still competing with leading smartphone brands, Samsung has already established its name when it comes to this factory.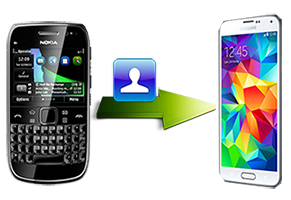 One of its latest phones is Samsung Galaxy S5. If you have been using a Nokia phone and decided to upgrade to Samsung Galaxy S5, one of the things that you might consider is transferring contacts from Nokia to S5. You always have the option to do it manually, but this could be tiring and time-consuming especially if you have hundreds of contacts. There's actually no need to do this as there are more convenient methods that you can try.
How to Transfer Contacts Nokia to Samsung S5
In this post, I will teach you three ways on how you can easily transfer your contacts from your Nokia phone to your Samsung S5. See which one would work the best for you, starting with Phone Transfer.
Method 1: Use Phone Transfer
This tool is free to use. It not only transfers contact from a Nokia to a Galaxy S5, but also handles other files, including audio, SMS, video, call log, images and music. And this can be done with just a few clicks. Aside from Nokia and Samsung, it also supports other devices such as Blackberry, iOS, Symbian and Android.
Once the application is installed on your computer, launch it and click the "Start button" on the option that says "Phone to Phone Transfer". Connect your Nokia and Samsung phone to your PC using their cables. Once detected, it will show your two phones on the screen. Nokia, should be on the left side, which says source. The Samsung phone must be on the right side as the destination. If it's the other way around, click "Flip" to exchange their places, though it sounds odd.
If you would only like to transfer contacts Nokia to Samsung S5, place a check mark only on the box next "Contacts" and leave the other boxes clear. In case your Samsung S5 has some contacts that you don't want to transfer or need to remove, click "Clear data before copy" box under it. Click "Start copy" to start the transfer and wait for the process to complete. Do not disconnect any of the phones while the transfer is in progress.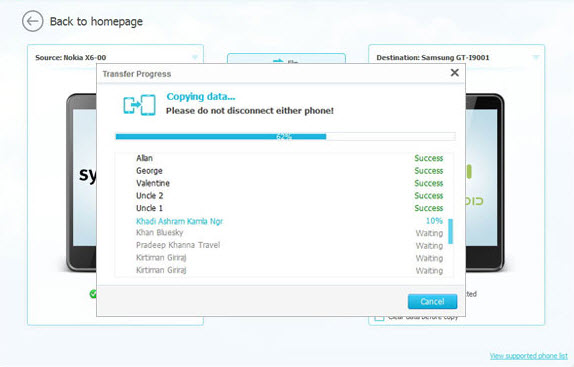 Method 2: With Nokia PC Suite and Samsung Kies
The second method that you can use requires installing two separate applications. One is the Nokia PC Suite which you will use for saving contacts on PC. The other is Samsung Kies which will be used for transferring contacts from PC to your Samsung phone. Both tools are free to download and install on your computer.
Here are the detailed steps on how to transfer contacts from Nokia to Samsung Galaxy S5 using the two programs as mentioned:
Open Nokia PC Suite and connect your Nokia phone to PC.
Click "Contacts" on the left side of the window and your contact will be shown on the right pane.
Select all the contacts you wish to transfer, click "File" and click "Export".
Enter the file name for your contacts, which will be saved as a CSV file.

Disconnect Nokia. Launch Samsung Kies and connect your Samsung Galaxy S5 to your computer.

Click "contacts" on the left side of the window and import the CSV file that you saved on your computer.
Method 3: Use Memory Card and Bluetooth
The third method doesn't require the installation of any software as you just need to use memory card and Bluetooth on your phone. The first step is to copy your phone contacts to your memory card. To do this, on your Nokia phone go to "Menu" > "Communication" > "Contacts" > "Options" > "Mark/Unmark" > "Mark all". Next, select "Options" > "Copy" > "Memory card".
Once your contacts have been transferred to the memory card, it's time to transfer them to your Samsung phone via Bluetooth. On your Nokia, go to "Menu" > "Office" > "File manager" > "Contacts" > "Options" > "Mark/Unmark" > "Mark all "> "Options" > "Send" > "Via Bluetooth".
Conclusion
Those are the three methods for transferring contacts from Nokia to Samsung. If you do not wish to install any software, the third option using Bluetooth would be the best for you. If you prefer to make the transfer on your computer, the second method would do, but it requires using two applications, which can be inconvenient. The best way would be to use the Nokia to Samsung contacts transfer since it only uses one application making it more convenient and faster.