GIF or Graphics Interchange Format is a bitmap image format known for its unique ability to support animation. It has garnered much public attention for being able to support moving images whilst maintaining small file size. Today, GIFs can be seen almost everywhere. From forum signatures to PowerPoint presentations, GIFs are indeed widely used on the World Wide Web. Since MP4 format is one of the most popular video formats, so many users may have the need to convert MP4 to GIF for those purposes. But when they want to get the task done, it seems that this is such an impossible task to deal with. Fortunately, there are great applications that are worth trying.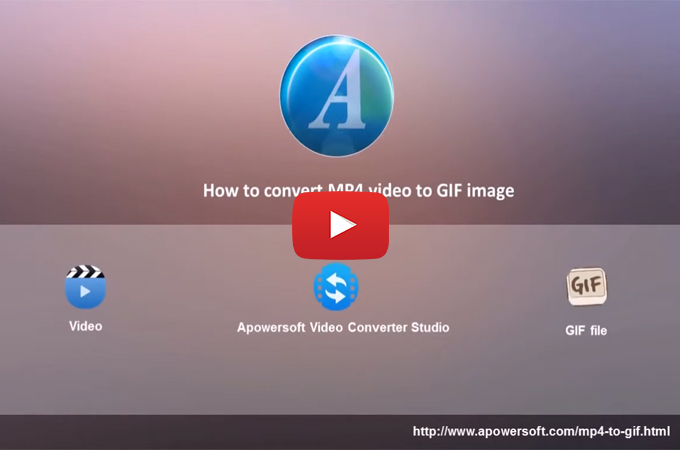 3 Amazing MP4 to GIF Converters
Apowersoft Video Converter Studio
With this all-in-one file converter, now you can convert all files with such ease and comfort. Apowersoft Video Converter Studio can modify any audio or video format without quality loss. Interestingly, it is bundled with many features you would truly enjoy. It comes with a flexible video editor, powerful media player, MV maker and efficient screen recorder. It supports for HD videos and has the abilities to insert watermarks and subtitles. It is Windows 10 ready but you can similarly use it on older versions of Windows.
Using this MP4 to GIF converter is very easy, you just need to: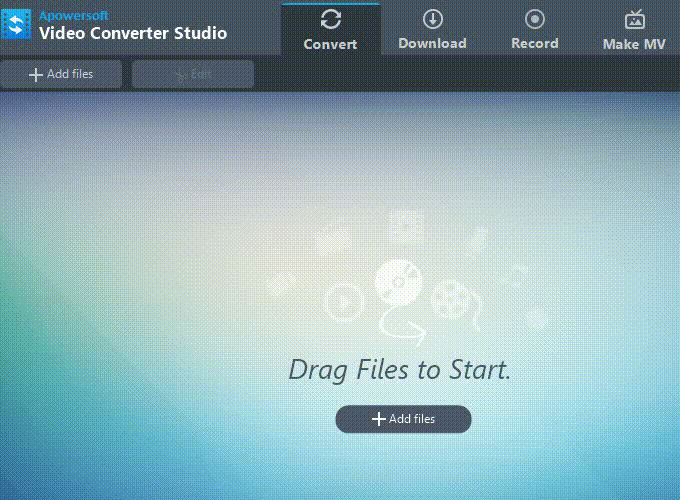 Download and install the program on your computer.
On the main interface, click "Add files" and upload the MP4 video that you want to convert. You can also drag and drop files into the main interface for convenience.
Scroll down below and click "Profile". From the drop-down menu, select "GIF" as the output format.
When everything is set, click "Convert" and wait until the process completes.
What makes Apowersoft Video Converter Studio very different amongst other converters is that you can use the same program to grab videos on the internet. This application comes with an easy-to-use interface that even novice users wouldn't find it hard to navigate the software.
mp4togif.com
If you want a free tool that can convert MP4 into animated GIF, you can alternatively use mp4togif.com. This software needs not to be installed on your computer but it requires a fast and stable internet connection. The mp4togif.com is more of an online converter rather than a desktop application. The included animation parameter is brilliant because it allows users to edit certain settings like the FPS, format, filter and size depending on their needs.
To use this MP4 to GIF converter, simply: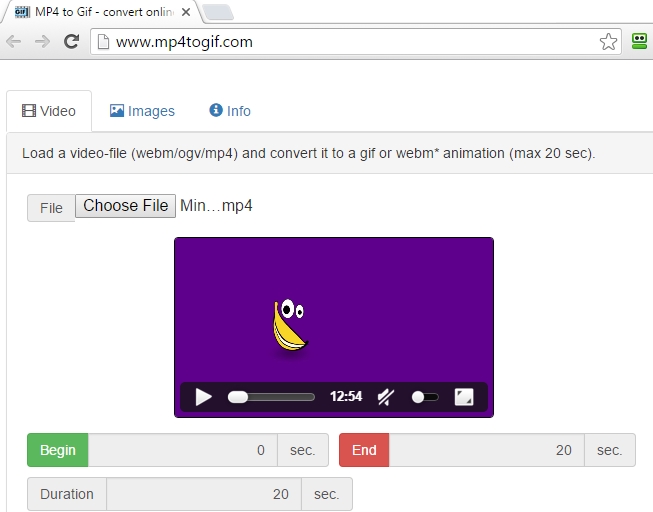 On your browser visit mp4togif.com.
Load the MP4 video that needs to be converted by clicking "Choose File".
Adjust settings and time duration if necessary.
Finally, click "Create Animation" when everything is ready.
Although free, this application does have limitations. It can only support 20 seconds of video or 50 frames at a time. Also, it only works with three major browsers namely Chrome, Firefox and Microsoft Edge.
MP4 to GIF
Another internet-based tool that can convert a MP4 video to GIF is the Online Converter. Just like the above mentioned program, this application needs not to be installed on your computer but a stable internet connection is necessary. Unfortunately, with the Online Converter, you cannot edit animation parameters but you can resize the image accordingly.
The Online Converter is very simple to use, check out these steps: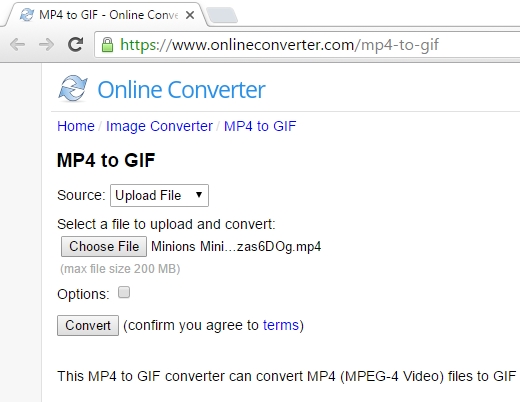 Click "Choose file" and upload the MP4 video that needs to be converted.
Tick "Options" if you like to resize the final image by entering valid values.
Click the "Convert" button and download the final GIF through the linked web page.
Bear in mind that the Online Converter only supports up to 200 MB of video. Equally, you can't use copyrighted images and videos. Although easy to use, one loophole of this application is that there is no direct link available. You still need to visit a third party web page just to download the converted GIF.
Conclusion
There are many ways on how you can convert MP4 to GIF. If you want to use an online program, go ahead but keep in mind the limitations and technical glitches that you might encounter from time to time.
Alternatively, if you want an easy, efficient and best way to convert MP4 videos into animated GIFs, you can use professional software like the Video Converter Studio. What's great about this tool is that aside from being a powerful file converter, the additional functionalities not seen elsewhere make it very worth for the price.