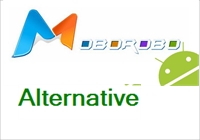 Moborobo is an application for people to manage their Android phones on the computer. It enables users to transfer apps, images, music and videos between device and computer. You can also use it to edit contacts and messages. Other features include displaying device screen on PC, backing up device data and cleaning up junk files. One big advantage of it is that there are many great apps and games available for people to download freely.
However, many Moborobo users are not quite satisfied with this app. A common complaint is its limited functions. For one thing, it cannot manage some important files, like books, notes or call logs. For another, there exist a lot of deficiencies for the data it is able to manage. For example, you cannot import or export contacts. Besides, the program often goes wrong with a notification saying it is not responding, which is very annoying. That's why most users are seeking Moborobo alternative apps to manage their Android phones. Here, three best phone management tools are recommended for you on account of their better performance and more powerful features.
Top 3 alternatives to Moborobo
1. ApowerManager
2. AirDroid
3. SnapPea
1
ApowerManager
An extraordinary alternative app for you is ApowerManager. On the main interface, you can check your phone information, which is very helpful. It allows you to manage all the data in your phone, containing music, pictures, videos, notes, contacts, messages, apps, books and other files. With this tool, you can easily transfer them between mobile devices and PC. Moreover, it can display your phone on PC in full screen, take screenshots with one-click and back up data easily.
In addition, this great Moborobo alternative is able to preview your photos and set them as computer desktop background or phone wallpaper. You can also set music as phone ringtone. What makes this app stand out from others is that it is perfectly compatible with both Android and iOS systems.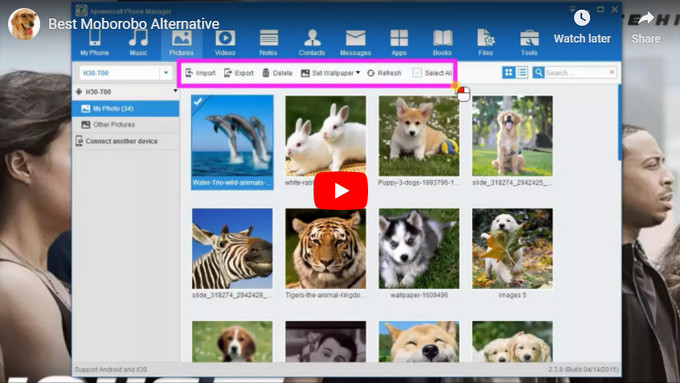 To make use of this software, please follow the next steps.
Download Apowersoft Phone Manager. Install it on the computer.
Connect your device to PC. You can either use a USB cable or connect via WiFi.
After successful connection, you will see a variety of tabs. It is very clear and easy to use. You just need to click the tab to view and manage your files.
Note: To connect wirelessly, you need to download the app on your device first. Then open the app and scan the QR code displayed on the PC interface or input the verification code shown on your phone screen to the computer.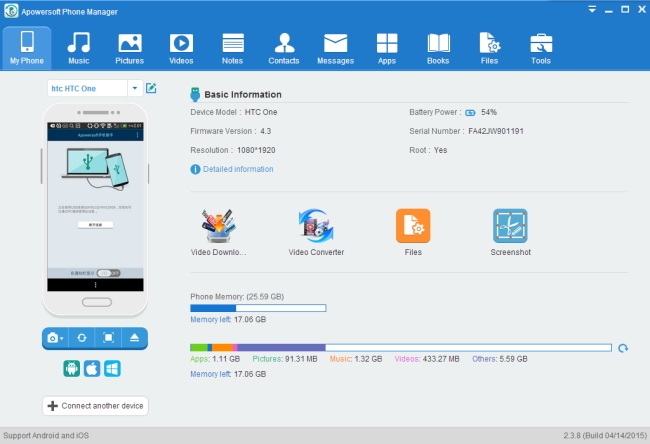 2
AirDroid
Another alternative to Moborobo is AirDroid. This application is also a nice tool to manage Android phone and tablet from Mac, Windows and web browser. Unlike Moborobo, AirDroid allows you to get access to your phone from the computer without wire. The desktop app can manage your SMS, call history, contacts and notification. You can mirror your phone to computer so as to send messages by typing with a computer keyboard or picking up a call with a mouse. Once a notification from Whatsapp, WeChat or Line comes, it will pop up on your computer screen and you can reply it directly from PC. Furthermore, it supports transferring files between devices. As a result, it is a convenient replacement for Moborobo.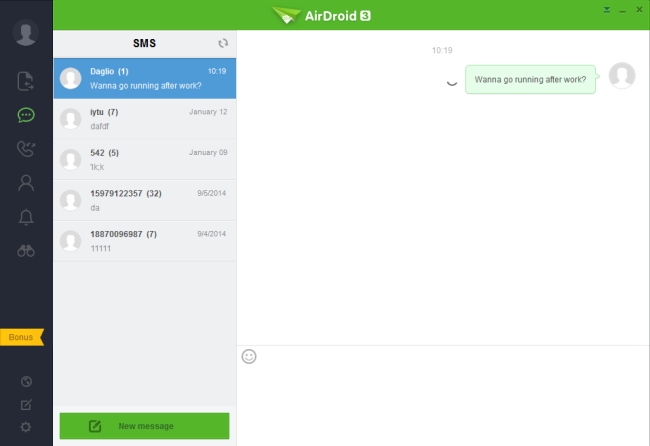 3
SnapPea
SnapPea is also a great alternative app for Moborobo. Like the other two, this software is a popular phone management tool. Its main function is to manage apps, contacts, messages, music, photos, and videos of your Android phone on the computer. Other features include backing up and restoring data, capturing phone screenshots, displaying phone screen in real time and importing iTunes music.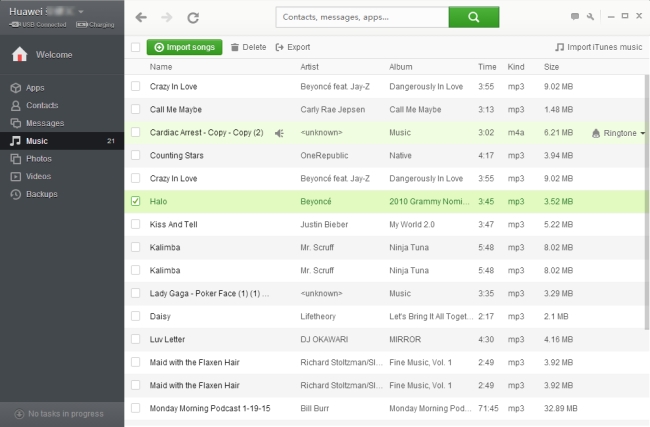 Comparisons of the 3 Programs
Above are top three Moborobo alternatives which can manage your phone easily. But you may wonder what their advantages and disadvantages are so that you can choose the one which suits you best. Now, let us analyze their performance according to different criteria.
Connection is an essential standard to test a phone management app. An app which comes with more flexible options to connect phone to PC will be more welcomed by users. Apart from that, a clear and easy-to-understand connection guide is a necessity for people who are new to an app, for it can help users to get familiar with the app more quickly. Now let us see the result.
Apowersoft
Phone Manager
AirDroid
SnapPea
Connecting Ways
USB, QR code and passcode
Signing in account
USB, QR code and passcode
Connecting Speed
Fast
Average
Fast
Connection Guide
Good
Good
Average
How many types of files can an app manage is the key issue people are concerned about, because it represents the essential capability of data transfer. Then let's have a look at the comparison chart for this part.
Apowersoft
Phone Manager
AirDroid
SnapPea
Music
Pictures
Videos
Notes
Contacts
Call logs
Messages
Books
Apps
Files
Besides the main function which is managing phone data on the computer, if the app has additional powerful features that attract people, it will be more useful. Below shows what features these three apps have.
Apowersoft
Phone Manager
AirDroid
SnapPea
Supported systems
Android and iOS
Android
Android
Taking screenshots
Displaying
phone screen
Backup and restore
Phone information
Setting music
as ringtone
Setting picture
as wallpaper
Setting picture
as PC background
Editing and
adding contacts
Sending messages
from computer
Hotspot
Booster
Flashlight
Apps market
Comfortable
interface
Conclusion: The charts have clearly shown the capability of these three Moborobo alternative apps by evaluating with the three criteria. We can see that they perform quite well in the connection criteria. As to managing contents, the first app is better than the other two. And for additional features, it shows bigger advantages. Based on the analysis above, we can fairly conclude that Apowersoft Phone Manager is the best alternative to Moborobo.