Apple recently released the iOS 8 update and some of the new features include a keyboard update, which comes with a new look, added prediction and suggested words along with typing. However, if you're still not satisfied with the new keyboard for some reasons, you can use a third party keyboard app that you can get from the Apple Store. In this review, I will share the 10 best third-party iOS 8 keyboard apps that you can choose from.
Top 10 third-party keyboard applications for iOS 8
1. SwiftKey Keyboard
This keyboard app stands by its name as it's really swift to use. It's a smart tool that learns about your writing style and suggests on words that you often use thus saving your time and works, which is convenient. The automatic spacing also ensures the correct format of your message. The more you use it, the smarter it gets. It also comes with two themes – the dark and nickel light.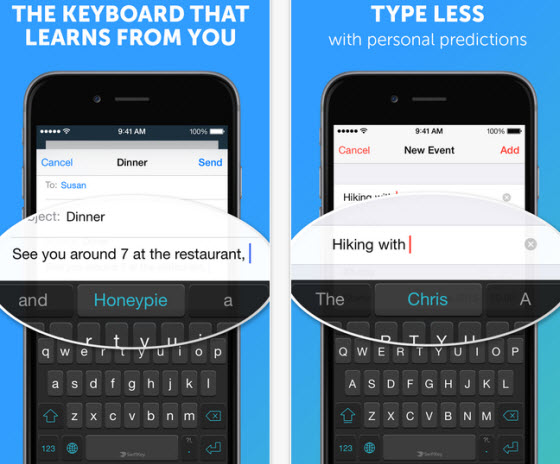 2. Fleksy
One of the concerns in typing on a screen keyboard is the slow speed. Well, Flesky resolves that concern for it claims to be the fastest keyboard app. It has an accurate auto-correct feature that makes creating messages a lot quicker. It can also be easily customized to the color and size you want. Whether you want a white or pink keyboard, a small or big one, you may choose this app.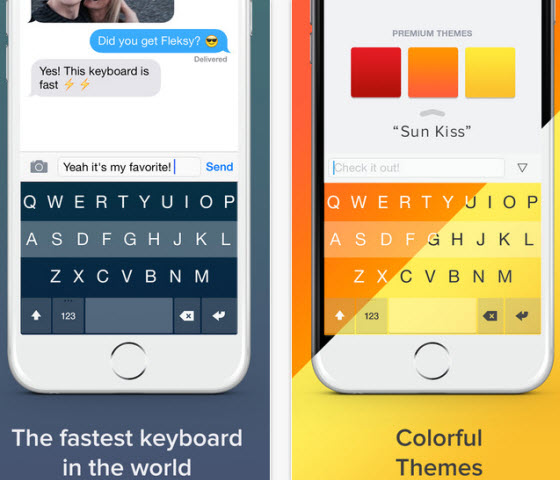 3. TouchPal X Keyboard
This is another keyboard that takes pride of its speed. It supports slide strokes so you can type in the letters by sliding your fingers, instead of hitting them one by one. It learns the words and sentences you frequently use and suggests them when typing, which saves you time. It has voice to text feature which can turn the words you say to text. This can be done by holding the space key then saying your message.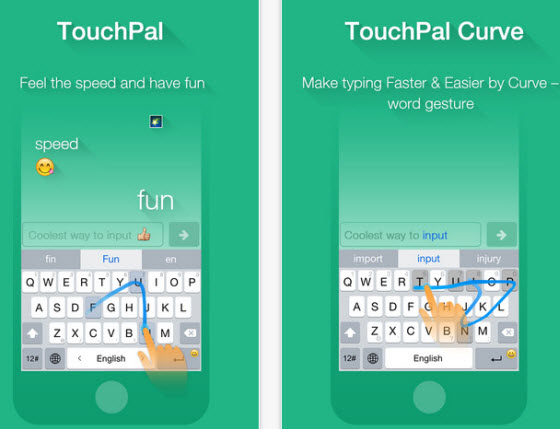 4. Adaptxt
It's common for keyboard apps to suggest words based on the dictionary, but not all have a special dictionary that can predict difficult words that may be used on various professions like medicine. Within the support to this feature, Adaptxt is one of the best keyboard apps for new iOS 8, especially for professionals. Adaptxt is able to predict the words you want to type including the complicate terms. Also, it supports over 90 languages and offers great customization feature that lets you swap keys according to your preference.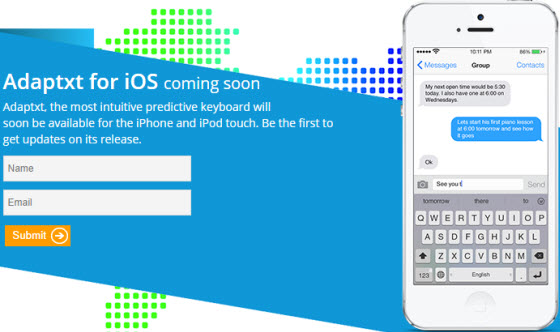 5. Swype on iPhone and iPad
Although this keyboard only supports a few languages as of now, including English, Spanish, Italian, German and French, it has customization features that you would love. You can personalize your dictionary as well as the themes. It also comes with auto-correction feature that learns from the previous words that you have corrected, so you don't have to correct them every time.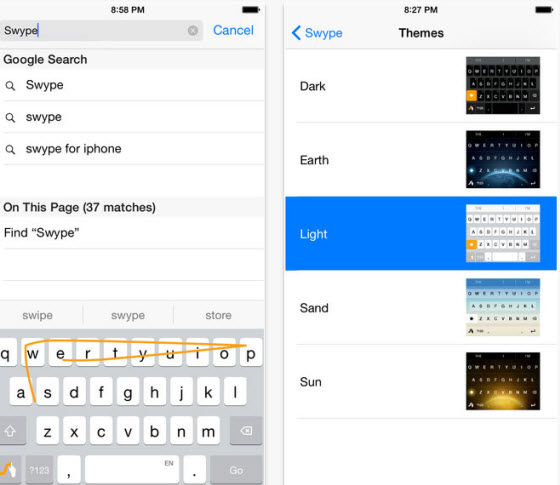 6. Ginger Keyboard
Ginger is a popular application for writers as it comes with various writing tools that help in creating error free and better flowing articles. These great features are now available on a keyboard that you can use in your iOS 8 device. Aside from correcting typos, it can also rephrase sentences to make them more sensible. Moreover, it allows theme customization, which you can share with other users.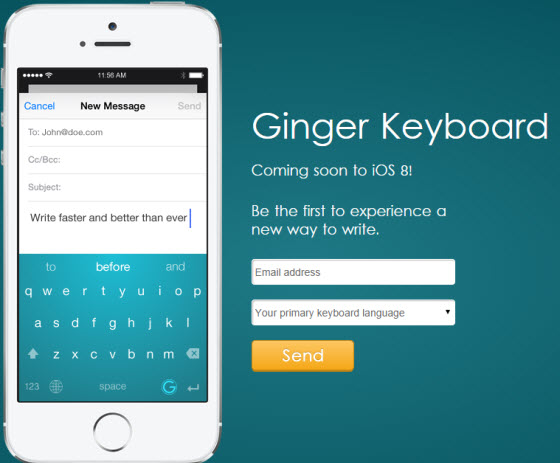 7. Minuum
If you feel that regular keyboard apps for iOS 8 take much of the screen, Minuum could be a better solution for you. The letters and numbers are spread in two lines. It easily learns and understands the words you need to type so you don't really have to precisely hit the keys. However, if you typed a word wrong in spelling, rest assured that you can simply choose the right one from suggestions without having to retype it. Although there's an option to add a space button if you prefer to have one, you can add space by swiping right or delete a character by swiping left.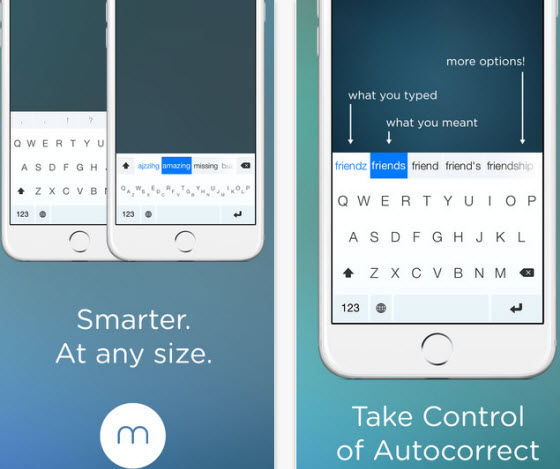 8. PopKey
Now this is a unique keyboard app to watch out for. Despite the usual letters you access, this app also lets you insert images via keyboard. It also lets you add your own GIFs, in case you wish to include more in the collection.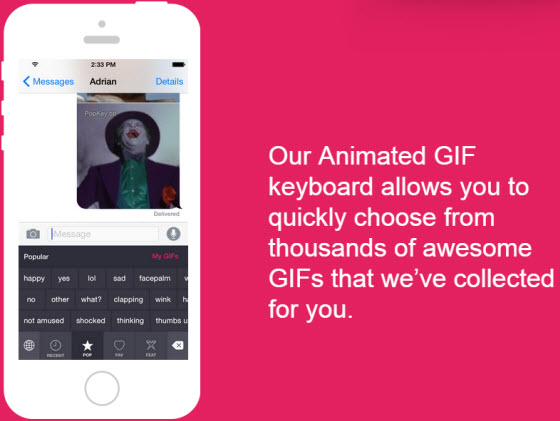 9. KuaiBoard
Like the PopKey, this is also another keyboard app which offers something different that others don't have. Aside from the usual keys that you can use for typing messages, it comes with a "textboard" where you can save text templates you often use so you don't have to always type them. There's also the "meboard" where you can enter your contact information, which can be used for conveniently filling out forms. It can also detect your location then lets you send a map link to your recipients so they would know where you are.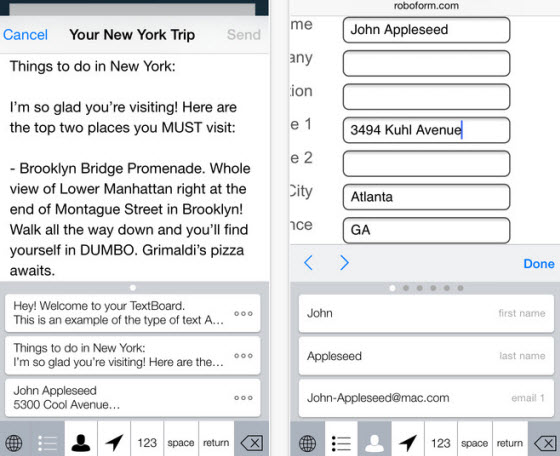 10. TextExpander 3
Last but not the least is TextExpander 3. This is a huge time saver, especially if you often write long messages. You can enter the shortcuts, which the app then converts into expanded words. There are existing shortcuts on the tool, although you can always add your own. For instance, when you enter the shortcut "TYVM", it will show "thank you very much".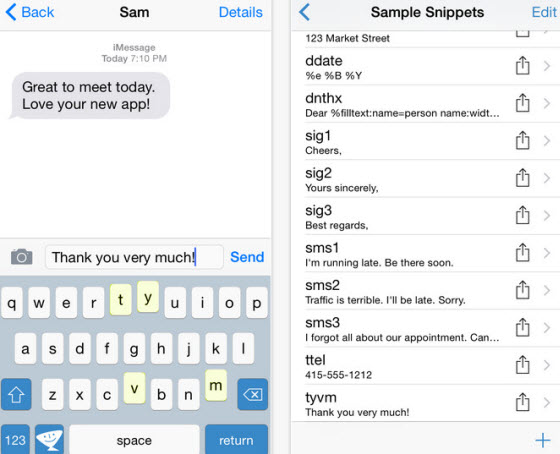 How to Set Up Keyboards in iOS 8
That wraps up the list of third party keyboards that you can use. Download and install the one that you think is best for you. After the installation, you still need to enable it to start using. And here's how to do just that.
Click "Settings" > "General" > "Keyboard".
Select "Keyboards", and click "Add New Keyboards" and choose the keyboard you wish to use.
It will be added to your keyboards list. Press "Edit" and select the new keyboard as your main keyboard.