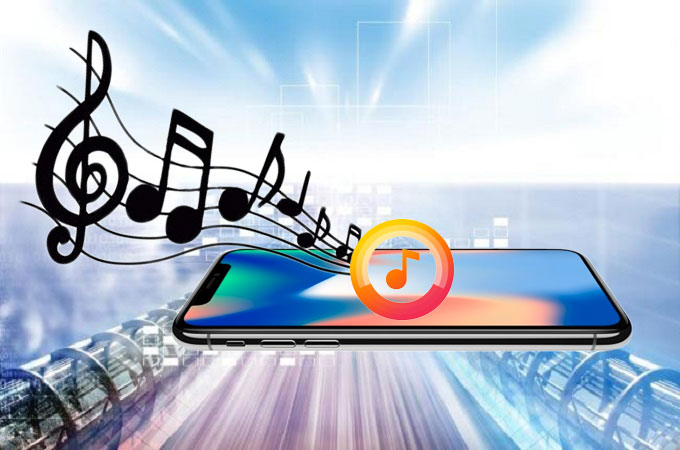 Many of us love listening to music on our iPhone because it provides high-quality audio. In addition to this reason, it is easier to search for the song that you want to play as your files are categorized on different attributes like album, singer, and date. The problem, however, is not all of us know how to manage our music library smartly as Apple puts too many restrictions on the device. Thus, if you're still finding a perfect music manager for iPhone, this article is a good guide for you. Scroll down for the list of the top three apps. And this video is for your reference: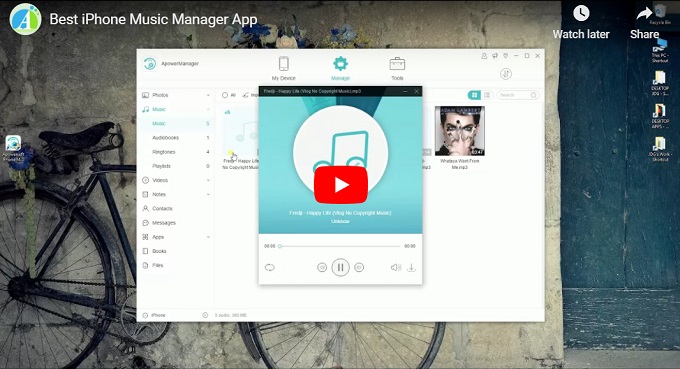 Top 3 Music Manager for iPhone
iTunes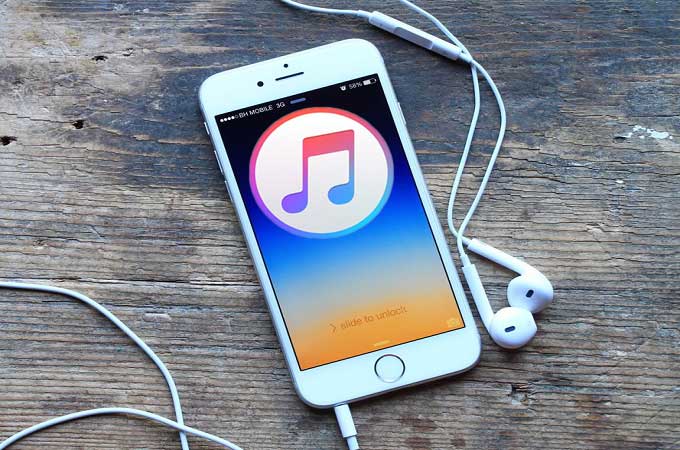 The First on the list is iTunes made by Apple. It serves as the default manager and it functions as a downloader and media player that allows you to transfer music between iPhone and PC. Moreover, iTunes supports backup and restoration of iOS devices. To connect your phone, you only have one option which is to plug it in using a lightning cable.
In terms of managing your music, you can automatically sync all files at once as you access iPhone on iTunes. Likewise, check the "Manually manage music and videos" field to choose what songs you want to transfer and keep on your device. iTunes also helps you to compose playlist. Besides, it authorizes users to set their ringtone as per desired.
ApowerManager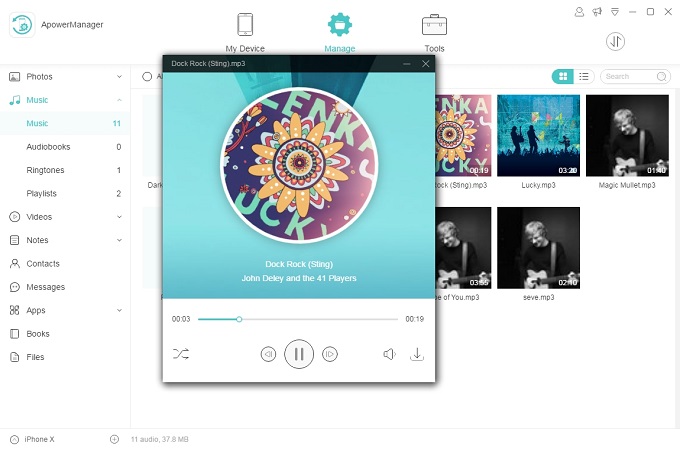 The next iPhone music manager app that you can use is ApowerManager. Similar to iTunes, ApowerManager enables iOS users to organize mobile contents like pictures, videos, music, contacts, and documents easily. It has clear interface that makes it easier to import and export music between phone and PC. If you want to manage simultaneous device, you can easily do so by connecting another iPhone and use all the functions without problems. Furthermore, all your transferred audio can be found on your Music library and not on the mobile app itself.
Upon connecting your phone, you can immediately see all the music stored on your device. Along with the title of the song are the details such as the size, duration, artist, and album. Aside from the import and export feature, you may assign your ringtone using this. Also, the software allows one to create their own playlist and add songs effortlessly. You can directly play the songs stored on your iPhone. Here is a download button:
Download
AirMore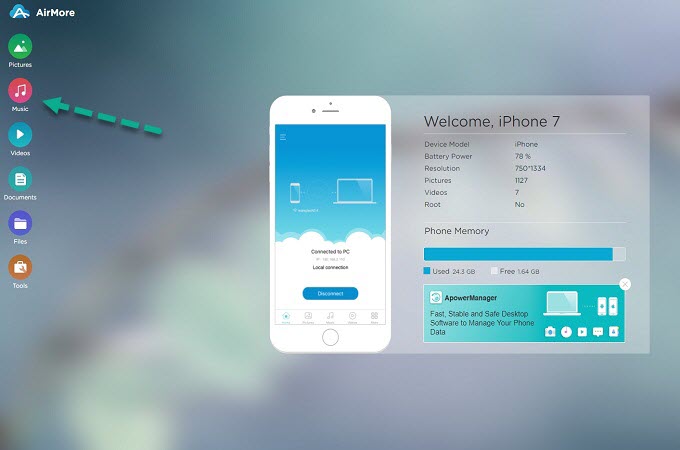 If you don't want to install software on your PC, then choose AirMore. This iPhone music manager app uses the web to connect your mobile to your computer. Hence, as long as you have internet connection, you can manage your music without troubles. It works on different kind of browsers including the well-known Chrome, Safari, Firefox, and Microsoft Edge. It connects your devices wirelessly, so even without a USB cable on hand, you can access your content on PC.
The method of moving files does not require time and efforts. In fact, you can transfer files in just a matter of seconds and do other tasks while your computer is downloading or uploading your files. Like ApowerManager, it can import, export, and delete music data.
Conclusion
Generally speaking, iTunes is the most famous program in transferring music between iPhone and PC. However, it offers very limited features unlike the last two tools mentioned above. Meanwhile, AirMore and ApowerManager run smoothly on any computer and the two tools can manage not only Apple but also Android. Therefore, if you are searching for an useful phone music manager, you can take these two programs into consideration.