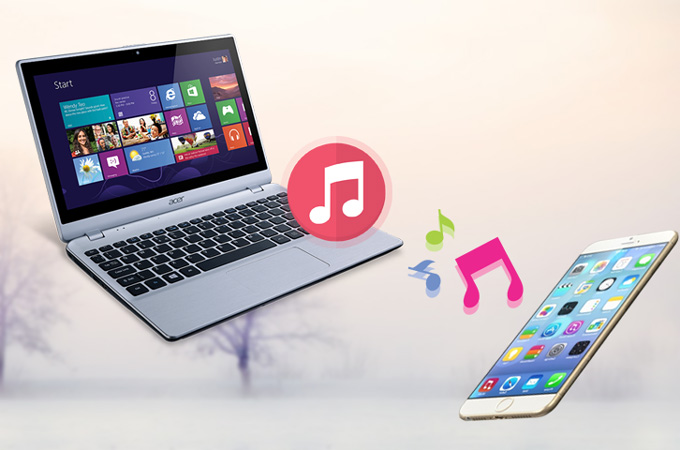 Whenever Apple Inc. releases its new product, it always draws great attention. Especially this time, iPhone celebrated its 10th anniversary and unveiled the iPhone X, iPhone 8 and iPhone 8 Plus. Now iPhone 8 and 8 Plus are available, and some people are going to buy one. When getting a phone, the most important thing is to move the data from old phone to the new one. You may have already created a backup for your important mobile data on the computer and want to copy them to your new iPhone 8/8 Plus. Here, I will show you how to transfer music from PC to iPhone 8 first to help music lovers like me enjoy their favorite songs on the new phone.
Apps to Copy Songs from PC to iPhone 8
Use Apowersoft Phone Manager to Transfer Music With or Without Cable
Apowersoft Phone Manager is one of our products which mainly works for organizing mobile data. As one of the most powerful mobile management tools, it can transfer photos, videos, music, eBooks and many more between smartphone and PC. Also, it can manage these mobile data from PC. Moreover, it has other additional features, such as screen recording, backup and restore, etc. This program can work perfectly for your iOS device, and it even supports the latest phone with iOS 11 system. To move music from computer to iPhone 8, you can follow the steps below:
Download the program and open it on your PC.
Connect your iPhone 8 to the computer with USB cable.
Once connected, go to "Music" tab and click "Import" and choose the songs you like to transfer them to your iPhone.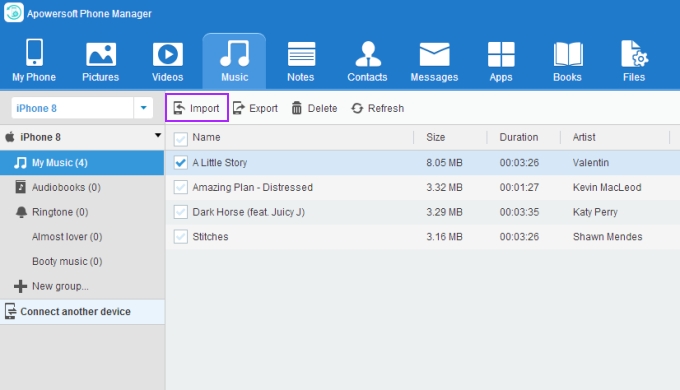 When the transferring procedure finishes, you can disconnect the device and go to "Music" app on your phone to enjoy the music.
Tip: You can use the same method to transfer other data from your PC to mobile.
If you'd like to connect your phone to PC wirelessly and copy songs from PC to iPhone 8, here is a step-by-step guide which can help you:
Connect your iPhone and PC to the same network, and connect your phone to the computer with a cable.
Turn on iTunes on your PC, click the device button on iTunes and go to "Summary".
Under "Options", click on the box in front of "Sync with this iPhone over Wi-Fi" and "Manually manage music and videos". And then at the bottom, hit "Apply" and "Cancel" in the prompt.
Close iTunes and go to Apowersoft Phone Manager. Note: Do not plug out your USB cable during this process. Turn on "Allow WiFi connection (iOS)" and "OK".

Now you can unplug the USB cable and restart the program.
Click "Music" on the program and transfer music from PC to iPhone 8.
Use iTunes to Import Music with USB Only
Recently, iTunes also updated to 12.7.0.166 which came with some changes on its interface, such as removing App Store. What's more, unlike previous versions, you can now manually move music from PC to iPhone. Now, update your iTunes and start transferring music with the following instructions.
Open iTunes and connect iPhone 8 to PC with USB cable.
Go to "Devices" and click on "Music" or "Tones".
Select the music you want to transfer and drag them to iTunes.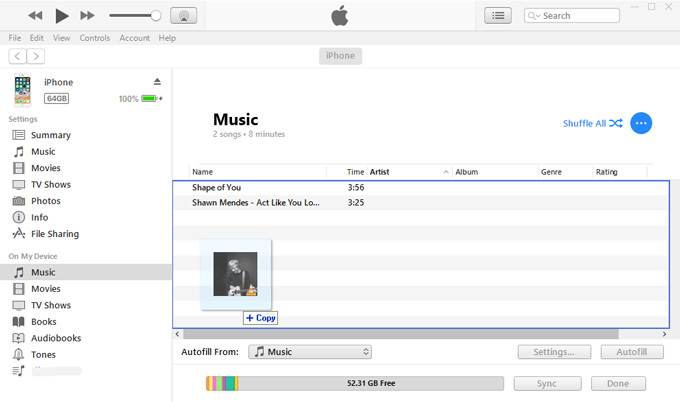 When you move music from computer to iPhone 8, if you can see "Copy" under the music as the image shown, it means you can transfer successfully. However, this method doesn't work well sometimes. If so, you'd better try the first method.
After you get your new iPhone 8, you can easily copy your favorite songs to it. If you haven't stored your songs on the computer, you can also try Apowersoft Phone Manager to save the music.