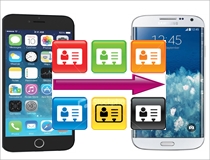 On March 1, 2015, Samsung finally unveiled its "identical babies", Galaxy S6 and Galaxy S6 Edge at Mobile World Congress. We have waited quite a long time for the announcement. And fortunately, it is worthy of waiting. With its fantastic and unique style, 5.1-inch high-resolution display, upscale design of curves, metal, and glass and other awesome features, many people have made up their mind to buy one as soon as they are released on April 10. After one changes his or her old iPhone to a new Samsung, an import issue is how to transfer contacts from iPhone to Samsung Galaxy S6. Here are three ways you can adopt.
Easiest ways to transfer contacts from iPhone to Samsung Galaxy S6
1. Fast and handy tool
2. Quick transferring application
3. Traditional yet limited way
1
Method One: ApowerManager
One thing for sure, if you have tons of contacts, you do not want to transfer them one by one, because it will take a lot of time and strength. That is why ApowerManager is no doubt the best solution for you. This powerful and professional software enables you to manage everything on your mobile phone from PC. You can easily transfer files between mobile devices and computer. Also, you can use it to backup and restore all the data in your phone, or to take screenshots of your mobile with one-click. Displaying your phone screen is available as well. To save your time, this application is the fastest way to transfer contacts from iPhone to Samsung Galaxy S6.
First, you can see the whole process of it by watching this video below.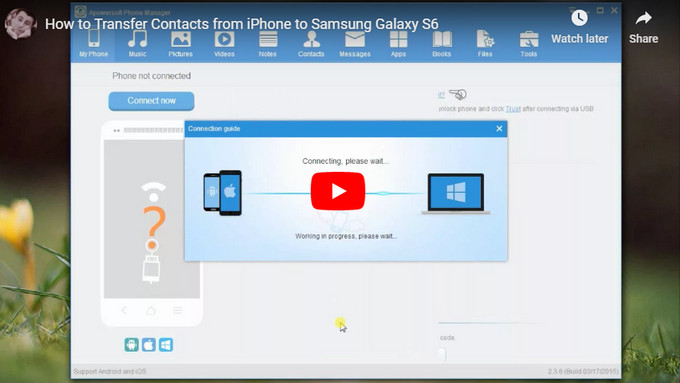 Now let us see the detailed steps.
i
Download ApowerManager. Install it on your computer.
ii
Launch the program. Connect your iPhone to PC via USB cable. Tap "Trust" when a window pops up. Click "Contacts". Select the contacts you want to transfer. Then click "Export". After the process finishes, disconnect the iPhone.
iii
Open Galaxy S6. Go to "Settings > Developer options". Check "USB debugging". Plug in Galaxy S6. Remember to tap "OK" to allow USB debugging. After successful connection, choose "Contacts". Click "Import". Wait until it is done. Disconnect your phone.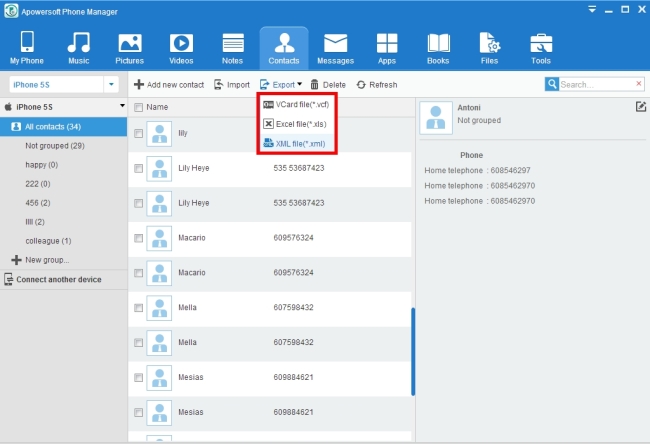 Tips: There are three kinds of formats available: *.vcf, *.xls, *.xml. You can choose either one which is suitable for you.
By using this extraordinary tool which is perfectly compatible with both iOS and Android systems, to copy iPhone contacts to Samsung Galaxy S6 is no longer a trouble. Within minutes, all your contacts, no matter hundreds or thousands, will be transferred successfully.
2
Method Two: Phone Transfer
Phone Transfer is an application especially designed to transfer all the files between phones. It helps people to transfer all kinds of data such as music, videos, photos, contacts, SMS and so on. And it supports more than 2000 different models of mobile phones, including Samsung, Apple, HTC, Motorola, LG and more. To transfer contacts from iPhone to Samsung Galaxy S6 by using this software, you can get complete contact information like phone number, email address, job title, home address, birthday, company name, etc.
The process is quite simple. After you download and run it on your PC, all you need to do is to connect your phones to PC, select the contacts and click "Start Copy" button. Before you know it, all the contacts are copied to your Galaxy S6.
3
Method Three: Email
Currently, email is widely used by many people, especially business persons. If you only want to transfer one or two contacts, email is also an option. To apply this way, you need to make sure that you have Gmail or other email apps installed in the phones. Below is the tutorial for it.
i
Open your iPhone. Click the contact you want to transfer. Choose "Share Contact" which is below the contact information. Tap "Mail" icon.
ii
Enter a mail account and send it out.
iii
Turn on Samsung Galaxy S6. Open mail app. Log in your account. Open the message in Inbox. Tap the attached file. Select "Create New Contact".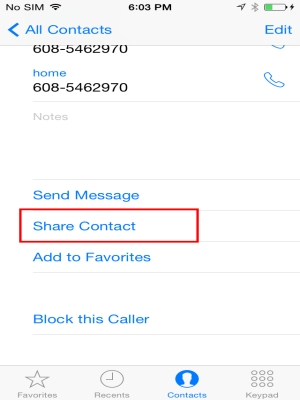 Cons: For your information, there are several disadvantages of this way you may want to get familiar with in advance.
The number of transferring contacts at one time is limited.
Only the format of *.vcf is available.
Accessibility to network is required.
To sum up, the first two methods are more recommended to solve the problem of how to move contacts from iPhone to Galaxy S6 because of their fastness and easiness.