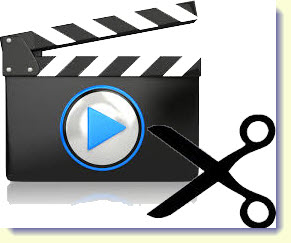 Usually, you may need to cut the useless footage which occupies a rather large space of the video from the recorded videos we shoot. Well, how to trim video? Many people may be stumbled by that question as they don't know any accessible methods. If you are one of them, don't worry! The following part will present you useful approaches to trim video.
Three available methods of how to trim video
Apowersoft Free Online Video Converter
If you want to quick trim videos, this free online video trimmer is your instant solution. It is a web-based application with neat design, simplified interface and multi-optional functions. You are able to proceed with this tool after you have a glance at the site. You could start to use the tool as soon as access to the site, for there's no requirement of registering, downloading or installing. It is so convenient that let's have a look at the manipulative guides.
Open the website of Apowersoft Free Online Video Converter to trim videos online.
Click "Browse" button to load a video waiting for trimming.
Choose an output format from the available options. And usually, it is best to keep the original format unchanged.
Turn to "Advanced Settings", scroll your cursor down to "Trim" option and input the section you want to keep.
Click "Convert" button and you'll receive the well-trimmed video once done.
Apowersoft Video Converter Studio
This is a superior advanced version of video trimming software that you could watch and trim video at the same time. The most important factor to realize the synchronization is due to its built-in player. Therefore, you are able to trim the video with visual point. The program is customer orientated that you have two paths to tune the video duration, either by inputting start or end time, or by dragging the horizontal axis under the video player. It is easy to use that you could download and install it first for experience.
Run the video trimmer after installation.
Click "Add" to import video for trimming.
Click "Video Edit" and it will pop up an interface with video being played by default.
Tick the box besides "Enable Trim", and enter the target section time in the blank box. You could click "Play section" to double check your selection. Alternatively, you could also adjust the section by dragging the highlighted yellow box on two ends of the horizontal axis, which is just beneath the playback progress.
Click "OK" after confirmation.
Click "Convert" and then it starts to trim.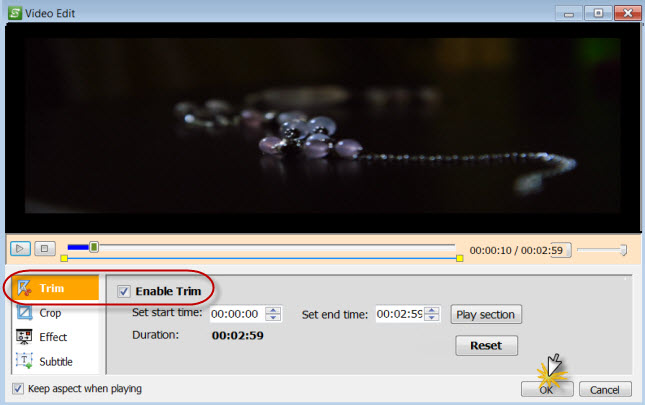 This is a professional video editing program to solve the problem of how to trim video. Making use of it, you are able to trim, split or crop as your desire. The process is also easy that you can proceed according to the following tutorial steps.
Run the program after download and install it.
Click "Full Feature Mode".
On the top of left corner, click on the icon of "Import" to add a video.
Drag the selected video into timeline on the bottom of rectangle area.
Drag the vertical axis to adjust which part you want to cut.
Click on the icon of scissors to cut target section.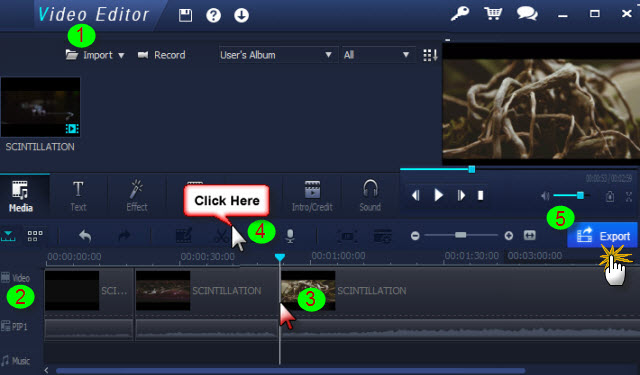 Conclusion:Choose an appropriate tool according to your needs. If you want instant solution, then choose the first one, which can also trim video on mac. If you want to upload the trimmed video to a video-sharing site, then choose the second one as it supports multi-thread processing. If you need other editing function, then turn to the third one which is specialized in editing area.