Many users reported their problems in recording GoToMeeting with Apowersoft Screen Recorder Pro, in order to fix these problems, there're some efficient solutions for those issues listed as follow.
1
Why my screen recorder cannot capture the sound during recording GoToMeeting session?
Please configure the audio input settings before recording. The recorded video will be mute if you haven't chosen an audio input source. If you want to record both of meeting sounds and speakers' voices, just click "Audio input" – "System sound and microphone" on interface.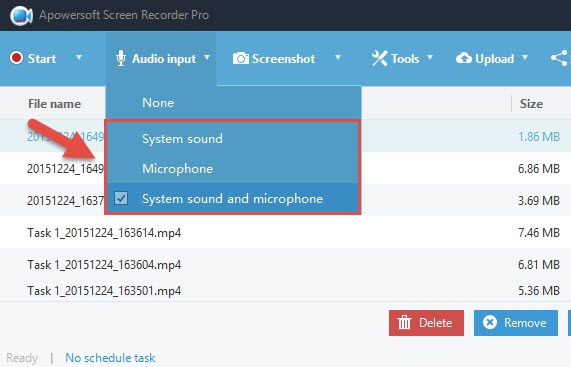 Note that after you run the screen recorder, you cannot change the audio input device, which means that you cannot plug in or remove microphone from the computer after you have run the recorder. Otherwise, you need to re-launch the program to make it record sound.
2
Do I need to install "Apowersoft_Audio Device" to enable audio recording?
The former versions of Apowersoft Screen Recorder Pro require users to install "Apowersoft_Audio Device" to record audio. However, if you are using Apowersoft Screen Recorder Pro V2.0 or later, then you can record system sound, microphone or both directly without installing any components (virtual sound card). Thus before recording, pleas ensure your screen recorder is the latest version. If not, please download the latest version by clicking the button below.
Tips: If you are using Apowersoft Mac Screen Recorder to record GoTomeeting on Mac, you still need to install the virtual sound card to make it record sound from computer successfully.
3
How can I upload my session video to YouTube?
Once you have finished recording, select your session video in task list then click "Upload" – "Upload to YouTube". Next, fill your YouTube account and password in the pop-up window. (Your account will be saved automatically, so that you needn't to repeat this step in future) And then complete the info of video. Note that, you're supposed to choose "Private" to protect your session video from being viewed by others. Moreover, the new version allows you to upload your video via FTP, which is convenient for those people who need to update conference information on their sites. Plus, the FTP will create a URL for downloading the video.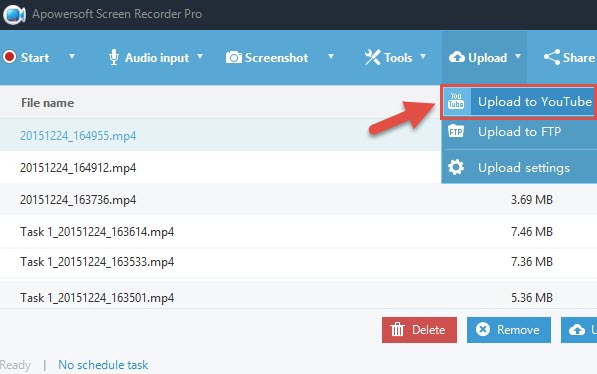 4
How can I schedule recording tasks for GoToMeeting?
Firstly, you should arrange your meeting plan, such as when the meeting starts and how long will your meeting last. Secondly, go to "Tools" – "Task Scheduler" to create recording task. Set recording time, duration and recording region in pop-up interface. Thirdly, press "Create" button to enable the recording task. Once these settings are done, this screen recorder will make the recording at the specific time you set.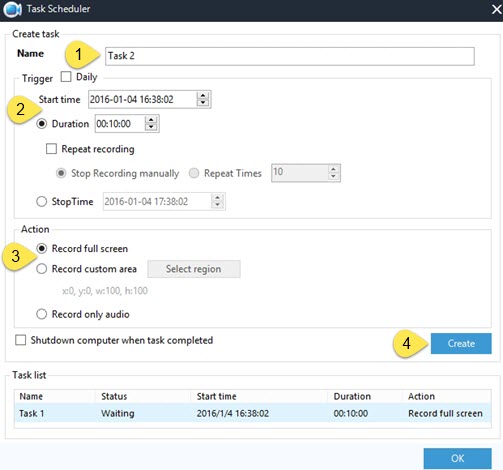 5
Do I need to set "Apowersoft_Audio Device" as the default audio input in GoToMeeting?
Apowersoft have improved the function in audio recording. It doesn't need to use "Apowersoft_Audio Device" to record sounds anymore. Please switch audio option to default in the preference of GoToMeeting. Remember resume to Apowersoft Screen Recorder to choose desired audio source (System sound, Microphone or both) in "Audio input".
New features of the latest version of Apowersoft Screen Recorder Pro
Technology-improved for audio recording – Users are not required to install "Apowersoft_Audio Device" any more to record audio.
Amazing real time editor available during recording – It allows users to highlight and annotate the screen in real time. This function can make the video more intelligible.
Supports uploading video to FTP server – Users can upload the video to FTP server that makes video sharing easier and more convenient.
Added video editor and iOS recorder plug-ins – These built-in plug-ins enable you to edit video after recording and make iOS recording easily on PC.