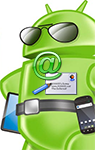 Electronic mail or more commonly known as email is a highly technological method of exchanging messages. This digital form of messaging is fast, reliable, efficient and cost effective compared to traditional snail mail. Email can be performed with the aid of your laptop, tablet or smartphone platforms. For many users, using their Android smartphones to send and receive emails is deemed to be more efficient than any other methods.
The majority if not all of Android handsets are equipped with Android mail app. Some are wonderful, fast and feature-filled while others seem to be worthless. If your native email application brings you tons of inconveniences such as single account limit, failure to connect your email service and process slowing, failure to attach files and all others, check out these email alternatives below.
Tips:
If you need to manage Android email apps on your computer, go to download Apowersoft Phone Manager and discover more of its great features – files management, files transferring, phone screens displaying, files backup and restoring, and so on.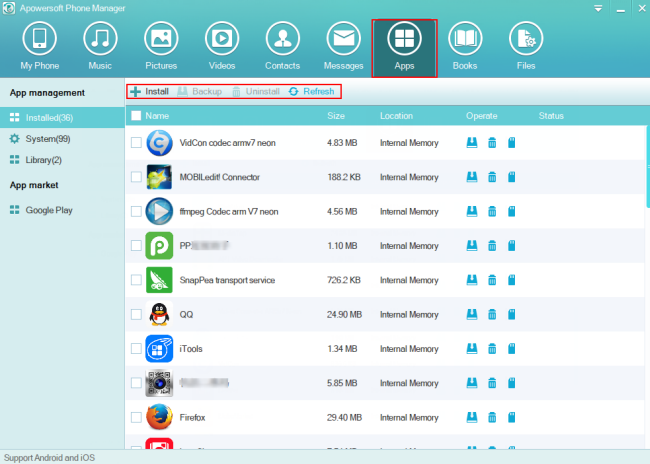 Top 9 Free Android Email Apps

Gmail
When it comes to the world of email messaging, Gmail is without a doubt a major name. It is made by the well-known company Google. This application is filled with various functionalities such as slide to archive, colorful icons, ability to label messages, mailbox organization, various accounts synchronization, sleek interface, and many more. Gmail is compatible to most Android handsets with very little requirements.

K-9 Mail
K-9 is an open source email client equipped with various capabilities including pushing email, flagging, mailing on SD, syncing multi-folder, signatures and many more. It is one of the best free Android Email apps you could ever use without spending a single dime on your pocket. K-9 mail is updated frequently by the developer and it has over 5,000,000 installs.

Yahoo Mail
Aside from Gmail, Yahoo Mail is probably the largest email client known to mankind. They have been in the business for several years and since then, various applications have been developed to suit the needs of everyone. With Yahoo Mail for Android, you'll get to enjoy several features: instant email alerts, ability to switch between accounts, full screen messages, tablet optimized experience and customized synchronization.

Mailbox
Mailbox is listed as the best Email app for Android. This one has a fun and very fast email processing speed. Auto-swipe motions and smart features are equally present for an efficient mailing experience. Mailbox is made by Dropbox so you may expect synchronization features. Though, be warned that Mailbox can only support Android handsets running 4.0.3 versions and above.

CloudMagic
If you want an email client that smoothly works with various providers such as Gmail, Yahoo, Outlook, iCloud, Google Apps, Exchange, Office 365 and IMAP accounts, CloudMagic is what you need best. By winning the Webby Awards People's Voice, this application is believed to be the best Android Email program one can get without spending a cent. CloudMagic requires Android handsets running 4.0 and up.

myMail
Just like CloudMagic, myMail is able to support famous email clients like Hotmail, Gmail, Yahoo, AOL, Outlook, iCloud, Live, Exchange, GMX, IMAP and POP3 enabled mailboxes. With myMail, common email features can be enjoyed such as the ability to mark messages as flag or spam, push notifications, and create unique email signatures, mailbox organization and many more.

Blue Mail
If you're a lover of color blue and needs a free Android mail app, surely you will fancy Blue Mail. What makes this email client different from the others is its stunningly beautiful user interface. From dark shades of blue to lighter tones of aqua, Blue Mail is pleasingly soothing to the eyes. Additionally, it can support various email platforms allowing users to easily unify all accounts in one app.

Aqua Mail
If you own an old Android device, the probability of getting a good and best Email app for Android is very high. Yet with Aqua Mail, even obsolete phones can enjoy top notch emailing features. This program is compatible to Android handsets running 2.0 up and you can use it to combine all your email accounts in one app. Although it doesn't have a stunning interface, usual functionalities are present like swiping to delete and pushing notifications.

Zoho Mail
Most free Android Email apps are filled with unwanted advertisements, popups and side posters. If you want an ad-free email client that offers push notification, swipe actions, email account synchronization, searchable contacts list, and comes with a calendar app, Zoho Mail is what you need best. This email client is fully compatible to all Android handsets running 2.3.3 and up.
Literally, the market is filled with tons of free Email applications and looking for the best Android Email program can be quite tricky. Before installing them on your smartphone and to avoid hoax as well as insignificant apps, it would be helpful to read reviews and user ratings. In this way, you'll get to know the application more on the consumer side rather than marketing aspect.