Similar to making a handmade scrapbook, digital scrapbooking takes place only using graphic software for you to combine and design photography. With the use of clip arts, stickers, text, and more you can make 2D artwork. You have freedom in choosing a color scheme, background paper style, or any decorations that will suit the theme of the digital scrapbook that you are making.
7 Digital Scrapbook Apps for Android and iOS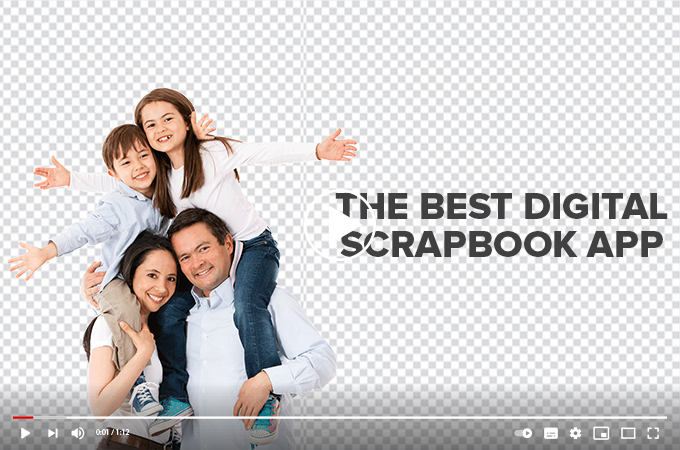 If you need useful and reliable apps to create your very own digital scrapbook, try these wonderful apps that will surely help you beautify your photos without wasting your time and money.
Apowersoft Background Eraser (Android & iOS)
Apowersoft Background Eraser is a great scrapbooking app that you can rely on. You can easily cut-out the photo background and change it into a new one. It offers almost all the editing features that you need in editing your images for scrapbooks.
Main Features:
Eliminate background automatically.
Change background easily.
Enormous designed templates and plain background colors.
Timeless photo editing features.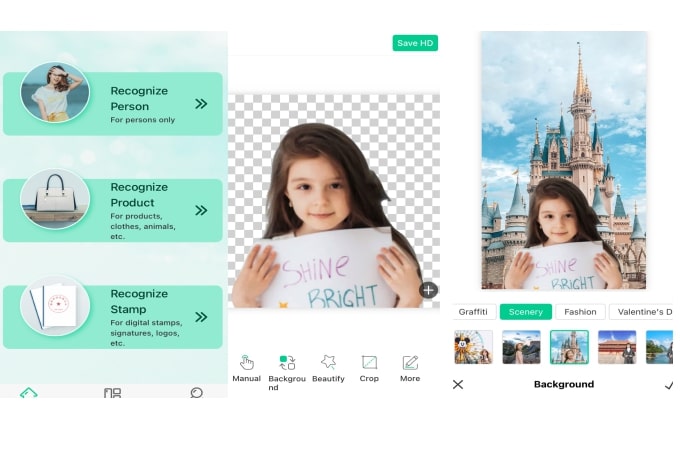 Pros:
Delete background in seconds.
Use advanced AI tech for the automatic process.
Keep original quality.
Friendly-user interface.
Cons:
Note:
Go to the web version page of the tool to get the 100 images giveaway.
Digital Scrapbooking (iOS)
Create your very own scrapbook by using this scrapbook app for iPhone called Digital Scrapbooking. This simple yet fun app offers you various unique backgrounds and colorful frames. The elements that you will use for your scrapbook are handmade with amazing accuracy. Moreover, you can do some simple photo editing such as dragging, rotating and zooming.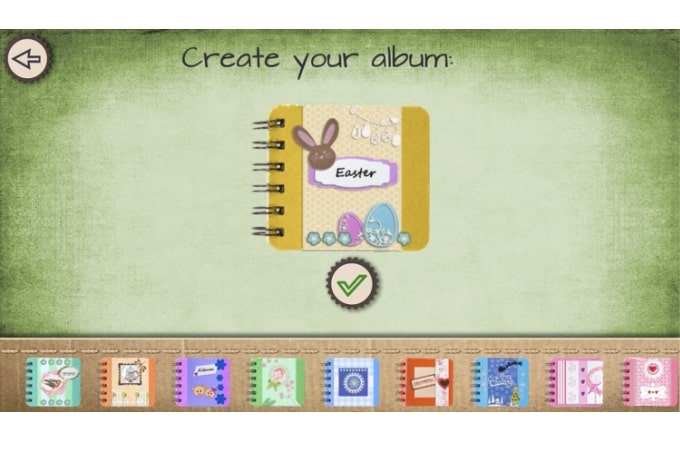 Pros:
Offers beautiful scrapbook layouts.
Add text and extra stickers.
Directly share on different social media sites
Cons:
It takes time to be familiarized on the app.
Photo Collage Maker (iOS)
One of the high-rated digital scrapbook apps that you will encounter on the App Store is Photo Collage Maker. With this app, you can put your pictures all together easily. You can make your scrapbook wonderful by using its ready-to-use frames, stickers, fonts, and fascinating layouts.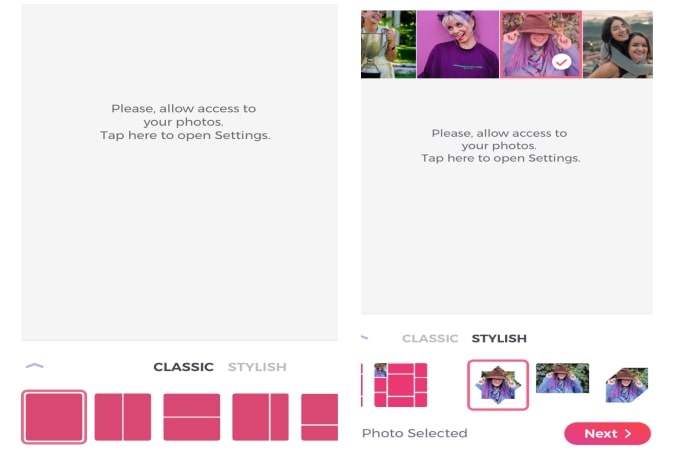 Pros:
Make photo collage in an instant.
Edit layout by adjusting frames, colors, and patters.
Add colorful text with different font styles and size.
Cons:
Photofy (iOS)
Photofy is another popular scrapbooking app that is very suitable to all creative users out there. With its incredible ability in photo editing and collage making, you can share the best photo moments and memories that you have. Photofy will give let you create eye-catching graphics, collages, photos, and marketing content quickly and easily.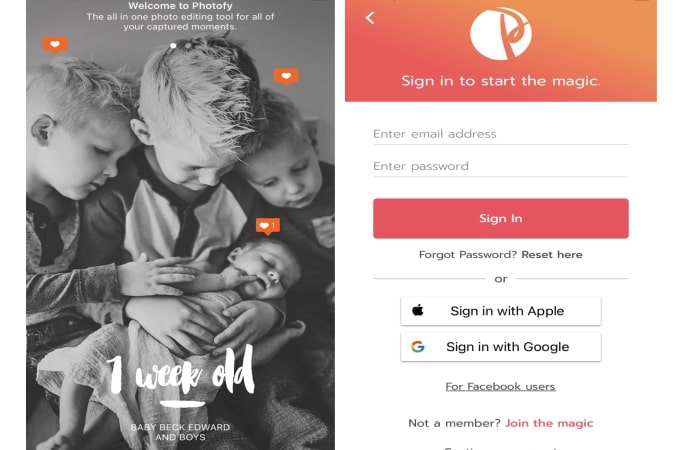 Pros:
Easy to access design templates, collages, artwork, and more.
Available graphic packages and industry-specific templates.
Compile pictures in one go.
Cons:
Photo Scrapbook (Android)
Photo Scrapbook is one of the best free scrapbook apps for Android. This worthwhile app helps you to collage your photos with the use of its wide range of layouts and collage diary. Having this app on your phone, you will able to enhance your photos by adding a border, frame, stickers, and many more.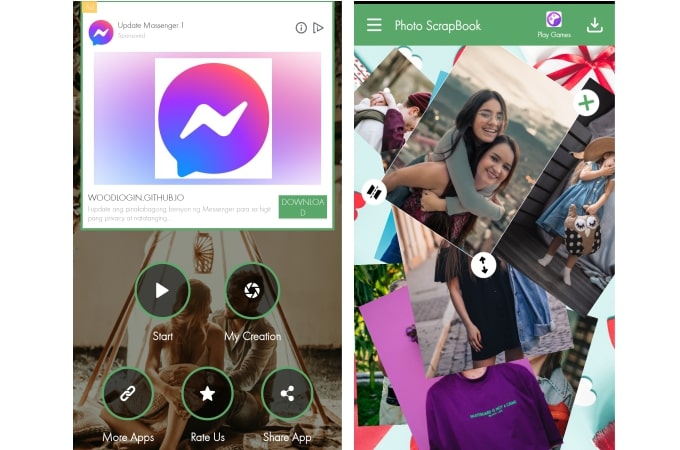 Pros:
Simple interface.
It has pre-set background patterns.
Simple touch gestures to the basic photo editing features.
Cons:
Ads keep on popping while using the app.
Skrappify (Android)
Skrappify is a well-known app that can be the best digital scrapbook app for you. This app will help you highlight the best photo memories that you have. This app will allow you to add not only photos, but also videos, text, stickers, frames, and many more. Surely, you will not go wrong with Skrappify in making your own scrapbook.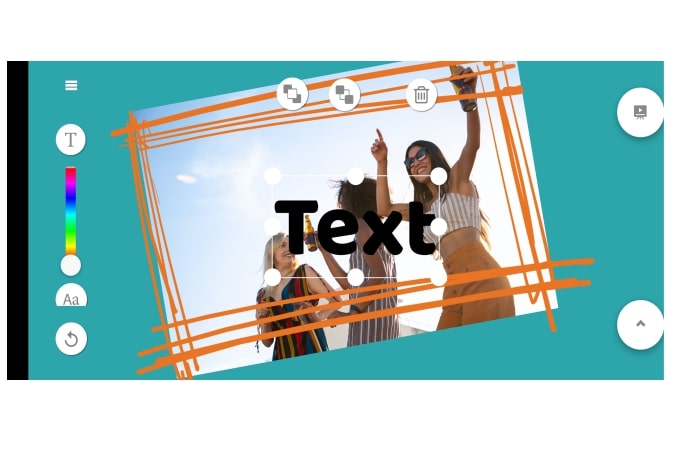 Pros:
Create your own photo background.
Tons of pre-set stickers are available.
Seamless photo editor.
Cons:
Purchase the app to fully access its features.
Project Life (Android)
Project Life is exactly the digital scrapbook app that you need. There are built-in templates and pre-designed artworks that you may use to come up with an artistic page layout. Also, you may create a photo collage with your edited photos. What's more, the app will allow you to add text as a note or journal that can make your scrapbook more understandable.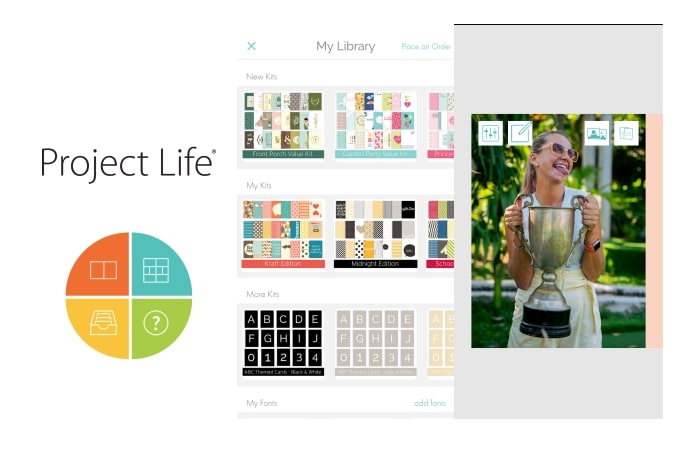 Pros:
It has colored background options.
Library of background designs and kits.
Lots of page layout options.
Cons:
Sometimes its difficult to navigate.
Conclusion
With the help of digital scrapbooking, anyone can make their own satisfying photo compilation book which is through the use of these apps. Among the apps that were presented above Apowersoft Background Eraser is the most recommended one because of its versatility as a photo editor and its simple interface that can be used by everyone.